Is laminate waterproof and suitable for bathroom floors?
By Natasha Brinsmead published
Is laminate waterproof? Laminate flooring is a great, cost-effective choice, but not all products will be suitable in bathrooms and kitchens — we explain all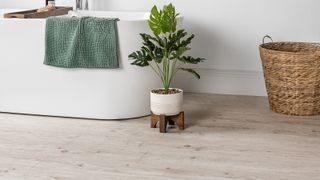 (Image credit: Flooring Mountain)
Is laminate waterproof? This is a really common question, asked by those wondering if laminate flooring is the right choice for their bathroom, shower room or even kitchen.
Laminate is a really popular choice when it comes to types of flooring and has come in on in leaps and bounds in recent years in terms of quality, durability and aesthetics.
Once seen as the reserve of cheap and cheerful makeover projects where speed and budget were all that mattered, laminate flooring is now available in all kinds of stylish designs, from realistic wood-effect to vintage tile and herringbone patterns.
If you are considering using laminate in a space where it is likely to be exposed regularly to water or high moisture levels, there are a couple of considerations you need to bear in mind — although you certainly don't need to rule out the idea.
Our guide will explain everything you need to know to ensure you make the right choices when buying a laminate floor.
Is laminate waterproof enough for bathrooms?
Any bathroom flooring needs to be able to withstand frequent changes in humidity and moisture levels, not to mention the occasional puddle of water (or complete soaking if you have either young children or teenagers with no idea what a bath mat was designed for).
While ceramic and porcelain floor tiles, along with stone, are the most common choices, many people crave the look of timber or want a cheaper alternative to stone.
This is where laminate can come in handy. While it is true to say that there was a time when laminate flooring was most certainly not a material that would be recommended for use in bathrooms – or even in kitchens for that matter – where floors have to deal with frequent contact with water, things have changed of late.
While some types of laminate flooring are still most definitely not suitable for bathrooms, many newer designs can be — you just need to know what to look out for, as we go on to explain here.
What is 'waterproof laminate' flooring?
As the name suggests, waterproof laminate has been specifically designed to be able be resistant to water.
Laminate flooring is made using several layers with a HDF (high-density wood fibre) core. HDF is made using compressed wood fibres and does not, traditionally, deal with water particularly well. Although how well HDF resists moisture varies according to the product, it was this core than meant laminate was not recommended for wet areas such as bathrooms and kitchens — if water was allowed to penetrate the surface of the laminate and reach the core, boards would lift, buckle, bow and generally react badly.
However, manufacturers have now come up with a solution to the problem — waterproof laminate.
Although there are many different types of waterproof laminate, what they usually have in common is that the joints between the laminate boards or tiles will have been given a water repellent coating or that the boards are made from 'swell resistant' materials.
You will also probably find that the laminate comes with special fitting instructions that it will be important to follow in order to further protect the floor. Lifestyle Floors' (opens in new tab) Love AQUA, for example, is water resistant and suggested for use in bathrooms. It is, however, important that whoever fits the flooring uses a flexible silicone around the perimeter of the room and any pipes to prevent water ingress.
Water resistant or Waterproof?
It is crucial to understand that there is a marked difference between waterproof and water-resistant laminate. Although both are often billed as suitable for those after bathroom flooring ideas, the level of protection they offer will be different.
Both are made in the same way as traditional laminate, however waterproof laminate flooring should have qualities that mean water will never be able to penetrate the floor, while water-resistant laminate usually has a top layer that, although highly resistant to water, may, eventually, allow water through.
Although water-resistant laminate can be used in bathrooms, spills will need to be dealt with within a certain time period, which is usually specified by the manufacturer — for example many state their flooring has a 24-hour water-resistance which buys you time to deal with spills.
Laminates that are sold for this purpose often feature surface coatings that prevent any ingress — Quick-Step (opens in new tab), for example, offer ranges with a '100% waterproof surface' called HydroSeal which coats even the tiny grooves between boards meaning no water can penetrate.
Should I use laminate in the bathroom?
In short, some laminates are suitable for use in bathrooms and other wet areas while others are most certainly not.
Seek out waterproof and water-resistant ranges of laminate flooring and be sure to check where they can be used, according to manufacturer's instructions, along with how resistant to moisture they are and what their warranty covers.
It's also worth considering how the room will be used — a WC or master en suite will have different needs to a family bathroom with young children, where spills and splashes will be a more frequent occurrence, for example.
Natasha is Homebuilding & Renovating's Associate Editor and has been a member of the team for over two decades. An experienced journalist and renovation expert, she has written for a number of homes titles. She has renovated a terrace and is at the end of the DIY renovation and extension of her Edwardian cottage. She is now looking for her next project.
Homebuilding & Renovating Newsletter
Get the latest news, reviews and product advice straight to your inbox.
Thank you for signing up to Homebuilding. You will receive a verification email shortly.
There was a problem. Please refresh the page and try again.