Laminate flooring vs engineered wood: Which is right for you?
Having dilemmas when it comes to laminate flooring vs engineered wood? Our guide explains the pros and cons of each to help you decide which option will be best for you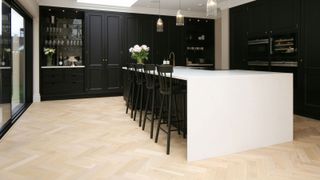 (Image credit: V4 Wood Flooring)
Laminate flooring vs engineered wood — has it got you wondering? Both types of flooring can be fantastic, in the right home and in the right room, but it can be difficult to make a decision between the two.
The flooring you choose for any area of your home needs to be carefully considered to ensure it works on a practical level as well as looking great — what might be ideal in a living room may well be all wrong in a bathroom, for example. In addition, how each household lives will dictate the type of flooring material that will be best too — those with pets, for example, will have different needs to those without.
In this guide, we'll be taking a look at the pros and cons of each of these materials and explaining how they compare to one another — so you can feel confident that you have all the information you need before parting with any money.
Laminate flooring vs. engineered: What's the difference?
Laminate flooring and engineered wood flooring are two completely different things — although high-quality modern laminates do a great job of imitating the appearance of real wood.
Laminate flooring is comprised of several layers of synthetic materials, including a base layer to provide stability and prevent warping, a core layer for strength and flexibility (usually made from high density fibreboard) and a décorative layer that determines its appearance — tile or wood-effect, for example. There is also a final protective layer made from a melamine resin that gives the whole floor a durable finish.
So what is engineered flooring? In the same way as laminate, engineered wood flooring is also made up of lots of layers — however, these are all made of timber of one sort or another. There is a solid hardwood top layer (the thickness of which will vary depending on the quality of the product), bonded to several thinner layers of softwood, plywood or recycled wood.
Both laminate and engineered flooring are available in plank form, with tongue and groove edges and both are suitable for use over underfloor heating.
"Both flooring types are hydroscopic, meaning they absorb moisture and promote a healthy climate in your home, especially when installed over underfloor heating," says Lucy Pickett, Head of Specification & Design at V4 Wood Flooring. "This is unlike vinyl and other plastic flooring, which can instead release harmful VOCs (Volatile Organic Compounds) when warmed."
Similarities and differences explained, it is time to move on to the pros and cons of each so you can decide which will be the best option for you.
Advantages of laminate flooring
There are many advantages to fitting a laminate floor. A quick note here, laminate comes with an 'AC rating' that indicates how durable it is and therefore how suitable it is for different applications — the higher the number, the better.
The main advantages of laminate flooring are:
Hardwearing and durable (bear in mind that it is best to opt for one with a high AC rating, such as AC5)
Cost effective
Quick and easy to install on a DIY basis
Compatible with underfloor heating
Available in waterproof versions suitable for bathrooms
Large range of wood, stone and tile effects offered
Easy to clean and maintain
"Laminate flooring can be wet-cleaned much more regularly than engineered timber too thanks to its waterproof melamine finish," points out Lucy Pickett. "Engineered wood floors may require once-weekly washing with pH-balanced soap depending on traffic."
If you fancy installing your flooring yourself, do familiarise yourself how to lay laminate flooring properly to avoid bad cuts and ugly chipped edges.
Disadvantages of laminate flooring
Of course, just like other flooring, including types of wood flooring, there are cons to bear in mind:
Should damage occur, a laminate floor cannot be be sanded or refinished
Even the most realistic products can lack the charm and warmth of real wood flooring
Those with low AC ratings can be slippery when wet
Difficult to replace individual boards
Won't add value to your home in the same way that a wooden floor can
"Laminate floors are more scratch-resistant than engineered wood, but cannot be sanded and resealed to heal visible wear," adds Lucy Pickett.
Advantages of engineered wood floors
Engineered wooden floors are hugely popular — offering greater stability than solid timber floors and often being easier to lay on a DIY basis too compared to solid boards that require nailing down.
If you are wondering how to choose engineered wood flooring, bear in mind that those products with a thick solid top layer will last longer and feel sturdier underfoot than those with flimsy, thin layers. Thicknesses range from between 3-7mm, although thicknesses of up to 15mm are available.
When it comes to the advantages engineered wood floors hold over laminate, these include:
Can be sanded and refinished if damaged (the number of times you can do this will vary depending on the thickness of the solid top layer)
Huge range of timbers available for all budgets, requirements and styles of home
Lends warmth and character as it is a natural material
Compatible with UFH
Easy to install
Low maintenance and easy-to-clean
Greater stability than solid wood flooring when exposed to humidity and moisture
Disadvantages of engineered wood flooring
There are, of course, also some disadvantages to be aware of and, given the relatively high cost of engineered wooden flooring, it is very worth bearing these in mind.
Cons include:
Prone to dents and scratches
Unsuitable for bathrooms
More expensive than laminate
Is laminate or engineered timber better in bathrooms?
The best bathroom flooring needs to be up to the job of resisting movement when subjected to moisture and fluctuating humidity.
Although both wood and laminate can be used in bathrooms, they are not always the lowest-maintenance option and there are other materials which are less likely to cause you problems later down the line — do your research on the suitability of the particular products you are interested in.
While engineered flooring is a far better option than solid wood in the bathroom, in households where lots of splashes are expected, it really will be better to opt for something like stone or tile.
So, is laminate waterproof? There is no simple answer here — some products are and others aren't — you need to choose waterproof laminate if it is going to work in the bathroom. Waterproof laminate has a water repellent coating in the joints between the boards or tiles and will usually be made from 'swell resistant' materials.
How much does laminate flooring cost?
Of course one of the main deciding factors between one flooring product and the other for most people is cost.
"Laminate flooring falls under the cheapest category, as it requires less hardwood to produce and is generally simpler to make overall," says Lucy Pickett.
Although the cost to lay laminate flooring varies hugely depending on the quality of the product and who you get to install it, in general, for materials only, you can expect to pay from £6/m² up to £25/m², or as high as £60/m² for top quality products.
"Overall, laminate flooring tends to be more cost-effective to buy and install than engineered wood flooring, thanks to its construction process and materials used," says Lucy.
What does engineered wood flooring cost?
So, how about engineered wood flooring — what does wood flooring cost?
"The cost of wood flooring, especially hardwood flooring, is the most common reason people choose other types," says Craig Smith, Merchandising Manager at Flooring Superstore"It can be expensive compared to different flooring options, including laminate flooring."
Engineered wood flooring can cost anything from as little as £30/m² and up to well in excess of £100/m². Prices will depend on the species of wood you opt for, as well as the style of boards.
With both laminate and engineered wood flooring, don't forget to factor in the cost of underlay and, if you plan on getting a professional floor fitter in, installation.
Get the Homebuilding & Renovating Newsletter
Bring your dream home to life with expert advice, how-to guides and design inspiration, direct to your inbox.
Natasha is Homebuilding & Renovating's Associate Content Editor and has been a member of the team for over two decades. An experienced journalist and renovation expert, she has written for a number of homes titles. Over the years Natasha has renovated and carried out a side extension to a Victorian terrace. She is currently living in the rural Edwardian cottage she renovated and extended on a largely DIY basis, living on site for the duration of the project. She is now looking for her next project — something which is proving far harder than she thought it would be.