Types of Vinyl Flooring Explained: Which is Right for You?
By Amy Reeves published
Discover the different types of vinyl flooring available with our guide so you can decide on the perfect underfoot material for your room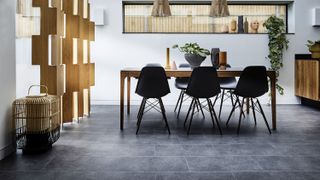 (Image credit: Carpetright)
Types of vinyl flooring might be on your mind when deciding on flooring for your home. Although often saddled with an old reputation of material by the roll that doesn't last very long, developments in vinyl products have seen it become one of the most popular flooring choices on the market.
Different types of flooring offer various pros and cons; for vinyl its versatility, water resistance and cost-effective nature makes it very enticing indeed. But what are the different vinyl flooring options available and which one is best?
We discuss below how to choose between the main types, which is cheapest and which will stand the test of time.
How Many Types of Vinyl Flooring Are There?
There are three types of vinyl flooring: sheet, LVT (luxury vinyl tiles) and LVP (luxury vinyl plank).
Sheet vinyl (also known as cushioned vinyl) is probably what most of us think of when we consider vinyl floors. It comes on a roll and when fitted correctly, can last in high-traffic areas like kitchen and bathrooms for years.
"LVT flooring is a more technologically advanced version of sheet vinyl," explains Inga Morris-Blincoe, general manager at Lifestyle Floors (opens in new tab). "They have excellent durability due to their thick wear layers and are a practical alternative to other resilient products such as sheet vinyl and laminate. The wear layer and finishing PU layer make LVT floors easy to clean and maintain, without compromising your aesthetic, and provide a warm feel underfoot."
LVP flooring is very similar to LVT, but is most often used when referring to wood-effect vinyl. The planks tend to be longer and narrower than tiles, to mimic the natural appearance of wood, rather than square or rectangular format stone-effects.
What is the Difference Between LVP and LVT Flooring?
While there is not a huge difference between LVP and LVT options in terms of the manufacture and material quality, there is a distinction made between stone and wood effect floor styles.
LVP usually means it has a wood-effect top layer, with the texture, colouring and, crucially, shape of types of wood flooring. LVT, on the other hand, mimics the look and feel of natural stone and is usually seen in square formats to suit the style. (That said, plank products are also sometimes referred to as LVT.)
Alternatively, if you're looking to replicate the look of a flat surface, such as polished concrete or rubber, sheet vinyl is most likely your best choice to give a seamless finish.
Which is Cheaper LVP or LVT?
There will be little difference in cost between LVP and LVT (both have prices at around £30 - £65m2), but budget differences will be seen in the quality you choose.
The wonderful thing about LVP and LVT is that they can mimic wood and stone effects, but some manufacturers have limited printing designs so repeats can be more frequent in cheaper products.
Similarly, the more expensive the vinyl floor, the better the grain or texture on the top surface of the plank or tile.
Sheet vinyl is the cheapest choice, with many options coming it at around £20-£25m2.
Still unsure about you flooring choice? Perhaps compare laminate vs vinyl with our handy guide.
What Type of Vinyl Floor is Most Durable?
LVP and LVT will be more durable as kitchen or bathroom flooring than sheet vinyl. While sheet vinyl can last over a decade if properly fitted and maintained, the luxury choices can give over 20 years of service.
It's worth noting that some sheet vinyl flooring can be punctured (by high heels, for instance), although repair kits are available.
"There are different wear layer thicknesses suited for different environments, so consumers can choose the right specification for their home, as well as their budgetary requirements — the thicker the wear layer, the more expensive the price," details Lifestyle Flooring's Inga Morris-Blincoe. "It is advisable to discuss your requirements with your local retailer who will advise on the suitability of the product for your chosen area.
"With a well prepared and suitable sub-floor, LVT will give years of practical wear; consult your local LVT retailer regarding sub-floor preparation as well as the correct adhesives and sub-floor preparation products to use."
How Do I Choose a Vinyl Floor?
Choosing a vinyl floor will ultimate come down to three things: the room it will be installed in, who will be installing it, and your budget.
While sheet vinyl can be installed pretty much anywhere in a house as it is durable and water-resistant, try to get the best quality for your price. Find a material that not only looks good, but also feels robust and will be comfortable to walk on.
"Traditional gluedown and loose lay LVT flooring would need to be installed on a perfectly smooth subfloor and a strong adhesive used to fully bond the floor," advises Stalla Coyle, retail sales manager at Karndean Designflooring (opens in new tab). "If homeowners are looking for a speedier installation and they have a less than perfect subfloor, rigid core could be the answer with its click locking mechanism allowing the floor to be fitted over imperfect subfloors."
"Glue-down' or 'dryback' LVT [and LVP] is ideal for all residential needs, even in direct sunlight," adds Inga Morris-Blincoe. "It also provides flexibility in design as it can be used with feature strips. Homeowners can let their imagination run a little wild for that personal touch!"
How do I Install Vinyl Flooring?
"If you're looking at keeping costs down with installation and you are a keen DIY enthusiast, an easy fit LVT floor could be an option to consider," Stella Coyle suggests. "Rigid core and loose lay vinyl formats are both durable and offer enhanced acoustic benefits in a range of stylish wood and stone designs.
"The best format to choose will depend on your subfloor. For perfectly smooth subfloors, loose lay or rigid core formats can be used. Where subfloors have imperfections and new build or extensions are still drying out, we would recommend rigid core as it can be installed over existing tiled floors, new and uneven subfloors."
"Click LVT provides a more cost-effective installation with less fuss," agrees Inga Morris-Blincoe. "However, click LVT still requires a relatively even subfloor and should be avoided for areas of high solar gain (such as near a fireplace or in front of south-facing windows) and/or direct sunlight (such as a conservatory or French doors)."
How do I Clean Vinyl Flooring?
Sheet vinyl can be cleaned with warm, soapy water or a non-abrasive cleaner after sweeping or vacuuming. However, while most homeowners do the same with LVT/LVP floors, it is advised that special products are used to prolong their finish.
"LVT floors should only be cleaned with LVT specific cleaning products," warns Inga Morris-Blincoe. "This will help maintain the protective surfaces and stop the product from dulling over time.
"Also, if needed, simple DIY repair kits make looking after the protective surface simple. Often, a well-placed LVT friendly mat and protectors for furniture feet will minimise the already simple maintenance, keeping your floor looking good for years to come."
Assistant Editor Amy began working for Homebuilding & Renovating in 2018. She has an interest in sustainable building methods and always has her eye on the latest design ideas. Amy has interviewed countless self builders, renovators and extenders about their experiences for Homebuilding & Renovating magazine. She is currently renovating a mid-century home, together with her partner, on a DIY basis, and has recently fitted her own kitchen.
Homebuilding & Renovating Newsletter
Get the latest news, reviews and product advice straight to your inbox.
Thank you for signing up to Homebuilding. You will receive a verification email shortly.
There was a problem. Please refresh the page and try again.