17 Grey Bathroom Ideas: How to use This Versatile Colour in Your Scheme
By Hugh Metcalf published
With the right grey bathroom ideas to inspire you, you can create a sophisticated scheme that's effortlessly timeless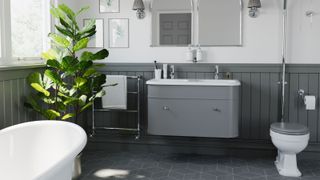 (Image credit: Burlington)
You might think there's not much new when it comes to grey bathroom ideas, but you'd be wrong. Though grey bathrooms have been popular for a long time, shifting trends, new designs and materials and more innovative brands than ever before mean there's always a new idea to try out in your space.
From wall coverings to fixtures and fittings, there's plenty of ways to bring grey elements into your bathroom design, whether grey makes up the majority of your colour palette or is just an accent in a wider scheme.
We've asked some industry experts for their top tips when it comes to using grey in a bathroom, and picked out some of the very best examples of grey bathrooms done right.
Grey Bathroom Ideas for Every Home
Grey is a tried-and-trusted colour for a bathroom, but you need to use it thoughtfully in your space. Depending on the hue of the grey you choose, you'll often find that grey has undertones of blue and other colder tones, which in combination with a brilliant white bathroom suite, can make a space feel cold and unwelcoming.
However, it's benefits - adding a sense of sophistication and interest - outweighs these drawbacks, and just means that adding warmer elements, from wooden finishes and cosy textiles to warmer-toned metallics and the right lighting, will help balance the colour temperature of the space.
1. Paint Your Bathroom in the Perfect Grey Paint
The easiest grey bathroom idea is of course reaching for a paintbrush. As we already said, grey is a popular colour for the bathroom, so you'll find that the best bathroom paints all include grey in their range.
But when it comes to paint, why is grey such a good choice?
"Pick a paint colour that does not recast light in an artificial or unflattering way and cause problems when applying make-up or grooming," says Helen Shaw, Director of paint brand Benjamin Moore (opens in new tab). "It's helpful to know which colours will alter the light: Strong blues, greens and yellows have the most impact; creamy whites and soft greys are safe choices."
2. Choose Grey Tiles for a Sophisticated Finish
Tile trends come and go, but opting for grey means you've got a timeless option that's also unlikely to put off any future buyers, if that's something you're concerned with.
However, grey tiles don't have to be boring. While you could play it safe with a simple grey metro tiles, you'll also find the likes of highly decorative encaustic, ceramic or porcelain tiles in grey patterns. In fact, you may find that a grey bathroom can hold up to incorporating more pattern than a highly colourful space, while still retaining a serene feel.
This counts double when it comes to bathroom tile ideas for small bathrooms, where you need to balance adding interest, without overwhelming the space.
3. Create Statement Designs With Stone
You'll also find that lots of natural stone and composite materials, such as quartz, come in grey finishes, allowing you to create designs with large, uninterrupted sheets of material for a dramatic look, where tiles require grout line in between.
In this design using Caesarstone's Airy Concrete, quartz has been used in the shower enclosure, as well as to create the long double basin with bespoke splashback. Composite materials can be created in almost any size, so it really can be used to create any modern bathroom idea you can imagine.
4. Or Use Shower Panels for a Budget-Friendly Alternative
Another way to use larger sheets of material and avoid fussy grout lines is to use shower panels. When it comes to the shower panel vs tiles debate, both have their pros and cons, but shower panels are easy to fit and easy to keep clean.
Plus, you can create some of the same bold design ideas as you would with a stone sheet, with design options like grey marble and terrazzo that give the effect of luxurious products on a shoestring budget.
5. Paint Panelling in Your Favourite Shade of Grey
Bathroom panelling is a great way of protecting your walls from splashes of water, and creating a dynamic feature for your space. Whichever wall panelling idea you choose, be it wainscoting, butt and bead or any other type of panel, it makes a particular good vehicle for your grey bathroom ideas.
Grey is a colour that's regularly used in period homes, so using this with a classic panelling type plays up this old-world glamour to create an impressive space.
6. Consider a Microcement Finish for Your Bathroom
Microcement is a process where fine layers of a cement-based coating is applied to a surface, whether that's a floor, worktop or even walls. While it is available with added pigments to create almost any colour, it's often cement grey in its natural form.
Microcement is a good option for bathroom surfaces as it withstands water well, and means that there's no grouting that needs cleaning. It creates an interesting textured look that's a huge trend for this year.
"More and more professionals are advising their clients to use microcement, as it's affordable, practical, easy-to-maintain and stylish to boot," says Amanda Pollard, editor for Houzz.co.uk (opens in new tab). " If you're looking for an industrial style in the bathroom, its grey colour and the possibility of creating continuous surfaces make it especially suitable, both from an aesthetic and practical point of view."
7. Make a Splash With a Grey Bathtub
You might think of coloured bathroom suites as a throwback to the 1970s, but this trend has come full circle for those looking to make a bold statement with their bathroom design ideas.
While you'll find coloured ceramic tubs in bold shades such as pink and green are a big social media trend, a colour like grey is a good place to meet in the middle — bold enough to be a talking point for anyone who visits your home, but not so bold as to run the risk of your tiring of it when you decide you want to change your scheme.
After all, many of these baths represent serious investments as part your bathroom budget, so ensuring you're going to love it for a long time is important.
8. Or Make a Statement With a Grey Basin
On a smaller scale, a grey basin offers some of the same wow-factor as a grey bath, but without such a large commitment to a bold piece. Grey basins are largely, again, made from coloured ceramics, however, there's a growing trend for basins made from poured concrete, allowing for interesting and tactile designs.
These types of basins can be particularly effective in small bathrooms, such as cloakrooms or ensuite bathrooms, where you only have a small amount of space to make a big impact.
Whatever you choose, make sure you consider how it ties in with the bath and WC as part of the larger scheme.
9. Create a Monochromatic Bathroom Scheme With Tonal Greys
An all-grey bathroom can make for a really impactful and cohesive look, so consider how your choices slot together to create an overall scheme.
In this bathroom featuring Burlington products, a grey vanity unit and grey-lidded WC complement the grey flooring, panelling and lighting choices to make for an interesting monochrome space.
Be sure to add in some contrast, in this case a big, beautiful fiddle leaf fig plant, to create contrast that keeps the eye moving through the room.
10. Grey Wallpaper can Also be Super Effective in a Bathroom
Have you ever considered wallpaper in the bathroom? Grey is a great choice for incorporating a busy pattern, as this example just goes to show.
The intricate, fantastical print of the wallpaper doesn't overwhelm the space thanks to its monochromatic nature, while picking out the palette of greys introduced in the sanitaryware.
There are a few golden rules for using wallpaper in the bathroom, mostly based around where it's likely to be most durable. In this example it works well, as the panelling runs up into the main splash zone, while the wallpaper is higher, out of range. Normal wallpaper may also suffer in very humid bathrooms, so you'll need to ensure you have the right ventilation for your bathroom.
If you want to introduce wallpaper in areas that are likely to get wet on the walls, there are waterproof murals and wallpapers available, however, you'll find that the ranges are more limited.
11. Add Grey With a Window Covering
Don't forget about your window treatments as a way to add an accent colour to your space. Whether you choose shutters or blinds for your space, choosing a grey design is an excellent way to add some depth to a neutral bathroom scheme.
Fabric is generally a no-no for a bathroom, unless it's a large, well-ventilated space, however, these Granite Grey blinds from English Blinds are made from waterproof PVC, making them the perfect choice for a bathroom.
12. Add Warmth to a Grey Scheme With Wooden Finishes
Our golden rule for using grey in the bathroom is to add some warming elements to avoid your space becoming to cold and clinical. Wood is one of the best ways to introduce these warmer tones and can be done in simple ways such as choosing the right accessories that offer the richness of timber to the scheme.
Another idea for introducing wood finishes is to use internal timber cladding. Trendy, contemporary slatted cladding is a big trend in interiors right now, and it's perfect for the bathroom, recreating a spa-like environment and ensuring there's a natural connection within the space, one of the key pillars of biophilic design.
13. Pick the Right Lighting for a Grey Bathroom Scheme
Another place to think about the balance of colour temperature when using grey is in your bathroom lighting. In the cool light vs warm light conversation when specifying lighting, there's some key things to consider.
Cool light is brighter, so this kind of lighting is useful for using a mirror, for example, or for anywhere else in the bathroom where you need to perform tasks. However, with just cool lighting, there's not much chance of truly unwinding while soaking in the bath.
Ensure your bathroom lighting ideas incorporate warm, ambient lighting so that your bathroom can feel comfortable to use and relax in at the end of a long day.
14. Go for Grey Bathroom Flooring
Almost all types of flooring will come in some type of grey tone, so this is one area that it's easy to incorporate your grey bathroom ideas.
Grey timber and stone-effect flooring can be particularly effective in bathroom, delivering that clean, crisp look that's perfect for a contemporary bathroom, while adding the natural grain or veins, respectively, that ground your scheme in the sereneness of the natural world.
15. Pick Poured Concrete for Your Bathroom
Polished concrete is another popular flooring choice that falls into the grey colour palette. They create a simple, chic look, but with an industrial edge that ensures your bathroom feels anything but sterile.
However, it's expensive and difficult to lay, meaning it's not an option for some people, but the good news is that there are budget-friendly ways to recreate the look for your bathroom flooring too, including modern vinyl flooring with a printed poured concrete effect.
16. Create Drama With Dark Grey Bathroom Ideas
Talking of tones, what shade of grey should you pick for what kind of bathroom? You first thought might be that a small bathroom should be a light grey to keep it feeling open and airy, but many designers disagree on that fact.
Designer Luke Arthur Wells created this dark grey bathroom idea in a small, windowless ensuite bathroom. "Rather than fight the nature of the room, we decided to use dark tiles for the walk-in shower idea," says Luke. "The space almost envelops you as you walk-in, creating a cosy space, where a bright white would have looked dull, fighting against the lack of light."
17. Choose Warm Metallics for Fixtures
Another idea for adding warmth to a grey bathroom is using warm metallics such as brass, rose gold and copper. Not only will these add that all-important warmness to your scheme, but they'll add a bolder contrast in a grey space than polished chrome.
Whether it's for taps, bath fillers or showers, consider not only the colour of the metallic you choose, but also the finish and how it plays into your wider scheme. A high-gloss finish will give your bathroom a contemporary edge, while an industrial-style design, perhaps with knurled finishes or a natural patina, can give your scheme a grittier vibe.
What Colours go With Grey in the Bathroom?
The great thing about grey is that it's easy to pair with almost any other colour. However, there's still an art to picking the right shade of grey for the right colour pairing. We suggest looking at the undertones of the grey you choose to suit the accent colour. A colour on the warmer side of the spectrum, such as pink, yellow or orange, for example will look best with a grey with warm undertones, while blues and greens will suit cooler greys.
Of course, keep in mind our tip about balancing colour temperatures, and make sure there's plenty in your scheme to ensure the room doesn't feel too cold, and bear in mind that some colours will change the light in your scheme, affecting how you look in the mirror.
If you're choosing an accent colour, modern trends tend to skew towards softer contrasts rather than dark greys against pops of saturated colours. This will create a calmer, more relaxing scheme that makes it perfectly suited for a bathroom.
Hugh is Digital Editor of homebuilding.co.uk and has worked on a range of home, design and property magazines, including Grand Designs, Essential Kitchens, Bathrooms, Bedrooms and Good Homes. Hugh has developed a passion for modern architecture and green homes, and moonlights as an interior designer, having designed and managed projects ranging from single rooms to whole house renovations and large extensions. He's currently renovating a Victorian terrace in Essex, DIYing as much of the work as possible. His current project is a kitchen renovation which involves knocking through walls and landscaping a courtyard garden.
Homebuilding & Renovating Newsletter
Get the latest news, reviews and product advice straight to your inbox.
Thank you for signing up to Homebuilding. You will receive a verification email shortly.
There was a problem. Please refresh the page and try again.