How Much Does it Cost to Install a Fence?
By Natasha Brinsmead published
Wondering what it will cost to install a fence? Whether storm damage has left you with missing panels or you just want a new boundary, our cost guide will help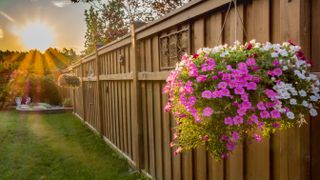 (Image credit: Getty)
The cost to install a fence can vary hugely depending on the type of fence you have your heart set on and how big an area you need your new boundary to cover.
Our guide is here to advise you on the kinds of costs you are likely to face, whether you have been left with missing sections of fencing or found rotten posts that need repairing — or simply want to increase privacy levels in your garden with an entirely new fence.
How Much Does it Cost to Install a Fence?
This very much depends on the type of fence you want as well as how much fencing you are installing. Wood fences are the most common type, although they come in a number of different styles, all of which come with different price tags.
Many people choose to install a fence on a DIY basis. Although this is not a complicated job, it definitely isn't one to undertake alone if at all possible — an extra pair of hands will really help.
If you were to call in a tradesperson to install your fence you would be looking at labour costs of from around £500 to install a 36ft run of fencing.
How Much Does Fencing Cost?
When it comes to wooden fencing costs, the cheapest option is traditional lap fence panels, which start at around £27 for a 4ft panel.
Closeboard – also called featherboard – panel fences are more expensive, with an average 5ft high panel costing around £50-£55.
At the highest end of the price scale lie more contemporary fencing types, such as closeboard Venetian panels and woven fences, which cost from approx. £100 per 5ft high panel.
More decorative types of fencing, such as picket fences, cost from around £35 for a 6ft x 3ft panel.
How Much Does it Cost to Fix a Fence?
If you have a damaged boundary and need to replace fence panels, you will first need to assess the extent of the damage to work out how many new panels you will need and whether new fence posts will also be required — after all, the cost to repair an entire fence will be very different to the costs of replacing one fence panel.
Usually, fence repair involves replacing one or two damaged panels or posts.
Fence Panel Repair Costs
One of the most common reasons a fence needs to be repaired is because the arris rail is damaged.
An arris rail is a horizontal piece of timber attached to the back of fencing — there are usually two or three spaced evenly down the back of the panels.
High winds and stormy weather can often result in damaged arris rails and if these are left in a bad state, they can cause the entire fence to come down.
It is possible to buy arris rail brackets – galvanised pieces of steel that are shaped to fit and come pre-drilled with holes ready to be screwed into place – to solve the problem. These only cost a couple of pounds, although you will also need to buy decking screws. The Diall Carbon Steel Decking screws from B&Q cost £3.25 for a pack of 50 are ideal.
Fence Post Repair Costs
Often, if damage has affected your fence panels, it will also have affected the fence posts that the panels are attached to.
Another common issue with wooden fence posts is rot to the section buried underground. If left untreated, the post will collapse and pull the fence down with it.
One of the best ways to deal with rotten fence posts is to use a concrete repair spur. These cost around £20 each.
In addition, you will need to factor in the cost of lengths of timber to use as temporary props as well as coach bolts and a bag of pre-mixed concrete. Finally, it is a good idea to give the post a coat of wood preservative to protect it from future wear and tear.
Fence Post Replacement Cost
If the fence post has snapped or rotten almost completely, you will need to replace it with a new one. The cost of new fence posts depends on their size and material. A narrow fence post that might be used to support a lightweight panel fence can be picked up for as little as £9, while concrete fence posts cost from £20 each.
You will also need to budget for concrete, new nails or screws to attach the post to the fence panels, post caps and supports.
Natasha is Homebuilding & Renovating's Associate Editor and has been a member of the team for over two decades. An experienced journalist and renovation expert, she has written for a number of homes titles. She has renovated a terrace and is at the end of the DIY renovation and extension of her Edwardian cottage. She is now looking for her next project.
Homebuilding & Renovating Newsletter
Get the latest news, reviews and product advice straight to your inbox.
Thank you for signing up to Homebuilding. You will receive a verification email shortly.
There was a problem. Please refresh the page and try again.