Bee Bricks Planning Initiative in New Homes Sparks Debate
By Jack Woodfield published
Bee bricks have created a buzz among scientists as to whether incorporating them in new homes will protect the bee population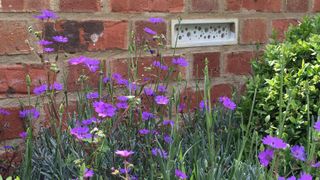 (Image credit: Green&Blue)
A planning condition in Brighton which necessitates the inclusion of bee bricks in some new buildings has sparked controversy over whether it will really increase biodiversity.
Brighton & Hove Council announced in 2020 that the condition would be attached to all planning permissions from 1 April 2020 for all new buildings above five metres, would could affect some self builders. New homes also need to include bird nesting boxes suitable for swifts (which already feature in other UK planning policies).
Brighton followed in the path of Cornwall and Dorset which have adopted similar policies designed to reduce the loss of habitat for wildlife.
Then earlier this month, a viral tweet of a bee block from Brighton councillor Robert Nemeth, a beekeeper who first raised the idea in 2019, led to scientists debating how effective the initiative will be.
Dave Goulson, a professor of biology at the University of Sussex, said: "Bee bricks seem like a displacement activity to me. We are kidding ourselves if we think having one of these in every house is going to make any real difference for biodiversity. Far more substantial action is needed, and these bricks could easily be used as 'greenwash' by developers."
But Nemeth has defended the initiative, saying: "Bee bricks are just one of quite a number of measures that really should be in place to address biodiversity concerns that have arisen through years of neglect of the natural environment."
A bee brick - now compulsory in Brighton & Hove on new buildings after I raised issue at Council. Big victory. pic.twitter.com/felFEB5FEHJanuary 11, 2022
What Are Bee Bricks?
Bee bricks are the same size as regular bricks but integrate a series of narrow openings to provide nests for solitary bees for nesting. The bricks are made using up to 75% recycled material from the Cornish China clay industry.
Solitary bees make up nearly 250 of the approximately 270 bee species in the UK and play an important role in the natural ecosystem. By incorporating bee bricks in place of standard bricks during the construction of homes, Brighton council hopes that this will increase biodiversity.
Lars Chittka, a professor in sensory and behavioural ecology at Queen Mary University, said of the initiative: "It might well be that the Brighton project provides an opportunity to study the risks and benefits on a reasonably wide scale, and over an extended period – say five years. But I would certainly recommend not copying this project across the country before the long-term benefits and risks are explored."
But Yaniv Peer from Iguana Architects, which uses bee bricks in its projects, says: "We don't use them in our projects because we believe they're going to have a massive impact on biodiversity, but because it's about mindset change. Creating bee bricks is one of the steps for bringing back into people's consciousness that we're not divorced from nature and you can't be."
Green&Blue, a company that manufactures bee bricks, has recently carried out a two-year research project with the University of Exeter to test how colour and height impact the effectiveness of the bee brick, and further studies are planned.
Faye Clifton, director of Green&Blue, said: "Working with partners in ecology and science and in locations like Brighton, where planning policy supports the implementation of wildlife habitat products, we intend to create a large scale citizen science study that starts to measure the effect of integrated nesting sites, leading the way on learning about the long-term impact."
Jack has worked in journalism for 11 years and is the News Editor for Homebuilding & Renovating, a role he has had since 2019. He strives to break the most relevant and beneficial stories for self builders, extenders and renovators, including the latest news on the construction materials shortage and hydrogen heating. In 2021 he appeared on BBC's The World at One to discuss the government's planning reforms.
He enjoys testing new tools and gadgets, and having bought his first home in 2013, he has renovated every room and recently finished a garden renovation.
Homebuilding & Renovating Newsletter
Get the latest news, reviews and product advice straight to your inbox.
Thank you for signing up to Homebuilding. You will receive a verification email shortly.
There was a problem. Please refresh the page and try again.