Garden Wall Ideas: Beautiful Boundary Inspiration
Our collection of garden wall ideas is here to ensure your outdoor spaces look just as good as your interiors, no matter what your style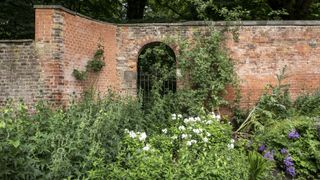 (Image credit: Getty)
The best garden wall ideas will not only create a distinct border between your property and that of your neighbours or any other land surrounding your home, but they can also be used to create definition and interest in an otherwise open space.
There are many different ways in which garden walls can be created, from reassuringly, solid materials such as stone and brick, to more contemporary garden wall ideas using metal and incorporating eye-catching features.
Here, we take a look at some of the best options, whatever plans you have for your landscaping scheme.
1. Mirror Your Home With Your Garden Wall
While there is nothing to say that your choice of garden wall material has to match the materials used in the external construction of your home, referencing them in some way can definitely add a visually pleasing sense of cohesion.
Period and rural properties built using stone or characterful old bricks will really benefit from a wall built of similarly rustic materials, as can be seen in this charming example, by Lucy Bravington Design.
However, it is not necessary to choose identical materials to those used in your house. If you have small areas of timber cladding or render, these could be picked up in your boundary. You might also like to consider tying paving and boundary materials in with one another, or match climbing plants on your house and over walls. All of these ideas will imply a considered approach.
2. Garden Wall Ideas For Small Spaces
The key when dealing with small gardens is to distract the eye from the proportions of the space with plenty of distractions — and the right boundary can do just this. Rather than opting for one solid material for your wall, mix and match, combining visually hefty materials, such as brick, with soft, pretty extras in the form of climbing plants.
If you garden is long and narrow, such as in this example, add interesting angles to avoid a bowling alley effect and create various levels. Here, the brick wall acts as a backdrop, with raised beds forming a base for a planting scheme as well as seating — note the metal cladding used at the base of the wall opposite the built in bench. This is a great way to break up the expanse of brick.
3. Create a Focal Point Garden Wall
There is no reason why garden walls should only be viewed as neutral backdrops for the rest of the space. In many cases, the walls themselves can become garden focal points, whatever the size of the outdoor area.
A water feature or eye-catching panels with intricate designs will both bring your wall to life. In this small garden, designed by Outdoor Creations, the hardwood lateral timber screens provide privacy, while raised planter enables a planting scheme. A touch of drama has been achieved thanks to the blade water feature set into a slate clad wall.
4. A Softer Way to Add Height
While brick walls are ideal for creating a sense of privacy, it can overwhelm a space, particularly where compact dimensions need to be taken into account — they can also block light in some cases.
Trellis is the ideal way for topping up the height of low garden walls or fences without encroaching on the space or being too imposing.
In this garden, by Lucy Bravington Design, the new brick walls have been topped with slatted trellis — a lovely combination of traditional and modern. Climbing plants soften the look, while neat box hedging add a traditional look and structure.
Trellis is also a great idea in exposed sites where solid boundaries are more likely to be damaged in high winds.
5. Choose Metal Garden Walls for Low Maintenance
Not only can metal panels provide a high degree of privacy (and security) but they can also become focal points as well as being a great low maintenance boundary idea.
These Corten steel fence panels, from Stark & Greensmith Ltd are their Blank design, but are also available with laser-cut patterns.
The panels are recyclable, maintenance-free and long-lasting — plus the Corten steel will weather as time goes on and is ideal for creating a warm, textured look. As such, this material makes for a low maintenance garden idea. They look great here, combined with neat hedges and colourful planted borders.
6. Create a Living Wall
Living walls make great small garden boundaries, adding plenty of lush greenery and interest and distracting the eye from compact proportions.
They can be planted with anything, from useful vegetables and herbs to a combination of annuals and perennials for a pop of colour all year round.
They are often sold in kit form these days and can be planted up in a matter of days to provide an instant planted boundary. If you are worried about maintenance, many living wall systems come with built-in watering systems.
7. Cover Your Wall With Edible Plants
Why not create a garden wall that can multitask? As well as providing privacy and definition, an edible boundary will also provide you with fresh produce.
If you like the idea of using your garden wall in this way, according to GrowVeg, apple, peach and pear trees can all be grown as fans, where branches radiate out from a central trunk, or as espaliers with parallel branches. Pick the sunniest wall in your garden for this.
You could also consider growing grape vines up walls and try your hand at wine making, or use the opportunity for a spot of organic gardening.
8. Fit a Mirror to Your Garden Wall
Fixing a mirror to a garden wall is a great idea for lots of reasons. Firstly, it is a great way to make small gardens seem bigger. Secondly, it will add visual depth and then there is the fact that even the plainest of walls can be given instant interest with the right mirror.
Planting climbers around the mirror will really bring the whole thing to life.
This example is from CHARLESTED and is their Gardenia Inside Outside Window Mirror.
9. Add Plants to a Garden Wall For Colour
If you have an existing wall that you feel is rather uninspiring in design terms, consider a colourful climbing plant to turn it into a beautiful feature.
Wisteria and climbing roses not only look great but smell great too, while Jasmine is another popular option.
For a similar look to this dramatic example, try Crimson glory vine. It is a vigorous grower, reaching over 12m, so is best for large walls and turns blazing shades of red and orange in Autumn.
10. Use Paint For an Instant Update
If you have a tired looking garden wall that is letting the rest of your garden design scheme down, yet are at the end of your landscaping budget, this one is for you.
A simple coat of paint over a brick, block or concrete wall can transform it into something really special.
White will work well in small spaces and feels very fresh — plus it is a brilliant backdrop for bright plants and flowers. However, it can show up dirt, so if your garden is in an exposed location, consider adding a splash of colour with a bold zingy hue instead.
Opt for a specialist exterior paint (choose the best masonry paint you can find) to ensure the finish doesn't begin to peel or flake.
Get the Homebuilding & Renovating Newsletter
Bring your dream home to life with expert advice, how-to guides and design inspiration, direct to your inbox.
Natasha is Homebuilding & Renovating's Associate Content Editor and has been a member of the team for over two decades. An experienced journalist and renovation expert, she has written for a number of homes titles. Over the years Natasha has renovated and carried out a side extension to a Victorian terrace. She is currently living in the rural Edwardian cottage she renovated and extended on a largely DIY basis, living on site for the duration of the project. She is now looking for her next project — something which is proving far harder than she thought it would be.