Gravel Driveway Ideas: Top Designs for Classic Kerb Appeal
By Amy Reeves published
There's more to gravel driveway ideas than meets the eye — find out how to make this simple materials shine with expert top tips and design inspiration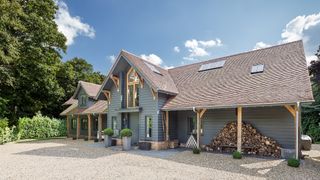 (Image credit: Simon Maxwell)
Gravel driveway ideas are popular thanks to the material's cost-effectiveness, optional DIY installation and inherent traditional country charm, but it's not always easy to know how to style a driveway to look it's best.
When looking for the right material to cover your driveway, security, durability, maintenance and cost should be always on your mind. While no material will tick every box, gravel is definitely a front-runner for many of them.
So, we've selected our favourite examples of gravel driveways done right with loads of inspiration on how to make boring driveway ideas look special.
Gravel Driveway Ideas: What to Consider
Getting your driveway design right will impact the overall kerb appeal of your property, as well as the practicalities of using it every day to enter and exit.
When looking at how to lay a gravel driveway DIY, you'll need to lay a retaining grid so the stones are kept evenly in place. A weed membrane is also essential, lest you spend every summer fighting against nature.
"It's more forgiving in terms of looking natural and is readily available for any required maintenance," says Odie Green from Odie Green Garden Design.
1. Use Border Edging Between a Gravel Driveway and a Lawn
Where your front garden ideas are going to sit adjacent to a gravel driveway, it's best to separate the two using a paved boarder or edging so the stone chips don't get into your lawn mower when cutting the grass.
While this is a practical consideration, it also provides an aesthetic one, too. Lawn edging ideas neaten garden designs and where a material, such as gravel, moves around, ensuring everything is in its place will certainly improve kerb appeal.
Plus, a useful path around the gravel can be formed using paving — something anyone walking out the house in heels will appreciate!
2. Use Gravel Driveway Ideas as a Budget Option
Choosing gravel is a great way to keep driveway costs down. As a SuDS-compliant option, gravel allows rainwater to soak through the surface, reducing the chances of flash-flooding without the need for a soakaway.
"Having a gravel driveway is a budget-friendly option when looking for a home improvement," adds Chris Bonnett, founder of Gardening Express (opens in new tab). "It is important to ensure you select the right stones so it's worth getting a sample of the stones you want and look at them both wet and dry and ensure they complement the colour of your house."
As it can be laid on a DIY basis you can save money on installation, but it's important not to underestimate how much work will be involved, even for a moderately-sized drive.
Finally, while we would never suggest to skimp on security, gravel does play a good part in a wider scheme. The noise associated with approaching a house via a gravel driveway can be enough to deter unwanted visitors to avoid alerting homeowners.
3. Illuminate a Sloping Gravel Driveway
Install driveway lighting ideas for sloped or curved approaches, where entering/exiting in the night might be problematic.
This homes shallow slope is lit via a wired light on the exterior, so drivers can see the stone wall and visibility splay clearly.
4. Include a Rumble Strip in a Gravel Driveway
Ensure a rumble strip of some sort is installed at the entrance to your gravel driveway. Rumble strips are a handy way of shaking off excess gravel stuck to tires or in wheel arches — but they also look particularly neat and give a gravel driveway a polished finish.
This can be done using metal bars underneath a driveway gate, if you're in a particularly rural location, or using stone setts.
Different styles of grey stone have been used to a wonderful effect outside this home. There is a clear transition between the gravel and two tones of block paving. Further, stone edging lines the lawn in a way which brings together the entire scheme.
5. Complement a Country-Style House with a Matching Driveway
Choose a gravel stone which echoes materials or hues used in the main house design.
The gravel driveway to this home doesn't just reflect the exposed local stone and brick used in the cladding, but also the pale render.
"You can get creative when decorating with gravel," says Chris Bonnett. "Try edging to create a dynamic path to your home or match the gravel to the brickwork on your property.
"You can also surround the area with flowering plants to create a warm and friendly welcome."
What Do You Put Under a Gravel Driveway?
"Before even thinking of creating a gravel driveway, it's best to ensure all grass or soil is cleared from the area and the gravel material is selected from the start," comments Chris Bonnett of Gardening Express.
"It's vital to have a solid base, the most common material is DT Type 1 (MOT) where crushed rock is compacted down.
"This is a great option for a sub-base as it'll be able to hold the weight of your cars."
How Thick Should Gravel be for a Driveway?
"It's typical to have a 5cm depth for a gravel driveway, as car tyres push the gravel down overtime, so keeping the depth at this sensible size is cost-effective and beneficial for the drivers in the household," advises Chris Bonnett.
Assistant Editor Amy began working for Homebuilding & Renovating in 2018. She has an interest in sustainable building methods and always has her eye on the latest design ideas. Amy has interviewed countless self builders, renovators and extenders about their experiences for Homebuilding & Renovating magazine. She is currently renovating a mid-century home, together with her partner, on a DIY basis, and has recently fitted her own kitchen.
Homebuilding & Renovating Newsletter
Get the latest news, reviews and product advice straight to your inbox.
Thank you for signing up to Homebuilding. You will receive a verification email shortly.
There was a problem. Please refresh the page and try again.