Planning Permission for Driveways: What You Need to Know
By Simon Rix published
Planning permission for driveways is key when creating a new or widening an existing drive. Find out if you need it and what the application process entails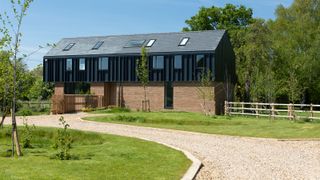 (Image credit: Jeremy Phillips)
Obtaining planning permission for driveways has become a much more common request in recent years. On-street parking is a necessary burden for many people, mostly those living in densely populated areas across towns and cities. But this means you can't always guarantee a parking spot outside your home, so having your own driveway is a popular objective.
As more and more people opt for electric cars, which require an at-home charging point, driveway ideas are now more sought-after than ever. For homeowners, this means acquiring the right planning permission for driveways, so they can be installed with minimal disruption.
This article aims to guide you through some of the finer points involved with planning permission for driveways, both in existing homes and new builds.
Do You Need Planning Permission for a Driveway?
Whether or not you need planning permission for a driveway will depend on your individual situation. In general, if the driveway is to be part of a new build project, then the details of it should form the 'access' part of the planning application for the new dwelling.
If it's for an existing house, however, then there are some instances where planning permission for driveways is not needed because it comes under Permitted Development. This means that planning permission is deemed to have already been given, so your driveway project can proceed unencumbered.
But be careful, there are various circumstances where Permitted Development rights don't apply. It's always best to check first, because if you go ahead and do the work and then find out you should have applied for planning permission, you may have to complete a retrospective planning application, which comes with its own risks and costs.
When Do Permitted Development Rights Not Apply?
Permitted development rights, i.e., the situations where you don't need to seek planning permission for driveways, do not apply to flats and maisonettes.
They also don't apply to homes that were turned into dwellings via other Permitted Development rights, i.e., those converted from launderettes, betting offices, payday loan shops, hot food takeaways, other commercial, business and service offices, storage or distribution centres, amusement arcades, casinos, agricultural buildings, and premises in light industrial use.
If the planning permission used for an existing house specifically removed Permitted Development rights as one or more of the conditions of consent, they do not apply here, either.
There are some areas of the country where Permitted Development rights have been removed across the board for all properties in a defined area. If any of these exclusions apply to your house, then you will need planning permission for driveways.
Finally, if you live in a building that is listed, then you will need planning and listed building consent before making any modifications, because the land around a listed building is covered by the listing protection as well as the property itself.
Do You Need Planning Permission to Turn Your Front Garden Into a Driveway?
You can replace or install a new hard surface in front of an existing house without planning permission for driveways if the area is less than five square metres. For some small front gardens, that will be enough for a 'wheel tracks driveway', i.e., one that has just two paved tracks where the wheels of your vehicle go.
If you require a driveway larger than that, you can still avoid the need for planning permission by laying a permeable (or porous) surface, such as gravel, permeable concrete block paving, or porous asphalt — as long as the rainwater is directed to a nearby lawn or flower border to drain naturally.
If you are converting some or all of a front garden into a driveway, then you will probably need to drive over a pavement to get to it from the road, in which case you will almost certainly require a licence and/or planning permission for dropped kerbs from your local authority.
Do You Need Planning Permission to Widen an Existing Driveway?
If the driveway is in front of your house, i.e., between the road and the principal elevation of your property, then you will still need planning permission to widen it. However, this only applies if you are proposing more than five square metres of traditional, impermeable driveway that does not allow water to run into a permeable area, like a lawn or flower border.
If it's on land other than your front garden, i.e., not between your principal elevation and the road, then there will most likely be no restrictions to the type of driveway area you can cover using impermeable hard surfaces without first completing a planning application. Providing that they are at, or near, ground level, you should be clear to undertake this project.
Do remember, though, that what you think, or want, the principal elevation of your house to be, may not be. Remember to get advice from a planning consultant on this, especially if you live on a bend, or the orientation of your house in relation to the road is not standard.
How Do You Apply for Planning Permission for a Driveway?
When it comes to obtaining planning permission for driveways, the application process for one connected to an existing house is via the householder applications route.
You will therefore need to pay £206 to your local planning authority to submit the application, plus whatever your planning consultant charges you for their time and expertise to prepare it. It's very important that you factor in these additional driveway costs before undertaking your project.
If you want to do the application yourself, start by going to the website of your local planning authority.
You probably won't get a site visit from the council at the moment, but the process is still likely to take at least eight weeks, and may be considerably longer in some areas where there is a backlog.
Allocating plenty of time and budget to receiving planning permission for a driveway will help ensure your project is compliant right from the start, meaning you can then focus solely on creating the outside parking area you've always wanted.
Do You Need Planning Permission for a Driveway When Building a New Home?
Your new self build home may be in the garden of an existing house. In this situation, you may wish to share some or all of the existing driveway and access point to the road.
Alternatively, your new build plot may not include any existing access point or driveway. Either way, you will need to clearly show what you want to do as part of the detailed planning application for your new house.
You or your planning consultant should specify the layout and materials you want to use in the planning application, which will consist of the application form, the block/site layout plan, and the design and access statement.
Careful consideration must also be given to visibility splays and rainwater drainage when seeking planning permission for driveways.
In terms of rainwater drainage, you would be well advised to avoid any unnecessary complications by choosing materials that allow rainwater to just drain through them into the earth below. These materials are called permeable or porous; examples include gravel and cobblestones, but there are also permeable versions of concrete block paving or porous asphalt that can be used.
Front garden driveway ideas can help you get the most out of your outdoor space and turn it into a more accessible, practical parking area.
Simon Rix is a professional planning consultant. He was a council officer and later an elected councillor before setting up Planix.UK Planning Consultants Ltd.
Homebuilding & Renovating Newsletter
Get the latest news, reviews and product advice straight to your inbox.
Thank you for signing up to Homebuilding. You will receive a verification email shortly.
There was a problem. Please refresh the page and try again.