Reed Beds: How do They Work for Waste Water Management?
By Tim Pullen published
Did you know reed beds offer a natural, eco-friendly system for waste water treatment? Find out how they work with this guide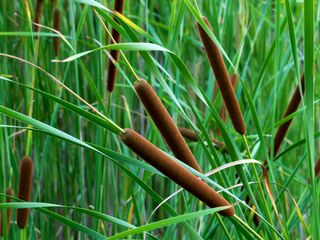 (Image credit: getty images)
Reed beds are becoming an increasingly attractive idea for waste water management.
Tightening regulations around rainwater discharge and potential problems with connecting to already over-capacity main drains can lead to issues with planning consent that this natural drainage system may solve. However, reed beds are equally useful to existing properties with waste disposal issues too.
"For years building control officers have ignored, the idea of reed beds," says Melvyn Rutter of YES Reedbeds of Yorkshire. "However, have now finally realised that they are the best, most ecologically sound way of dealing with waste water."
(MORE: A Complete Guide to Building Regulations)
In this guide, we look at what reed beds are, how they function as part of a wider drainage system and how they can also feed into your eco house's green credentials.
What are Reed Beds Used for?
While reed beds are not a complete sewage treatment system on their own, being generally used with a septic tank, they are more accurately considered as a waste water treatment plant.
They work by allowing bacteria, fungi and micro-organisms to breakdown, digest and clean the waste water to the point where it can be safely discharged.
A complete sewage treatment plant will need a septic tank, collecting all the waste from the house (grey and black water) and allowing solids to settle out before the liquid passes to the reed bed. Flushing a toilet, emptying a sink, running a shower introduces waste to the septic tank which then creates a 'little-and-often' flow to the reed bed, giving the bed time to process that waste before the next batch is introduced.
The outflow from the reed bed is then clean water that can discharged safely to an existing water course or to a soakaway or land drain.
(MORE: Get to Know Your Options for Off-Mains Drainage)
An option would be a 'living soakaway' which is very similar to a reed bed and used where a conventional soakaway is difficult, not possible or simply not preferred.
A living soakaway is a shallow, gravel-filled pit planted with irises and willows that encourage evaporation and allow controlled dissipation of the water to the ground. This also makes them a good way of dealing with rainwater although it might be wise to keep some of that back for garden irrigation.
At an extra cost (when built in conjunction with a reed bed) of £100 to £150 they are a low-cost, functional and very attractive garden feature.
What are the Benefits of Reed Beds?
How much do reed beds cost to install?
A typical reed bed will cost up to £3,000
Reed beds are the ecological solution to what otherwise could be a sticky and expensive problem. They are a low-cost, low-tech, zero energy solution. They are pretty to look at and, in these times of climate change and species loss, they provide a rich habitat, supporting a huge range of wildlife from invertebrates upwards.
There are some practical reasons they're worth considering for too:
Reed beds are quite small — a typical 4-bedroom house with 4 people living in it will need a reed bed of 8 to 10sq metres
Reed beds are quite cheap
Reed beds do not smell — the water is continuously flowing and being cleaned by having the ammonia removed, so no smell.
How Much Maintenance do Reed Beds Require?
Reedbeds are a natural living system, which will last many, many years, but just like the garden, they need a little care:
Reed beds will need weeding to remove any nettles, thistles, docks, chickweed, etc. which has to be done by hand as weed-killer or strimmer is likely to damage the plants you want.
They need watering in the first few weeks if they look dry, especially if the reed bed is constructed in summer. Plants need time and care to become established.
After a few years the reeds will need "harvesting" but initially it is important to allow the green tops to grow fully. New seasons shoots appear from May onwards.
The top 70 to 80mm of soil will need to be forked over periodically in the first 2 or 3 years (or after hard frost of heavy rain) to maintain porosity, essential for incoming water to be filtered and cleaned by the soil.
Tim is an expert in sustainable building methods and energy efficiency in residential homes.
Homebuilding & Renovating Newsletter
Get the latest news, reviews and product advice straight to your inbox.
Thank you for signing up to Homebuilding. You will receive a verification email shortly.
There was a problem. Please refresh the page and try again.