8 Tips for Buying at a Builders' Merchants
How do you act like a builder and get the best prices from your materials suppliers or merchants? Peter Eade explains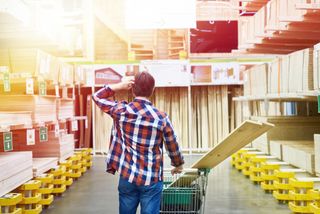 (Image credit: getty images)
Almost all of us will end up buying a significant portion of the building materials for our self builds or renovated homes. Everything from windows to bricks, floor coverings to cement could be handled not by our builders, but by us.
Building is still in many ways a closed shop, meaning outsiders tend to get befuddled by jargon and excluded from the best deals ('trade counters') being one example.
As a self builder or renovator it's important to think like a builder — and expect discounts comparable with those being offered to the trades. Here are some tips on making sure you make the most of available discounts.
1. Calculate Quantities and Costs
Before any work can start, all materials should be calculated and quantities listed, at least to the point where the structure is built and the roof is on. Some merchants offer a take-off service where you deposit the plans with them and they will quantify all of the materials and provide a quotation.
This may seem like a good idea, but even as a newcomer you will have a much firmer grip on the build process if you have identified and measured the quantities of materials yourself. Also, remember that the merchant who has done the calculations is, quite legitimately, going to expect to receive all of the orders.
2. Know Which Merchants to Target
It's probably worth checking what merchants there are locally and then visiting each one to get an idea of what type of products they hold in stock. There are usually a smattering of the bigger names (Jewson, Travis Perkins, etc.) and a local or regional independent. Some just have trade counters with a wide range of products much like a superstore — others have yards full of heavy-side goods, bricks, tiles and blocks.
By being aware of what each merchant sells, you will know which one to visit when something is needed in a hurry. If it's important to know the likely expenditure for all of the materials before any work begins, get in a preliminary quotation for everything from just one merchant — this may be particularly useful if you are working on borrowed funding. But don't forget that merchant's quotes are only current for a limited period and may well have changed by the time the orders are placed.
3. Open a Trading Account
As someone who will be buying in quite large quantities it makes economic sense to open a trading account. If at all possible have accounts with at least three suppliers. However, getting a credit account is not quite as easy as it once was and it may well be that the merchant will only offer a trade card. By having this card a customer's information goes on a merchant's system and some sort of trade discount may be available, but the discounts tend to be quite small.
If you become an account customer it's likely you will get to know a merchant's sales representative. Merchants' reps work to get in orders (being incentivised to do so) and they have the authority to negotiate competitive prices.
4. Check for Potential Availability Problems
Before asking for quotes or placing any orders, it's important to check there are not any availability problems — from time to time various materials have extended lead times. Bear in mind the brick, block and tile deliveries are likely to come direct from the manufacturer with a merchant only acting as the distributor.
5. Meet with a Sales Representative
When the time comes to get in quotations, make a quantified list of all the materials that will be required for each phase of the build process. If possible, make an appointment with each merchant's sales representative — this way you are likely to get the most competitive quote.
It's important to give identical information to each to ensure all of the quotations will be based upon the same quantities of the same materials. If the merchants you have accounts with don't have sales reps then you can phone or email your quotation enquiry. Once the quotations are received, go through them and highlight the most competitive price for each item.
6. Ordering
There is no obligation to place all of the orders with just one trader — whoever is offering the lowest quote for each individual product should get the order. It's possible each merchant's quote will be followed up by a further visit from the rep or perhaps a phone call to enquire if their quote is going to be accepted.
Depending on your negotiating skills this is a good opportunity to try for further reductions — just state the truth if some items seem overpriced. Once the initial orders have been placed and the project is underway, remember to regularly check the status of the materials on site in order to ensure there are no hold ups.
7. Don't Ignore Other Outlets
In addition to using builders' merchants there are companies who specialise in specific building products; often these firms can be very competitive when it comes to buying items such as lintels, insulation, roof tiles, etc. Structural timber for the joists and roof tend to be cheaper if bought from dedicated timber merchants.
Don't overlook the big DIY stores either — as occasionally they have loss leaders when they sell specific items at knockdown prices. One option, particularly for those living in the south-east, is a trip to the DIY superstores in Calais, where many UK self builders claim to be able to enjoy significant discounts on many items, from sanitaryware to timber.
8. Going Direct
Increasingly, self builders and renovators are able to buy big-ticket (and small-ticket) items directly from suppliers (some prefer this and if not they'll put you in touch with local merchants). Again, don't be afraid to negotiate and contact several suppliers of similar products to gain a competitive edge.
Once you've got detailed plans, be ready to send them off to as many suppliers as possible. That's what a builder would do, and it's what self builders and renovators looking to save money should do too.
Get the Homebuilding & Renovating Newsletter
Bring your dream home to life with expert advice, how-to guides and design inspiration, direct to your inbox.
Builder Peter Eade has spent a lifetime running his own building business, specialising in project management and design