A Guide to Blockwork
By Mark Brinkley published
While timber frame enjoys a lot of hype in the self-build market, masonry has not yet had its day. Mark Brinkley weighs up the options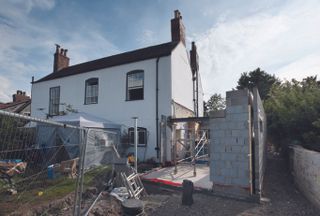 (Image credit: Getty)
Why Blockwork?
The issue of whether to build with masonry or timber frame is a hot topic in the self-build world, where a growing number of homes are built of timber frame, in contrast to mass housing, which is almost exclusively brick and block.
The difference lies in the fact that timber frame houses can be prefabricated off site, which means that there are a large number of specialist timber frame manufacturers who cater directly to self-builders.
Yet, brick and block has several benefits. For a start, it offers higher levels of thermal mass and, when well insulated, can be just as energy efficient as timber. It's also a well-understood system, meaning there are no shortage of builders or materials available locally. But perhaps most of all, advocates of masonry enjoy the inherent sense of solidity and soundproofing that the material offers.
The Big Issues
Insulation. With the exception of ICF (insulated concrete formwork), blockwork is typically insulated by means of a creating a cavity, where a double skin of blocks (usually one of brickwork) sandwiches insulation. Due to recent changes to the Building Regulations, this cavity probably needs to be at least 125mm wide.
Airtightness is likely to be the biggest issue facing blockwork in the coming years – with the Government pushing us towards building even more airtight homes – as it does not lend itself to an airtight structure as well as timber frame or SIPs (structural insulated panels). Simple measures can, however, be taken to increase airtightness, such as the use of special tapes and membranes.
Option One: Aircrete
Summary: Ultra-lightweight blocks made by pressure cooking air into concrete. Have dominated the housebuilding industry since the 1980s.
Pros: Loved by brickies because they are easy to handle, easy to cut and forgiving to lay. Because they are so light, they provide reasonable insulation and therefore can be used to lower U-values in walls.
Cons: Plasterers are not so fond of aircrete as they report issues with movement and cracking. There are two ways around this: one is to use plasterboard stuck onto the walls (dot and dab), the other is to add fibre reinforcement to the plaster.
Cost: Around £20/m2
Contacts: Celcon, Thermalite and Durox
Option Two: Thin Joint
Summary: Uses aircrete blocks, but does away with the conventional 10mm beds of cement mortar, instead using a 2-3mm glue mortar, similar in characteristics to tile adhesive.
Pros: It sets very rapidly and thus enables blocklayers to use much larger blocks and to build them into walls much faster, thus saving on labour costs. When used wisely, it can add many of the benefits of off-site methods (i.e. timber frame), such as fast construction.
Cons: The materials are more expensive, but this is offset by lower labour costs.
Cost: Around £20/m2
Contacts: The above manufacturers all offer solutions, each of them subtly different.
Option Three: Concrete
Summary: Traditional (pre-aircrete) concrete blockwork is still widely used. There are many manufacturers and lots of varieties of block, some denser than others and some designed for foundations.
Pros: It's slightly cheaper than aircrete and is often preferred in foundations and beam and block floors, and where you want a fair-faced blockwork finish. Good for achieving high thermal mass.
Cons: Is more labour-intensive to work with than aircrete and requires thicker insulation.
Cost: Approx £18/m2
Contacts: Cemex and Masterblock
Option Four: ICF
ICF (insulated concrete formwork) systems are based around hollow polystyrene blocks which are assembled into a wall before ready­mix concrete is poured into the hollow core. So, you start with the insulation and add the concrete later.
Pros: You get a super-insulated and airtight structure that's simple to build — indeed, some ICFs are designed to be built by unskilled labour. It works very well with rendered external finishes and can work out cheaper than traditional blockwork overall.
Cons: It can be expensive to add certain claddings such as brickwork.
Cost: £40/m2 but includes insulation.
Contacts: BecoWallform, Logix and Polarwall
Making the Decision
Most self-builders opting for blockwork will choose aircrete, with or without utilising the thin-joint system. Being lightweight, the blocks are far easier to lay, making it a popular system with bricklayers. However, that's not to say that dense concrete doesn't have its advantages — with designers looking to incorporate high levels of thermal mass, this is an ideal material which effectively allows the house to store and regulate internal heat.
If you are hoping to be more heavily involved on a DIY?basis, ICF might be the system for you, as it is fairly simple to construct walls before the concrete is poured. Additionally, there's no need to buy additional wall insulation, and it's a lot more airtight than traditional masonry.
Other blocks: Durisol, Clay, Marmox?
Durisol blocks are made from 80% recycled wood, treated not to rot or burn — a sort of natural ICF.
Clay blocks are very popular on the Continent and are available in the UK to be laid in thin-joint format, promising excellent insulation and airtightness. ThermoPlan Zeigel, Porotherm and Bouyer Leroux's BioBric are all worth investigating.
Check out the Marmox Thermoblock, a load-bearing polystyrene/concrete hybrid block designed to be used at the base of blockwork walls to stop heat leaking out at the junction.
Mark is the author of the ever-popular Housebuilder's Bible and an experienced builder. He's just finished his latest self build.
Homebuilding & Renovating Newsletter
Get the latest news, reviews and product advice straight to your inbox.
Thank you for signing up to Homebuilding. You will receive a verification email shortly.
There was a problem. Please refresh the page and try again.