Bricklayers: How to Find the Right One for Your Project
Looking for a good bricklayer? Follow these handy tips to ensure the relationship between you and your bricklayer avoids cracking under pressure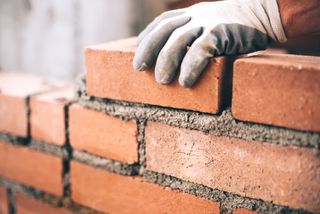 (Image credit: getty images)
Out of all of the trades, one could argue that bricklayers are the ones that most people worry about keeping happy and keeping on site. As a principal trade on masonry-built homes (and a key task for brick-clad homes), there is a lot of pressure on relationship between the bricklayer and project manager or homeowner remaining positive.
Finding a Good Bricklayer
If you need an electrician or plumber, chances are that keeping an eye open when you're driving around will mean that you can spot names and numbers on the sides of vans and contact them later.
However, the likelihood of doing that with bricklayers is diminished. You will see shiny vans with logos proclaiming 'Bricklaying Contractors', but the companies that advertise in that way are more often than not companies that concentrate on working on the larger volume building sites. Their cost structure is different, their pricing may be far in excess of what most self builders will want (or need) to pay, and their requirements in terms of facilities and regulations are typically in excess of those that are available on a single self build site.
Top Tip
My motto is 'Get one good tradesperson and the rest follow on'
As with all trades, the best way of finding a good bricklayer is by recommendation and the best recommendation is often that from another self-builder. They will tell you how they were, whether they turned up when they said they would and whether they stayed on site to complete the job.
If you don't know another self-builder locally – although a search around any area should turn one up – then there are other ways of getting a recommendation. Other tradespeople are a good source. In particular, trades who work alongside bricklayers such as groundworkers or carpenters are in a position to judge whether they are good or not. A good carpenter won't want to follow a sloppy bricklayer because it makes their job harder, and a good groundworker will want to know that the bricklayers are reliable so that they can come in and do their bit, allowing them to then carry on with their trade. And the fact is that most self-employed tradespeople tend to work in laissez-faire groupings.
Small bricklaying concerns will often advertise in local, free newspapers and getting names from that source can be useful. But only as useful as getting you introduced, because there's much that you should investigate before employing anyone in this trade or any other.
Which Bricklayer to Choose
Recommendations are key but ultimately you need to make your own decision. If a bricklayer is immediately available then, while it shouldn't rule them out, it should spark some sort of warning in your head: why are they available immediately? It may just be that you've caught them at the right time between jobs, but ask the questions and talk to their previous clients.
Look at their previous work.
Note whether the 'perps' (vertical joints) line up. Bricks are commonly laid in 'stretcher bond' where one brick is laid directly above the vertical joint between the two bricks below it; the perps should line up vertically with each other
Look at the beds – the horizontal joints – and check that they are level and even
If the building is still in progress, check that the cavities are clean, and that the wall ties are correctly spaced and clean from snots (lumps of cement left that can cause cold-bridging)
Check that all cavity trays and damp-proof courses are correctly and neatly installed
Look for smudged brickwork and for lines of splashed mortar where the scaffold boards haven't been turned back in the evening and rain has splashed it onto the brickwork
Top Tip - Create a Sample Panel
You can ask a bricklayer to produce a sample panel to check the quality of their work in a particular bond and see how your chosen brick will look with your specified mortar
These all tend to be tell-tale signs of whether somebody cares or not. With blockwork, it's important that all the joints and especially the vertical ones are properly filled. Decades ago it was common to see blockwork with air gaps but, these days, with such focus on thermal insulation and airtightness, that's simply not acceptable.
Don't forget that you need to make a good impression, too. They'll want to know about you and they'll want to be able to judge whether you'll be a good client and, most importantly, whether you've got the money.
What Do You Need to Provide for Your Bricklayers?
Bricklaying teams or 'gangs' will provide their own hand tools. Some have a mixer but most don't.
All of them will expect 'spot' boards to be made available (600mm x 600mm pieces of ply) to put the mortar on and you'll need to make sure that water is available and that the mixing station is close to the sand and the store of cement dust.
When bricks and blocks arrive they'll need to be stacked relatively close to the building so that the labourer can load them out without having to run too far. And scaffolding will have to be organised — if you're unsure about who to contact, the bricklayers will often have recommendations of their own.
What Information Will Bricklayers Need from You?
Your bricklayer may ask you a lot of questions. They may want to know what bricks you'll be using. Some bricks are less porous than others and can 'float' on the mortar beds. Some have creases or 'smiles'. Some have uneven edges and pointing them neatly can be more time consuming.
It may not be reflected in the cost but they'll want to know anyway. They may ask which blocks you'll be using. Solid concrete blocks are heavier than lightweight aggregate blocks. That may or may not be reflected in their price. And they may ask for a particular sand. It may seem pedantic but it's the mark of a person who cares for their work.
What Tasks Do Bricklayers Take On?
Lay blockwork foundations to damp-proof course (DPC)
Build honeycomb sleeper walls (suspended timber floors only)
Build in below-ground drainage exit lintels
Build in cranked ventilators for beam and block floors, or airbricks and cavity sleeves
Bed DPC
Bed plates (timber suspended floors only)
Position floor beams and lay infill blocks
Brush grout flooring
Build superstructure brickwork and blockwork
Install cavity insulation as work progresses
Create openings for windows and doors
Install cavity closers
Fit windows and door frames if appropriate
Build in meter boxes
Bed lintels
Lay padstones
Position steel joists
Lay first floor beams and infill with blocks
Install cavity trays
Bed wall plate
Build up gable ends
Build chimney through roof
Build internal brick features and fireplaces
Point up flashings and trays
Fill putlock holes
Build feature walling to garden
What Do Bricklayers Cost?
When a tradesperson gives a price, it's based on them being able to earn a certain amount of money per day. Most bricklayers would seek to earn between £150 and £200 per day, per person, while most labourers would expect £100-£130.
Most gangs of bricklayers work on the basis of two bricklayers with one labourer. Some gangs are 3/2 but, on a small site or an individual home, they often end up falling over each other, and the job, in consequence, doesn't move any faster.
They could, of course, give you a price based on day work. But, easy as that may seem, it's not a good way to proceed. It gives no incentive to do the job as quickly as possible. It also provides no incentive to do the job right because if you're paying them to put it right then any slapdash work represents extras for them.
You could agree a price based on an amount for the number of bricks or blocks laid: say £400-£500 per thousand bricks or £12-£15 for each metre of blocks. But that can backfire. At the end of the job much of the work is slower and more fiddly around gable ends, chimneys and the like and, if you've paid the bulk of the money out and there's not much left on the job, an unscrupulous team could move on to where they can earn better money. And if you think that doesn't happen, look around where the brickwork to the gable ends of houses seems to be laid slightly differently to the rest, because each bricklayer has a slightly different style.
Instead, ask for a lump-sum price. The bricklayers will add up the amount of materials, estimate the time it'll take them and then calculate a lump-sum price for your project. And in doing so they'll be demonstrating their own confidence in their own abilities.
Get the Homebuilding & Renovating Newsletter
Bring your dream home to life with expert advice, how-to guides and design inspiration, direct to your inbox.
David is one of the UK's leading self build and plotfinding experts, and a serial self builder who has been building homes for 50 years. The author of Building Your Own Home, David spent decades as a speaker and expert at self build exhibitions such as the Homebuilding & Renovating Show. He has recently finished his fourteenth self build project.