Biomass Boilers: A Beginner's Guide
By Tim Pullen , David Hilton published
A biomass boiler offers a great renewable and sustainable heat solution but comes at a price. We bring you the lowdown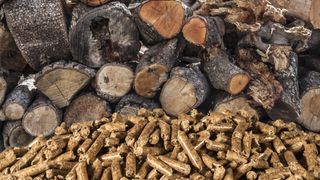 (Image credit: Getty Images)
A biomass boiler may not be an obvious choice for every household, but in many scenarios it offers a great renewable and sustainable heating solution.
Biomass boilers and technologies have developed greatly over the last few years and if you have access to the fuel then a biomass boiler could work for you.
Since the Renewable Heat Incentive (RHI) tariff was capped for domestic users there has been a slight downturn in biomass, but in new build properties and conversions that are suitable for the biomass (larger properties) the RHI contribution coupled with low fuel cost is still a real bonus.
Below we look at everything from biomass boiler fuel to costs and installation.
What is Biomass?
Biomass boilers burn natural materials such as wood pellets, chips or logs to provide heating and power hot water boilers.
In short, biomass is any organic material that can be used as fuel and in the UK and European domestic markets wood pellet boilers are by far the most common.
The main biomass products that we use in our homes are the wood based ones due to the potential clean burn.
Biomass is considered and measured a carbon-neutral fuel, CO2 is absorbed by trees as they grow (photosynthesis), this is a very good thing as it removes CO2 from the atmosphere.
CO2 is emitted when the fuel is burned, the amount however is measured as equal to that absorbed during growth and any additional carbon produced while manufacturing and transporting the fuel.
(MORE: Choosing a New Boiler)
Pellets are the most consistent biomass fuel in that they are usually very even sizes and density and can be automatically fed into the burner as well as easily stored, albeit taking up quite a bit of space. Plus pellets have a very low ash content.
Wood pellets are typically made from forestry waste, or by products, usually it is the branches and top of the tree which is not suitable for the main timber / furniture market.
In the UK the standard is 6mm pellets made from softwood with a low moisture content. The wood is compressed and converted to saw dust before being compressed into pellets.
The fuel has a heat output of 5,000kW/tonne and moisture content of less than 10%. Approved pellets for use in the UK and conform to RHI requirements have to be EN Plus A1 rated.
They are available bagged – typically 10kg or 15kg bags delivered by the pallet load which are then poured into an integral hopper on the boiler weekly, or they can be delivered in bulk, blown directly to your fuel store, very similarly to oil or LPG deliveries.
How Much Does a Biomass Boiler Cost?
The cost of biomass boilers varies far more than oil or gas boilers. The cost will also vary with the type of boiler, the level of automation and sophistication, as well as with size and quality.
However, fully automated wood pellet boilers installed using a typical weekly hand feed option should cost between £11,000 and £15,000
A fully installed automated system with pellet hopper and delivery fuel system would typically cost between £20,000 and £25,000.
Types of Biomass Boiler
Log and wood pellet boilers are the only real options for domestic projects.
A pellet boiler will usually have a box next to it known as a hopper. This box can hold a few hundred kilogrammes of pellets and has an auger (a bit like a corkscrew) that delivers the pellets to the burner chamber.
Biomass boilers operate in largely the same way as an oil-fired boiler, in that the fuel hopper is loaded and the boiler takes over from there.
Pellet boilers:
Top tip
With all biomass fuel, quality is the key and the issues to look for are moisture content, bulk density and ash. In all cases, the lower the better.
Log boilers:
How and Where Do I Buy Fuel for a Biomass Boiler?
An online search on wood pellets, will throw up hundreds of potential suppliers.
So far as wood pellet is concerned, always look for ENplus A1 accreditation as this ensures quality and consistency, from a Biomass Supplier List (BSL) accredited supplier so that you can qualify for RHI.
Not only do you need reliable quality in a product (boiler and fuel), but also consistent availability. The reality is that we always need a delivery of fuel within a few days of noticing we need it, your supplier needs to meet this requirement.
A list maintained by Ofgem of suppliers that manufacture or supply wood from a sustainable source. To claim RHI, it is essential that your supplier is on this list.
How Do I Choose the Right Biomass Boiler?
Consider the following when choosing your biomass boiler:
Economically there is little justification for a log boiler, unless you have an abundance of free fuel available, even then one has to remember that lighting and loading a log boiler is a 'lifestyle choice'.
How Much Space Do I Need for a Biomass Boiler?
The boiler itself will be about the size of a four-drawer filing cabinet, but it is fuel storage that will be the big issue. Wood pellet boilers will fit in most utility rooms, but a log boiler is a fairly meaty beast and you will probably want to house it within a dedicated plant room instead.
In either case, the fuel store needs to be close by to facilitate easy loading.
Wood pellets are available in bags or loose in bulk.
Bags are generally sold in pallet loads of 960kg, bulk blown deliveries will need around 8m³ (a 2x2x2m cube) minimum to justify the journey cost.
A bulk store needs to be reasonably accessible as the delivery vehicle will need to get within a minimum of 20m, bulk deliveries are made by lorry and the wood pellets blown into the fuel store.
The wood pellet delivery system from the fuel store to the boiler will typically be by vacuum, with the hopeer can be supplied by the boiler manufacturer or it made bespoke on site.
An option where space is tight is for a below-ground store and an 'onion' like tank that can be pressed into service for this.
Is a Biomass Boiler Right for my Home?
Did you know?
The heat output of a log boiler and heat demand of the house is balanced around the size of the hot water 'buffer', which acts like a battery, the energy produced is stored in the buffer and distributed around the heating system when required.
The economics around domestic-scale biomass boilers has changed a lot in recent years. The price of wood pellets is now about the same as natural gas, the capital cost however is still significantly more.
The domestic RHI tariff has dropped but it is still a very attractive option, biomass boilers are a good and reliable technology that offers net-zero CO2 emissions and fuel price rises that are very stable and not subject to global oil prices.
In big, hard-to-heat properties biomass offers a good option but in more typical new builds or conversions. Likewise in larger new builds biomass can be and is a viable option, particularly if you are looking to be less fossil fuel reliant.
Biomass Boiler Maintenance Requirements
Maintenance will vary with the level of sophistication and is an issue that needs to be directed to the supplier and clearly understood for any particular machine.
In broad terms, boilers will need an annual maintenance visit from the installer but, otherwise, log boilers are likely to need regular (perhaps monthly) cleaning and de-ashing.
Wood pellet boilers can be as little as once or twice yearly ash removal intervals.
Each machine does have very individual requirements.
Finding a Good Biomass Installer
A good installer will have the following attributes:
Do I Need a Hot Water Cylinder?
The simple answer is yes, both wood pellet and log boiler will require a hot water cylinder, normally within the house (airing cupboard).
A wood pellet boiler is fully automatic and requires a hot water cylinder (they are not combi boilers). A normal domestic cylinder is usually sufficient in most instances, but it is wise to take advice on your requirements from an installer.
There is no more chance of a biomass boiler failing than there is of any other boiler.
In fact, a biomass boiler will retain its efficiency (more than 90%) for maybe twice as long as a gas or oil boiler.
(MORE: Hot Water Storage)
Biomass Boilers and the Renewable Heat Incentive
Biomass boilers qualify for the Renewable Heat Incentive (RHI), the government scheme whereby those with renewable heating technologies are paid back for the heat they generate. Wood pellet fuelled stoves and stove-boilers also qualify.
Log burning stoves, though, do not qualify.
The current RHI tariff is 6.74p/kWh. If we assume a heating demand of 20,000kWh per year – about the minimum for a biomass boiler – the running cost would be around £1,200 per year with an RHI return of around £1,350 per year.
This is a 'profit' of around £150 per year for seven years.
But gaining that 'profit' will require an investment in excess of £10,000 for the boiler. A wood pellet stove-boiler could be as little as £2,000 and would return the same 'profit'.
An oil boiler, by comparison, might cost £5,000 including an oil storage tank, and will cost around £1,100 per year to run (for now) — obviously with no RHI return.
With thanks to Windhager for their help with this article.
Tim is an expert in sustainable building methods and energy efficiency in residential homes.
Homebuilding & Renovating Newsletter
Get the latest news, reviews and product advice straight to your inbox.
Thank you for signing up to Homebuilding. You will receive a verification email shortly.
There was a problem. Please refresh the page and try again.