Porcelain vs Ceramic Tiles: What are the Differences?
By Hugh Metcalf published
Found yourself weighing up porcelain vs ceramic tiles for your kitchen or bathroom? We break down the differences in styles, applications and more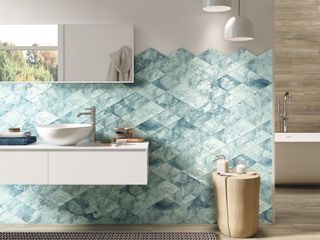 (Image credit: Porcelain Superstore)
The difference between porcelain vs ceramic tiles causes some confusion for people shopping for tiles for their project, whether they're for a kitchen or bathroom design, or outdoor space. The main difference of course comes down to what these tiles are made from and how they're made.
Ceramic tiles are made at lower temperatures from softer clay, creating a less dense and more porous tile. Porcelain tiles use white clay, strengthened with other additives and fired at a high temperature to make a harder, denser tile.
This difference plays into not only the appearance of the tile, but where they can be used in the home, the way they're cut and installed, and more.
In this guide, we'll break down the key differences between ceramic and porcelain tiles, so you can learn to differentiate between the two and work out which is right for your scheme.
Which are More Expensive: Porcelain or Ceramic Tiles?
The cost of both a porcelain or ceramic tile will largely be dictated by the quality of the tile, the style and the retailer — and the differences in these can mean a vast difference in price. However, ceramic tiles are generally perceived as the more budget-friendly option.
Ceramic tiles range from around £10-£35/m2, while porcelain tiles sit more in the range of £20-£45+/m2.
Ceramic tiles are likely to also cost less to install.
Winner: Ceramic tiles
(MORE: How Much Does a New Kitchen Cost?)
Are Porcelain or Ceramic Tiles Easier to Install?
Ceramic tiles are easier to install for several reasons. First of all, they're lighter than porcelain tiles, making manoeuvring them into place easier. They're also easier to cut as the tile itself is softer than a porcelain tile.
Using ceramic tiles may remove the need for expensive equipment, such as a wet tile cutter as you can use a manual tile cutter in its place. This means the job of laying ceramic tiles is more DIY-friendly.
However, if budget isn't a huge concern, you'll get a better finish using a wet tile cutter for both ceramic and porcelain tiles, so this is your best option overall.
Winner: Ceramic tiles
Verdict
Due to the materials used and the manufacturing method, porcelain is a harder, more durable tile choice.
Ceramic and porcelain tiles are given PEI ratings, which is a hardness rating on a scale of 0-5.
Porcelain tiles usually sit at around a 4-5, while ceramic tiles are a 3-4. This scale can be used to help interpret which areas a tile is suited to.
PEI Ratings

| | |
| --- | --- |
| Pei Rating | Tile usage |
| 0 | Only for light use on walls, never underfoot |
| 1 | Suitable for use on walls, but not underfoot |
| 2 | Walls and light traffic spaces, such as residential bathrooms |
| 3 | Walls and floors with moderate footfall in homes |
| 4 | Walls and floors in homes, and some moderate traffic commercial settings |
| 5 | Heavy duty flooring, not usually used in residential settings |
Ceramic tiles are more likely to chip and break in transit, meaning that over-ordering by at least 10% for tile wastage is more important for ceramic than porcelain tiles.
Winner: Porcelain tiles
Are Porcelain or Ceramic Tiles More Waterproof?
Ceramic tiles are more porous, which means that porcelain tiles are a better choice particularly in a bathroom where there's greater moisture in the air and water sitting on the floor. As porcelain tiles also absorb less water, there's less chance of liquids staining the tiles too, something worth considering for the flooring in your kitchen design.
This also means that porcelain tiles are better suited for outdoor use too. Their highly waterproof nature, plus their tough, durable qualities, make porcelain a great choice for a garden paving idea.
Winner: Porcelain tiles
Are Porcelain or Ceramic Tiles Better for Flooring?
As previously mentioned, porcelain tiles are generally harder than ceramic tiles, making them a more durable option for flooring.
However, it's worthwhile distinguishing between two types of porcelain tile: through-coloured porcelain and glazed porcelain. Glazed porcelain has the pattern and colour element painted as a glaze on top of the finished tile, while through-coloured (or through-body) porcelain has the same colour all the way through. If you do chip or dent a glazed porcelain tile, the colour of the tile underneath will show through, while a through-coloured tile will be far less noticeable.
However, it's worth remembering that porcelain doesn't chip easily at all, so unless it's an extremely high traffic area of your home, it shouldn't be a huge concern.
Winner: Porcelain tiles
Which Look Better: Ceramic or Porcelain Tiles?
In reality, there shouldn't be any discernible difference to the eye between ceramic and porcelain tiles.
Most tile retailers offer a good range of both porcelain and ceramic tiles, often based on where they're designed to be used, so you won't find yourself wanting for a design or pattern, just because you're opting for porcelain over ceramic, or vice versa.
Winner: Tie
Verdict
Which are Better, Porcelain or Ceramic Tiles?
For durability and greater application across the home alone, porcelain tiles are the superior tiles. However, they may not always be the best tile for every job. For bathroom walls, for example, ceramic tiles are perfectly suitable, less expensive, lighter and easy to install. While for outdoor spaces, we don't recommend using ceramic tiles at all.
Take your choice between porcelain vs ceramic tiles on a case by case basis, using this guide to help inform your choice.
Pros and Cons at a Glance
| | | |
| --- | --- | --- |
| | Pros | Cons |
| Ceramic tiles | Cheaper, easier to install, lighter, suitable for floors in most instances | Less durable, less waterproof, may crack in cold weather |
| Porcelain tiles | Hard and durable finish, highly waterproof, suitable for outdoor use and heavy traffic floors, stain resistant | More expensive, heavier, harder to install |
Hugh is Digital Editor of homebuilding.co.uk and has worked on a range of home, design and property magazines, including Grand Designs, Essential Kitchens, Bathrooms, Bedrooms and Good Homes. Hugh has developed a passion for modern architecture and green homes, and moonlights as an interior designer, having designed and managed projects ranging from single rooms to whole house renovations and large extensions. He's currently renovating a Victorian terrace in Essex, DIYing as much of the work as possible. His current project is a kitchen renovation which involves knocking through walls and landscaping a courtyard garden.
Homebuilding & Renovating Newsletter
Get the latest news, reviews and product advice straight to your inbox.
Thank you for signing up to Homebuilding. You will receive a verification email shortly.
There was a problem. Please refresh the page and try again.