Laminate Vs Vinyl: What Flooring is Best for My Room?
By Hugh Metcalf published
Can't decide between laminate vs vinyl for the flooring in your project? We breakdown the differences between the two to help you pick the right option for you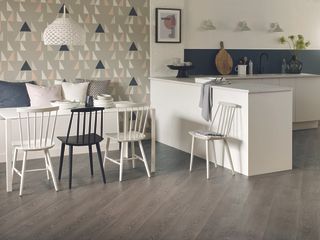 (Image credit: Amtico)
Laminate vs vinyl: when it comes to budget-friendly, durable floor coverings, these two are likely to end up battling it out for your affections. They share many characteristics and perform a similar job — so how do you choose?
After all, while you might recognise laminate and vinyl as widely available types of flooring, what they are and the benefits of each aren't always clear for the uninitiated.
In this guide, we'll break down the pros and cons of laminate and vinyl flooring and how they compare to each other in certain areas, alongside where they sit in the wider world of flooring.
What is the Difference Between Laminate Vs Vinyl Flooring?
Laminate and vinyl flooring are often considered in the same context due to the materials they're constructed from. They're both made from synthetic materials, and are also designed with printed patterns that are often used to mimic natural materials.
While laminate flooring is usually used to recreate a wood flooring effect, sometimes stone, vinyl is used for a much larger variety of designs designs including timber, natural stone, marble, concrete and even patterned tile effects.
Laminate flooring is made up of several layers, including a high density fibreboard core, the high quality photographic layer that creates the effect and a durable protective layer on top. With good quality laminates, these layers will also be textured to give a better sense of realness to these, again usually timber, alternatives.
Vinyl flooring can be broken down into two categories:
Sheet vinyl
Luxury vinyl tiles (LVT) or planks
Sheet vinyl is far less commonly used in this day and age, but because of its low price and durability, it's still used in low-cost housing and rental properties. There are also modern, high quality vinyl sheeting options available, sometimes to referred to as LVS, which is a premium take on the sheet vinyl idea.
Luxury vinyl tiles and planks are largely composed of PVC, and again feature a high quality photograph to create a printed effect. LVT flooring can, again feature a textured surface, and this is often employed on timber-effect design to recreate the natural grain of hardwood flooring.
Which Looks Better: Laminate or Vinyl Flooring?
It's a tough call on which type of flooring looks better, as it will largely depend on the individual brands and the designs within their collections. When it comes to replicating timber flooring, which is largely where the two would compete, it's a relatively level playing field, especially when looking at textured finishes.
However, you'll find that LVT at the higher end of the price range is getting better and better, with more realistic timber grains than ever — even incorporating textured knots into the finish that may just cinch the battle of which looks better for vinyl.
Is Laminate More Durable than Vinyl?
Due to their hardwearing protective surfaces, both vinyl and laminate are good, durable options for your home, far less prone to scratching and damage than hardwood floor.
Of course, this isn't to say they're indestructible: vinyl can be dented by heavy furniture and laminate flooring can still be scratched. Laminate flooring is easier to repair using a colour-match repair kit.
If using in an area that's highly exposed to sunlight, such as a conservatory or glazed extension, it's worth investigating your flooring's UV protection. LVT is more prone to fading than laminate, which often has superior protection against sunlight
Which Costs More: Laminate or Vinyl?
Vinyl sheet flooring is likely the cheapest option, with most styles priced from around £10 per m/2.
When it comes to laminate vs LVT flooring, prices are in the same realms. Both laminate and LVT are cheaper than solid wood flooring.
LVT is more widely considered a premium product, which means it can command higher prices at the more expensive end of the scale. LVT prices start from around £20 per m/2, but premium brands such as Harvey Maria sit around the £40-£50 per m/2 mark.
Good quality laminate starts from around £15 per m/2, ranging to £30 per m/2, before it's being replaced by more expensive engineered wood and solid wood flooring.
Is Vinyl or Laminate Flooring Easier to Lay?
Both laminate flooring and luxury vinyl tiles often make use of click install systems that make them super easy to install, even for a DIYer. These types of flooring should both be used with an underlay to support the floating floor and reduce noise.
However, while laminate flooring will require cutting tools such as mitre saws and jigsaws in order to cut down planks, it is possible to cut LVT with a strong craft knife, scoring and snapping the tiles. Overall, this makes it the preferable option for easy installation.
(MORE: Need Installation Help? Here's How to Lay Laminate Flooring)
Is Laminate or Vinyl Best for Underfloor Heating?
Neither laminate or vinyl is as effective when used with underfloor heating (UFH) as stone or tile, but both are perfectly suitable.
However, knowing the type of flooring you're choosing is important when specifying an underfloor heating system, as this may be an important factor in how UFH is set up.
For example, while LVT and laminate are both suitable to use with underfloor heating, it shouldn't be used above temperatures of 27°C to avoid damaging the flooring. This needs to be factored into your heat loss calculation when UFH is the only source of heat for a room to ensure that this temperature is enough to satisfy your heating demands.
Is Laminate or Vinyl Best for the Bathroom?
While the protective surface of laminate protects the flooring from splashes of water, it still has a timber core, so is prone to water damage. Standard laminate is less suitable for a bathroom, however, there are water-resistant laminate floors available, which are designed for use in areas such as bathrooms.
LVT is completely waterproof, so perfectly suited for bathroom flooring applications.
(MORE: Bathroom Flooring Ideas)
Hugh is Digital Editor of homebuilding.co.uk and has worked on a range of home, design and property magazines, including Grand Designs, Essential Kitchens, Bathrooms, Bedrooms and Good Homes. Hugh has developed a passion for modern architecture and green homes, and moonlights as an interior designer, having designed and managed projects ranging from single rooms to whole house renovations and large extensions. He's currently renovating a Victorian terrace in Essex, DIYing as much of the work as possible. His current project is a kitchen renovation which involves knocking through walls and landscaping a courtyard garden.
Homebuilding & Renovating Newsletter
Get the latest news, reviews and product advice straight to your inbox.
Thank you for signing up to Homebuilding. You will receive a verification email shortly.
There was a problem. Please refresh the page and try again.