Insulating a Conservatory Roof: A Good Idea?
By Tim Pullen published
Insulating a conservatory roof can help make this heavily glazed room more comfortable throughout the seasons. Here we weigh up the pros, cons and costs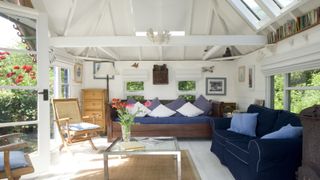 (Image credit: Getty Images)
Insulating a conservatory roof is becoming an increasingly popular home improvement, as homeowners look to extend the use of this space throughout the year. Conservatories can be a lovely addition to any home with a view; the idea is that they provide a warm, comfortable place to enjoy the sunshine and admire your surroundings. The problem is they do not always match up to expectations.
Anyone with a greenhouse in their garden knows that sun shining through glass makes the interior very warm. A conservatory is the same. Likewise, the very best double glazing is less than half as good as a wall at keeping warmth in, so a conservatory might get too cold for comfort in winter.
Insulating a conservatory roof as part of conservatory roof replacement helps to level out the temperature so you can enjoy the space more throughout the seasons. Our guide weighs up the pros and cons, to help you decide whether insulating a conservatory roof is the right decision for your home.
Why Insulate a Conservatory?
Insulation is a very important part of any home. Certain areas of your house may already be insulated, such as the loft or walls. This is to maintain a comfortable environment throughout the property.
As an additional living space, the conservatory is no different. By insulating a conservatory roof, you can help ensure that the whole area is usable all year round or for more months of the year.
That said, however much insulation and draught proofing goes into a conservatory, being largely glass means that it will always be warmer in summer and cooler in winter than the rest of your house.
Also bear in mind that if the link between the house and the conservatory is uninsulated, it will impact on the overall thermal efficiency. Even if it is just an insulated curtain, some form of thermal break will help the house stay efficient.
Insulating a Conservatory: Where Should You Insulate?
The most obvious target for insulation is the conservatory roof. Most of the heat in the conservatory escapes through the roof and most of the solar heat enters through the roof.
Insulating a conservatory roof requires you to either cover the existing roof with a new conventional tile or slate roof, or to install a lightweight internal insulation system.
In most cases, the ideal solution would be to properly insulate the roof and to put retractable awnings over the windows/walls. This will help keep the conservatory warm in winter and prevent it overheating in summer.
Elsewhere in a conservatory, the walls – which are actually windows – should not be tampered with for insulation purposes. Unlike with insulating a wall inside your home, the only realistic options here are thermal insulated curtains or blinds. It is likely they will not be needed across the whole windows and usually installing these to the north and east- facing windows will do the most good.
The floor in most conservatories tends to have a hard surface, finished in tiles or wood. There is usually some understandable reluctance to rip it all out only to install some insulation, so consider rugs as a practical alternative.
Rugs laid on top the floor will give a greater sense of warmth. If you are particularly exercised about this issue, you might want to lay thin (6mm to 10mm) wood fibre insulation boards with the rugs over this. That would give a decent level of insulation, and both can be taken up and stored in spring/summer.
How to Insulate a Conservatory Roof
Insulating a roof on a house, if done properly, will achieve a U-value of no more than 0.16W/m2K. By comparison, you can expect a polycarbonate conservatory roof to have a U-value of 1.6W/m2K to 2.4W/m2K — that's at least 10 times worse than the average house roof.
The only way to achieve that better U-value when it comes to conservatory roofs is to replace the polycarbonate with a slate or tile (albeit plastic "slates or tiles" for weight saving) roof with the same level of insulation as that on the house, at a cost of maybe £10,000 plus.
Insulating a conservatory roof is an increasingly popular area of the construction industry; there are more companies offering to install solid roofs on conservatories than ever before.
But, and this is a big but, retrofitting a solid roof pre-supposes that the frame of the conservatory is sufficiently strong to carry a solid roof. This must always be checked prior to undertaking the work.
As an alternative, there are also a growing number of companies offering to install lightweight internal roof insulation for conservatories. These are significantly cheaper than a solid roof (less than half the price) but will only reduce the U-value to maybe 0.8W/m2K.
Although this is some way off matching the house U-value, it goes some way towards making the conservatory suitable for year-round use.
How Much Does it Cost to Insulate a Conservatory Roof?
Replacing a polycarbonate with an insulated solid roof will cost in the region of £10,000+.
It should be noted that constructing a solid roof at the time the conservatory is constructed will cost maybe half that amount, and is the ideal way to achieve a year-round room.
A lightweight internal roof solution will not achieve the same U-value as a solid roof, but will cost in the region of £5,000.
How Much Heat Is Saved by Insulating a Conservatory Roof?
A wholly glazed conservatory of 4m by 5m is likely to need around 3kW of heating in winter.
That same room with an lightweight insulated roof will need around 2.7kW, so expect roughly a 10% saving.
That same room with a solid roof will need around 2.5kW, which means a 16% saving by using just insulation alone.
The most that can be saved by insulating a conservatory roof is around 600kWh per year, with a value of less than £40. But what insulating a conservatory roof does do is smooth the harsher aspects of the weather and make the room more comfortable, and therefore more usable in colder seasons, in the long run.
Will Insulating the Roof Make a Conservatory Cooler in Summer?
Insulating a conservatory requires more than just the insulation itself. As far as cooling is concerned, what's needed is shading. Ideally shading that is only effective in summer, as a brise soleil would be.
This is achievable with a narrow (say, 750mm wide) pergola at roof level, which can be constructed adjacent to the conservatory.
With such an inclusion, there's even potential to introduce deciduous planting, grapes, wisteria or other climbing plants, which will not only let sunlight through in winter when it is needed, but also provide sufficient shade to prevent overheating in summer.
Thermal blinds can be a great help in winter, too, for both the conservatory roof and the windows. Choose proprietary systems that are retractable for both applications for an added advantage. (There are some great conservatory interior ideas out there which see these systems become a feature in their own right.)
Is Insulating a Conservatory Roof Worth it?
It depends on whether you want to use the conservatory in summer or winter. The point of a conservatory is to provide homeowners with a warm, light, airy room with a sense of outdoors without actually being outdoors.
For what are probably obvious reasons, an uninsulated structure made principally of glass really cannot be expected to do that. And yet it seems to be that those obvious reasons are universally ignored when it comes to buying a conservatory.
In a new build situation, be it the whole house or only a conservatory, it is relatively easy to design a thermally efficient room, with a solid, insulated roof.
Existing conservatories have a more difficult starting position, and can realistically only choose from lower-cost insulation options and the lower levels of thermal efficiency they provide.
Another point to consider: For those looking to create a truly year-round space, or to extend living space (to create a kitchen diner for this instance), you might weigh up the cost of replacing the roof vs replacing a conservatory with an extension.
It has to be accepted that whatever insulation is installed, the large areas of glass mean that a conservatory will always be less thermally efficient than the rest of your house. However, yes it is worth insulating a conservatory roof, as it is the biggest culprit in terms of both internal heat loss and solar heat gain. Insulating a conservatory roof will increase the chances of making your conservatory both more practical and enjoyable throughout the year.
Tim is an expert in sustainable building methods and energy efficiency in residential homes.
Homebuilding & Renovating Newsletter
Get the latest news, reviews and product advice straight to your inbox.
Thank you for signing up to Homebuilding. You will receive a verification email shortly.
There was a problem. Please refresh the page and try again.