Barrel Vault Ceilings: How to Include This Dramatic Feature
By Amy Reeves published
Including barrel vault ceilings into a home extension or self build will create light-filled and interesting living spaces — find out how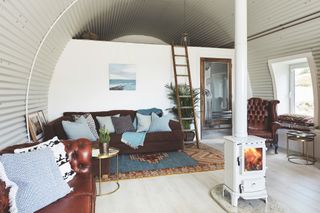 (Image credit: Philip Lauterbach )
Barrel vault ceilings provide an unusual feature that maximises light and ventilation. Although seen less than traditional vaulted ceiling with a classic peak apex, their curved designs makes them an enviable element of home design.
Homeowners are more confident than ever when it comes to experimenting with dramatic features in home extensions and self builds, and that includes trying out alternative to traditional types of ceilings.
Find out how to build a barrel vault ceiling below, what to watch out for and why they are an amazing feature to include in your next project.
What is a Barrel Vault Ceiling?
Barrel vault ceilings are a type of vaulted ceiling which is formed from one continuous curve from wall-to-wall or floor-to-floor. They are also sometimes known as a tunnel vault or wagon vault.
In historical architecture, the arches of barrel vaults were often seems in churches and cathedrals, but are also often seen in rural barns and later industrial buildings.
How Do You Build a Vaulted Barrel Ceiling?
Today, barrel vault ceilings are often built using glulam timber portal frames or post and beam forms with curved trusses.
Traditionally, they would have been made from brick or stone underneath buildings and are often seen in the groin vault style (a type of barrel vault with two arches which cross one another).
What is the Benefit of a Barrel Vault?
As well as their architecturally interesting design – one which will be sure to make visitors stop and appreciate the detail and craftsmanship – barrel vault ceilings also optimise the spread of natural light.
As a result, living spaces with a barrel vault feel have a strong sense of space and brightness. The end of a barrel vault can also be glazed to really capture a view.
What are the Disadvantages of a Barrel Vault?
While vaulted ceiling extensions and self builds are undoubtedly popular, unfortunately barrel vault ceilings can be expensive to build due to their unusual nature and intensive labour and material requirements.
Structurally, all of the pressure is placed on the walls so side anchors may be required for support — although this isn't an issue where kits are used to create the illusion of a barrel vault using plasterboard.
Also, if a barrel ceiling stretches from floor to floor (rather than a semi-circle atop straight walls) it can be difficult and costly to find windows — bespoke glazing is often a requirement.
Barrel Vault Ceilings: 4 Dramatic Ideas
1. Use a Barrel Vault in a Barn Conversion
This dutch barn building was converted by Sandy Rendel Architects (opens in new tab). The living spaces were placed on the first floor to make the most of the existing barrel vault and the views across the farmstead.
"We felt with such a beautiful form its was important to try and keep the ceiling exposed from eaves to eaves and clear of subdivision," explains architect Sandy Rendel. "The majority of the lighting was kept to the walls and built-in furniture, held down from the ceiling, was used to zone the larger volume without diminishing the overall sense of space."
2. Push the Boundaries When Renovating
During the renovation and extension of a traditional London terrace, Studio Ben Allen (opens in new tab) used a theme inspired by Victorian architecture of louvered barrel vaulted ceilings to bring diffused light down into the kitchen and bathroom.
3. Clad a Barrel Vault Ceiling for Added Drama
When extending this farmhouse a zinc-clad extension with a huge curved ceiling was added to bring in more space and light. The curved roof holds the main bedroom, dressing room and en suite and is clad with a warm tongue-and-groove panelling.
Take a look at out guide for more ceiling cladding ideas and inspiration.
4. Create a Double-Height Barrel Vault Ceiling
The glulam arches of this barrel ceiling were treated with Fiddes wood oil to give them a white tint. With a brief for the self build home to "be brave", Andrew Birds (from Birds Portchmouth Russum (opens in new tab)) designed this home, inspired by a French wine barrel with two wings either side for the living and bedroom spaces.
Their lighting ideas for vaulted ceilings came from an expert at John Cullen Lighting.
Assistant Editor Amy began working for Homebuilding & Renovating in 2018. She has an interest in sustainable building methods and always has her eye on the latest design ideas. Amy has interviewed countless self builders, renovators and extenders about their experiences for Homebuilding & Renovating magazine. She is currently renovating a mid-century home, together with her partner, on a DIY basis, and has recently fitted her own kitchen.
Homebuilding & Renovating Newsletter
Get the latest news, reviews and product advice straight to your inbox.
Thank you for signing up to Homebuilding. You will receive a verification email shortly.
There was a problem. Please refresh the page and try again.