Timber Frame Extension Ideas: 10 Innovative Ways to Add More Space
By Amy Reeves published
These timber frame extension ideas are amazing examples of creative designs that work best for the house, no matter what shape or size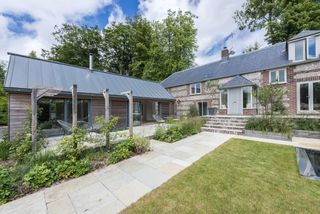 (Image credit: Stuart Cox)
Great timber frame extension ideas are more than just a structure added to an existing house. They rejuvenate spaces using creative and well-considered designs bespoke for each home and lifestyle.
Adding a timber frame extension is a time and energy efficient way to add space and value to a home, but it can be hard to decide on the right style.
Take a look at the amazing homes below, all of which have been transformed by extending in timber frame, for some innovative ideas.
1. Go for an Extension and Remodel to a Dated Home
The homeowners of this stunning New England-inspired home were originally faced with a lack-lustre bungalow on the perfect plot. Recognising the potential for more, they extended upwards to add a second storey and gave the house a drastic makeover.
They chose a timber frame to top their traditional brick and mortar structure, doubling its size before cladding with a solid timber weatherboarding which completes the new look.
(MORE: Remodelled Bungalows: Before and After)
2. Adding a Wooden Extension on a Brick House
Inspired by their post-war home's potential for greatness, Jason and Sarah Orme have added multiple small timber frame extensions to provide extra space for their family.
The well-considered design alleviated busy and congested spaces at the back of the house while the staircase atrium to the front of the house creates striking kerb appeal.
3. Extending in Timber for a Family Home
A rear extension and garage conversion gave Michelle and Scott Leslie all they needed from their dated cottage, while being more cost-effective for the space than a loft conversion.
The sliding patio doors create a beautiful connection with the garden the house struggled with previously and injects plenty of natural light deep into the steading-shaped layout.
4. Choosing a Dormer Loft Conversion and Extension on Top of a Bungalow
Looking for a place to raise their young family without breaking the bank led Will and Laura Dewer to renovate and extend a dated bungalow in Surrey, by adding a dormer loft conversion.
Carried out under Permitted Development, the double dormers achieved the maximum allowable addition volume for a detached house of 50m2 (for terraces this is 40m2).
5. Consider a Traditional Front and Contemporary Rear Extension Design
A traditional school house has been converted and extended with a contemporary addition at the back.
Although traditional dry stone walling clad the structure to compliment the original building, the extension is entirely modern with an open-plan living space and large sliding doors.
6. Creating Character with an Oak Extension
Effortlessly charming, two side extensions in oak frame with timber panel infill gave this once derelict cottage a new lease of life. One features plentiful glazing and has become a social sitting, kitchen and dining space while the other is a relaxing music room clad in timber weatherboarding.
7. A Rear Extension to Connect with the Garden
This extension and conversion of a coach house took just six months to complete. The large-profile sliding glass doors elegantly blur the links between inside and out.
(MORE: Bringing the Outside In: 15 Genius Design Ideas)
8. Designing a Small Side Return Extension
A side return extension can be all a house needs to breathe. By building out to the side, this terrace house now has a social family dining room and a renovated kitchen that ticks all the boxes while not destroying the garden.
9. Building a Natural Extension to a Cottage
A mirror image of the original Scottish cottage was created using timber frame in this project, but the form was chosen to be covered in timber cladding for a dynamic demarcation of the new spaces while still staying true to the countryside aesthetic.
10. Adding a Modern Extension to a Period Home
This single-storey timber frame extension has been clad delicately in timber to compliment the brick and flint of the original period house. Taking advantage of the large garden means the new structure enjoys stunning views.
Assistant Editor Amy began working for Homebuilding & Renovating in 2018. She has an interest in sustainable building methods and always has her eye on the latest design ideas. Amy has interviewed countless self builders, renovators and extenders about their experiences for Homebuilding & Renovating magazine. She is currently renovating a mid-century home, together with her partner, on a DIY basis, and has recently fitted her own kitchen.
Homebuilding & Renovating Newsletter
Get the latest news, reviews and product advice straight to your inbox.
Thank you for signing up to Homebuilding. You will receive a verification email shortly.
There was a problem. Please refresh the page and try again.