10 Remodelled Bungalows: Amazing Before & After Transformations
By Natasha Brinsmead published
Remodelled bungalows are becoming a frequent sight these days, the potential of their often unassuming former selves being recognised as a way of achieving a fabulous home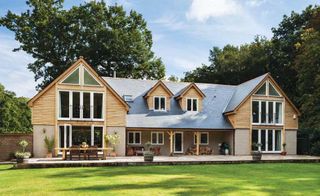 (Image credit: Simon Maxwell)
Remodelled bungalows are a popular for many reasons, including the fact that they tend to be easier to come across than virgin plots — plus the planning process can be simpler.
Bungalows built from the 1910s right up until the 1970s are often built on generous plots and have large footprints.
Whilst bungalows built during these 50 years might not be shining examples of cutting-edge design – in fact they are very often rather unattractive – their potential is undeniable.
The fact that they hold little in the way of architectural merit is a good thing as planning committees are often more than happy to see them updated and improved, paving the way for some fantastic contemporary design.
We've selected some of the most inspirational single-storey remodels to give you some ideas.
(MORE: Exterior Makeovers Design Guide)
1. Contemporary Remodelled Bungalow
Before:
After: In terms of remodelled bungalows, this property in West Sussex is one of the best we've seen. It was designed by CDMS Architects to make the most of the stunning views it enjoys from the rear, where the plot slopes away.
Check Out Our Latest Subscription Offer
The existing garages to the front of the house made for an uninviting façade, as well as restricting vehicular access. These were demolished in order for a new single-storey timber frame extension to be erected in its place.
The extension was designed to create a new, somewhat grander entrance to the house as well as providing new guest accommodation.
The windows to the front have partially hidden behind a screen of vertical oak louvres in order provide an element of privacy without blocking light. They also soften the design and connect it with the landscape beyond.
2. Oak-clad Remodelled Bungalow and Extension
Before:
After: A dilapidated 1970s property on a wooded site in Berkshire has been transformed into a contemporary family home.
The existing bungalow was retained, but with a significant internal remodel, whilst an extension and warm oak cladding now provides a first floor.
3. 1930s Remodelled Bungalow
Before:
After: The overhaul of this 1930s property has seen it extended and remodelled for just £110,000.
When the high costs of removing soil from the awkward site, along with the nearby existence of underground mines, ruled out adding a second storey, the owner decided to extend the bungalow outwards in two directions, creating a flat-roofed wraparound extension.
(MORE: Building an Extension)
4. Striking Contemporary Remodelled Bungalow
Before:
After: Built in 1916, this remodelled bungalow has been extended to the side and rear, whilst retaining a large number of the existing exterior walls.
Its two strong monopitch roof sections give the house striking angular shapes, whilst the combination of steel, stone and glazing make it hard to fathom that that hidden away inside is a 1916 bungalow.
5. Remodelled Bungalow with Sea Views
Before: Located in a picturesque spot in Dorset, this 1990s property needed some ingenious design features in order to maintain privacy and make the most of the stunning views.
After: This remodelled bungalow is all about maximising the stunning coastal views offered by its heavily sloping site.
The house is entered on the first floor via a 'bridge', whilst the entire rear wall of the property has been removed and replaced with glazed sliding doors which open up the living space and kitchen to the new raised deck.
6. 1970s Remodelled Bungalow with Modernist Inspiration
Before:
After: A run-of-the-mill 1970s bungalow in Surrey has been transformed into a Modernist-inspired home — almost doubling its value.
Impressively, the owners spent just £165,000 on the project. The centre of the roof was raised by 300mm, allowing for two rooms and an en suite upstairs without changing the appearance of the house from the street.
(MORE: How to Add Value to Your Home)
7. From 1950s Eyesore to Cutting Edge Contemporary Home
Before:
After: In the area of Dorset where this house is located, 1950s bungalows on generous plots are not uncommon, yet the treatment that this particular bungalow has been given is certainly striking.
Twin gables to the front and rear of the property feature large expanses of glazing to ensure full-height views of the surrounding area. At the rear, the bungalow's footprint was extended by 3m, and steel frames have allowed a largely open plan layout to be created.
The project came in at £195,000.
8. Accessible Remodelled Bungalow with Eco Credentials
Before:
After: This stunning accessible home in West Yorkshire, designed by Transform Architects, is a fabulous example of just how much potential remodelled bungalows can offer.
Gone is the unattractive brick facade and small windows, replaced with crisp render and aluminium windows and door.
Eco and accessible features include:
rainwater harvesting tanks
natural comfort cooling
its own organic food crop
reed beds
waste water recycling
over insulated fabric to retain the heat
a heat recovery system
above standard insulation
automated door openers
hoists in the master bedroom and en suite
an eco-building management system
cat 5 cables fed into each room
and open plan living.
9. Dormer Bungalow Remodel
Before:
After: This remodelled bungalow started life as an unattractive 1970s home, complete with waney-edged timber cladding, dull yellow bricks and coloured bathroom suites.
The owners have completely reimagined the building, re-cladding the front with stained vertical timber cladding and new bricks. They also increased its size with a striking heavily glazed extension to the rear — allowing the internal spaces to flow better as well as flooding them with natural light.
10. Stunning Remodelled Bungalow with Timber Frame Extension
Before:
After: The original 1950s bungalow that once stood on this sloping site has been retained and 'extended' upwards with a lightweight timber frame.
A steel 'skyframe' offers the feeling of enclosure to the first floor patio area — two adjustable steel fixings will hold shading parasols. The existing bungalow windows have also been kept (the owner intends to paint them to match the new grey frames upstairs) while an external wall insulation system has been added to improve its efficiency.
Natasha is Homebuilding & Renovating's Associate Editor and has been a member of the team for over two decades. An experienced journalist and renovation expert, she has written for a number of homes titles. She has renovated a terrace and is at the end of the DIY renovation and extension of her Edwardian cottage. She is now looking for her next project.
Homebuilding & Renovating Newsletter
Get the latest news, reviews and product advice straight to your inbox.
Thank you for signing up to Homebuilding. You will receive a verification email shortly.
There was a problem. Please refresh the page and try again.