Tadelakt: What you Need to Know About Moroccan Plaster
Tadelakt is a lime-based plaster finished to form a durable, waterproof surface with a distinct appearance. Find out more about its uses with this handy guide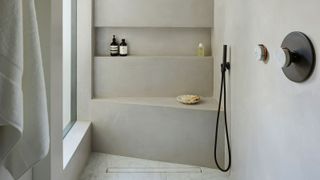 (Image credit: Darren Chung c/o The Watermark Collection)
Tadelakt, sometimes referred to as Moroccan plaster, is a traditional plaster indigenous to the Marrakesh region of Morocco that can be used as a stylish wall covering and alternative to tiles in bathrooms.
By plastering walls with tadelakt, you're able to create a solid, waterproof surface that is seamless, has no grout lines and is resistant to mould, which perhaps explains why this traditional plaster style has become so popular in contemporary, minimalist homes.
Find out more about this unique wall covering with our expert guide.
What is Tadelakt?
Tadelakt is a waterproof and decorative plaster with a distinct, mottled appearance. It is a natural, lime-based plaster and it can be tinted to almost any colour, meaning that it can be used to create colourful surfaces that don't require painting. Tadelakt has a subtle but luxurious sheen that creates a finish that's reminiscent on natural stone.
How is Tadelakt Applied?
Tadelakt is applied in several coats and finished using a special technique. "The final stage of polishing is done by using a plastic trowel, Japanese trowel or a traditional Moroccan application which requires a special polishing stone," explains Ian Kozlowski, Founder of Decor Tadelakt.
However, it's the final stage of applying tadelakt that makes the resulting surface waterproof. "This lime plaster is made waterproof through both its inherent properties and its application technique," continues Valentin Tatanov, manager at Tadelakt London. "The olive oil soap that is rubbed into the surface of the product chemically reacts with the lime to form calcium stearate."
Is Tadelakt Hard Wearing?
This reaction results in a surface that is water and scratch-resistant, hard and durable. However, it's not always recommended for use on floors. "We recommend it for use only in areas where you will not wear hard shoes, as grit and small stones can easily scratch the surface," says Valentin.
There are other alternatives for flooring, such as microcement that offer a similar finish for flooring that will fair better, and tadelakt walls are also often used with tiled floors.
Does Tadelakt Crack?
Applying the tadelakt in two coats should help to reduce the chances of any cracks forming while the plaster hardens. Small cracks during the installation can often be buffed out during the olive soap stage. However, if micro surface cracks form in tadelakt, this usually won't affect the waterproof quality of the plaster and can add to the texture, patina and character of the walls.
Can you DIY Tadelakt?
Tadelakt does require specialist application as not only does it need to look good, it needs to perform by repelling water. However, that doesn't mean it can't be learned by a competent DIYer. "It's quite an interesting technique to learn which a lot of people these days are looking to experience," says Valentin Tatanov from Tadelakt London.
Where Can Tadelakt be Used?
Tadelakt is most often used for walls and ceilings, but it also has wider applications across interiors, including:
Interior walls
Kitchens
Fireplaces
Seats
Shelves
Vanity units
Washstands
Baths, pools, spas, shower cubicles, wet rooms and steam rooms
Can Tadelakt be Used in a Bathroom?
Tadelakt is commonly used in bathroom design, thanks to the waterproof membrane which is created during the chemical reaction by the olive soap process. Tadelakt is also suited for use in shower enclosures and wet room ideas.
The seamless application means that bespoke waterproof details can be easily created, such as shower niches.
How Expensive is Tadelakt?
Tadelakt is a relatively expensive finish, especially compared to tiles. You can expect a starting price for wall installations, including supply and install, from £180/m2.
How do you Maintain Tadelakt?
Tadelakt is largely low maintenance, and can be kept clean just by using water as the surface resists dirt and mould. "In the shower, squeegeeing down the walls after each shower is all that is needed to maintain the tadelakt shower walls," explains Decor Tadelakt's Ian Kozlowski.
Avoid using bathroom cleaners on tadelakt, especially any containing bleach or harsh solvents, as this may destroy the waterproof membrane.
For longer term care and to keep the tadelakt plaster looking its best, "regular recoating with soap solution ensures that the tadelakt stays in excellent condition for years to come," suggests Valentin.
Get the Homebuilding & Renovating Newsletter
Bring your dream home to life with expert advice, how-to guides and design inspiration, direct to your inbox.
Hugh is Deputy Editor of sister title Livingetc.com and former Digital Editor of homebuilding.co.uk. He has worked on a range of home, design and property magazines, including Grand Designs, Essential Kitchens, Bathrooms, Bedrooms and Good Homes. Hugh has developed a passion for modern architecture and green homes, and moonlights as an interior designer, having designed and managed projects ranging from single rooms to whole house renovations and large extensions. He's currently renovating his own Victorian terrace in Essex, DIYing as much of the work as possible. He's recently finished his kitchen renovation, which involved knocking through walls, and landscaping a courtyard garden, and is currently working on a bathroom renovation.