Best Smart Plugs: 6 Plugs You'll Wish You'd Bought Sooner
By Jack Woodfield published
The best smart plugs offer day-to-day convenience and can reduce your home's energy usage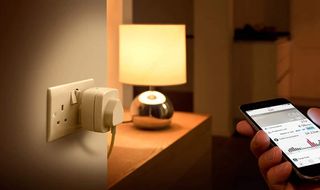 (Image credit: Amazon)
The best smart plugs turn ordinary devices into smart ones. They provide convenience and offer peace of mind — after all, you don't have to be in the same room, or even at home, to turn a device off or on.
Smart plugs are handy in all types of ways, and many are so easy to use you'll wish you'd have bought one sooner. You can schedule lights to turn on so it appears as if someone is home, and energy monitoring features help to improve your home's energy efficiency and can reduce your bills.
They're also great for checking whether or not you turned a device off once you've left the house, such as a phone charger or your hair straighteners. You can simply switch them off using an app on your phone.
These are six of the best smart plugs available now to introduce some smart home tech into your space.
Best Smart Plugs
1. TP-Link Kasa Mini Smart Plug
The best smart plug overall
Specifications
Works with:
Alexa, Google Assistant and Samsung SmartThings
Compatible with:
Android 5.0 or higher, iOS 10 or higher
Separate hub required:
No
Reasons to buy
+
Compact and reliable
+
Great app
+
Easy set-up
Reasons to avoid
-
Fewer features than others on this list
The Kasa Mini Smart Plug by TP-Link (KP105) is a great little smart plug at an affordable price. What's more, its compact size means it doesn't obscure the adjacent socket when plugged into a double socket.
You can pair it with Alexa and Google Assistant for voice control and, once you've downloaded the Kasa Smart app, you can set timers while you're out of the house — so, for example, your home will be well-lit for when you return on dark evenings.
A sliding safety cover and overheating protection provide added peace of mind. Additionally, no hub is required; it works with any Wi-Fi router.
---
2. TP-Link Kasa Smart Wi-Fi Power Strip (KP303)
The best smart plug power strip
Specifications
Works with:
Alexa, Google Assistant
Compatible with:
Android 4.4 or higher; iOS 10 or higher
Separate hub required:
No
Reasons to buy
+
Three outlets
+
Monitors energy usage
+
Built-in surge protector
Reasons to avoid
-
More expensive than others on the list
The Kasa Smart Wi-Fi Power Strip (KP303) is essentially three smart plugs built into one. All three outlets can be independently controlled using the Kasa App, Alexa or Google Assistant. It even comes with two USB ports.
Among its myriad of features is energy monitoring capability, which means you can check on each of your devices using the app and turn off the ones using the most energy, helping you to save money on energy bills.
You can set advanced scheduling options too, so you can schedule lights to turn on or off at different times of the day, for instance.
There is a second version of TP-Link's smart power strip: the six-socket HS300 model (opens in new tab), if you need more outlets.
---
3. Eve Energy Smart Plug & Power Meter
The best smart plug for energy monitoring
Specifications
Works with:
Apple HomeKit
Compatible with:
iOS 10, tvOS 10
Connectivity:
Bluetooth 4.0 Smart
Separate hub required:
Yes
Reasons to buy
+
Easy to use
+
Minute-to-minute energy usage
The Eve Energy Smart Plug & Power Meter is one of the best energy monitoring smart plugs there is.
You can instantly see how much energy your devices are costing you by minute, or by year, via the free accompanying Eve app, and switch them on or off with a simple tap or using Siri.
An important caveat is that it's only available for Apple users. You'll need an iPhone (or iPad) to operate the plug, and while you can control the plug directly from the app for in-house use, to get the full benefit it's best to utilise the Apple HomePod smart speaker as a hub so you can control it away from home.
---
4. Meross Outdoor Smart Plug
The best smart plug that works outdoors
Specifications
Works with:
Apple HomeKit, Alexa, Google Assistant, Samsung SmartThings, IFTTT
Compatible with:
Android 4.1 or higher; iOS 8 or higher
Separate hub required:
No
Reasons to buy
+
Suitable for outdoor use
+
Weather-resistant
+
Strong WiFi connection
Reasons to avoid
-
Shorter cables, so needs to be kept close to outlet
The weather-resistant Meross Outdoor Smart Plug is brilliant for outdoor use. You can control porch lights to deter burglars while you're out, and control water features or garden lights without having to move.
The plug's IP44 weatherproof design means it can handle light rainfall or moisture on the grass, however it cannot be used in a heavy downpour. For this reason it's best positioned under a sheltered spot, or in a shed.
Once you've downloaded the Meross app you can turn each socket off and on individually, and you can create on-off schedules or auto-off timers to work automatically.
Significantly, it also has a really strong WiFi connection. Outdoor smart plugs can sometimes struggle with WiFi connectivity, but this works with any 2.4GHz or dual band WiFi router, which is great for an outdoor smart plug.
---
5. Philips Hue Smart Plug
The best smart plug for lighting
Specifications
Works with :
HomeKit, Alexa, Google Assistant (via Hue Bridge)
Compatible with:
Android 7.0 or higher; IOS 11 and higher
Connectivity:
Bluetooth, Zigbee
Separate hub required:
Not necessarily
Reasons to buy
+
Easy to install
+
Subtle design
+
Good smart home integration
Reasons to avoid
-
No energy usage monitoring
-
Limited smart functionality using Bluetooth
With an excellently subtle design that neatly blends into any room of your choice, the Philips Hue Smart Plug is a standout option if you're looking to add smart connectivity to your lighting.
It's speedy, reliable and works with several voice assistants, and it only takes a few minutes to set up.
While you don't need a separate hub - it can be operated via the free 'Philips Hue Bluetooth' app - to utilise its full potential it's better to purchase the Philips Hue Bridge.
With the bridge you can connect to HomeKit, Alexa and Google Assistant and control the plug with your voice. You can then integrate it into your Hue zones and routines, and use it to control other smart home products (if you own non-Philips hues already, for example).
---
6. Aoycocr Smart Plug Mini
Another great smart plug at an affordable price
Specifications
Works with:
Alexa, Google Assistant, IFTTT
Separate hub required:
No
Reasons to buy
+
Compact design
+
Energy monitoring
+
Easy to use app
The Aoycocr Smart Plug Mini is a good budget option for those wanting to dip a toe into the world of smart home tech.
Its power usage monitor lets you check the energy consumption of your appliance, and if this is too high you can use the Smart Life app to manually turn it off, helping to save on your energy bills.
It's also very easy to install and use, and as with all good smart plugs you can use it to set timers and schedule devices to turn off and on.
What's more, its compact design means it won't get in the way of anything else around the socket. It also includes a sliding safety cover to protect children from inserting fingers into it.
Buy the Aoycocr Smart Plug Mini now (opens in new tab)
---
What Are Smart Plugs Good For?
The benefits of smart plugs are wide-ranging, and when used well can have a transformational effect on your home's IQ.
We've already listed some benefits such as their ability to turn devices on and off remotely, and monitor your energy use from anywhere in the world, while other benefits include:
Improving your home network connectivity - by communicating with other smart products in your home
Making it appear as if you're at home - smart plugs can turn lights on and off while you're on holiday, helping to deter burglars
They can transform your morning routine - getting ready in the morning can be made easier by setting routines on your smart plugs to switch the toaster on, or switch a charger off, or turn lights off before you leave the house.
Lowering your energy usage - if you find yourself regularly leaving items on charge unnecessarily, a smart plug can be used to take it off charge, lowering your energy usage
How to Choose the Best Smart Plug
Before you take the plunge, have a read of some of the criteria that will help you decide what you require from your smart plug. Factors to consider include:
Scheduling and timer options
These features allow you to turn devices on or off at certain times, and while most smart plugs include them, make sure that your preferred plug does too.
Energy monitoring
Some smart plugs equipped with energy monitoring can tell you how much electricity your appliances use, helping you save electricity by scheduling devices to turn off at certain times of the day when they cost more to run.
Surge protection
This is an important feature for any smart power strip, and you'll need this protection if you use your strip to run a home office or a games room.
Smart assistant pairing
Some smart plugs only work with certain smart assistants, so make sure you check that the smart plug is compatible with your preferred smart assistant.
Outdoor or indoor use?
Most smart plugs are only suitable for indoor use, so if you need your smart plug to work in the garden (for example, to control patio lights), then look out for a model specifically designed to function outside.
Hub requirements
Not all smart plugs require a hub in order to connect your smart plug to other devices, and some plugs won't work without one. Make sure you check before you buy so you have everything you need to smarten up your home.
More Best Buys and Smart Home Tips
Jack has worked in journalism for 11 years and is the News Editor for Homebuilding & Renovating, a role he has had since 2019. He strives to break the most relevant and beneficial stories for self builders, extenders and renovators, including the latest news on the construction materials shortage and hydrogen heating. In 2021 he appeared on BBC's The World at One to discuss the government's planning reforms.
He enjoys testing new tools and gadgets, and having bought his first home in 2013, he has renovated every room and recently finished a garden renovation.
Homebuilding & Renovating Newsletter
Get the latest news, reviews and product advice straight to your inbox.
Thank you for signing up to Homebuilding. You will receive a verification email shortly.
There was a problem. Please refresh the page and try again.