Cheap Flooring Ideas That Don't Compromise on Style
By Natasha Brinsmead published
Our collection of cheap flooring ideas features loads of ways to cut your flooring costs without cutting down on style or quality — what more could you want?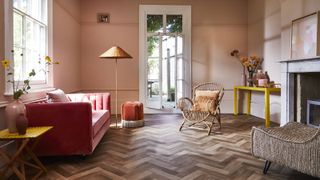 (Image credit: Carpetright)
The best cheap flooring ideas are those that are not only durable and low-maintenance but also look to all the world like they cost far more than they really did.
Although you might want to save on flooring, do take care to ensure that your final choice is still of a good quality — otherwise the whole aim of saving a few pennies could end up to be a false economy and ultimately end up costing you more in terms of repair or replacement.
We have been scouring the world of flooring design ideas in order to present you with the best types of flooring if you are aiming to keep a lid on costs. From clever ways to upgrade your existing floors, to products you might not have considered before, we have it all.
Choosing the Right Cheap Flooring Ideas for Your Home
Although you might be very conscious of your budget, it is important that you focus on other factors too when choosing your new flooring.
Remember, the flooring you choose will form a visual backdrop for the rest of the room as well as having to withstand a huge amount of wear and tear. Closely consider the particular requirements of the space you are fitting the new floor in — a bathroom, for example, won't suit some types of wood flooring or carpet, while a bedroom may well cry out for something soft underfoot.
When it comes to thinking about the cost of flooring, take into account installation too — certain types of flooring, such as engineered wooden flooring and tiles, are simple to fit on a DIY basis which will save you even more money, while others, such as polished concrete flooring and carpet is best left to the professionals.
1. Cut Costs With Ceramic Floor Tiles
Ceramic floor tiles are one of the cheapest options when it comes to tiles, starting at far less than their porcelain or stone counterparts.
However, don't let their low price tag lead you to believe that they are an inferior product. Ceramic tiles are easy to lay and often considered one of the best flooring for underfloor heating. They are also available in a massive range of colours, patterns and textures — there are even some really realistic timber and stone look-a-like ceramic products out there.
On the downside, some of the very cheap tiles can be thin and prone to cracking rather easily and those that are not through-coloured will show up any damage readily.
Prices start from £10/m2 for plain, standard size tiles. The Trellis Casablanca Tiles shown here, from Walls and Floors (opens in new tab), cost £19.95/m2.
2. Use Vinyl as a Convincing Parquet Alternative
Vinyl has come a long way since the days of flimsy, yellowing products that gradually became the bane of many a renovator's life.
Vinyl is available in rolls, sheets or tiles and is highly durable and brilliant at resisting water so is even suitable for bathroom flooring. Prices for vinyl really do vary, and it is quite possible to pick up fairly basic vinyl tiles from around £10/m2.
The striking vinyl floor here is from Lifestyle Floors (opens in new tab) and is designed to mimic one of the hottest flooring trends around right now — herringbone parquet. It costs approx. £25.47/m2 and can be used over underfloor heating.
3. Track Down Good Quality Cheap Carpet
It is true that not all types of carpet are created equal — but there is certainly no need to spend a fortune to obtain a stylish and high quality product.
Cosy underfoot, suitable for use with underfloor heating and an excellent sound and heat insulator, there are lots of reasons why carpet is still such a popular choice.
Before snapping up what appears to be a bargain, do check that the carpet you have your eye on is suitable for the room you are laying it in — high traffic areas such as hallways will need a more durable product than, say, a guest bedroom.
Carpet can be picked for as little as between £10-£25/m2 but do check what is included for this price — underlay, fitting, disposal of your old carpet?
Carpetright's (opens in new tab) House Beautiful Shoreditch Carpet In Honey, shown here, costs £24.99/m2.
4. Get The Polished Concrete Look For Less
Polished concrete is undoubtedly a stylish, beautiful and practical option, but it doesn't come cheap.
Thankfully, for those on a tight budget, there are alternatives, most commonly vinyl or luxury vinyl tile (LVT flooring).
As a comparison, a new polished concrete floor, poured, finished and sealed, will cost around £120/m²-£150/m². The Colosseum 5G Clic LVT in Warm Concrete, shown here, from Lifestyle Floors (opens in new tab), here costs just £59.97/m2.
5. Consider a Look-a-Like Timber Floor
Although not all types of wood flooring are expensive, with prices for engineered wooden flooring starting from £30/m2 and rising to at least £90/m2, it can be necessary to look for alternatives.
Timber look-a-like products include those made from vinyl, LVT, porcelain and ceramic. Many are textured to replicate the feel of timber underfoot, plus they are a low maintenance option too.
These Rustic Oak Wood Effect Tiles from Walls and Floors (opens in new tab) are ceramic and cost £16.95/m2.
6. Get a Luxury Look on a Budget
Marble flooring screams luxury and is a particularly popular option for bathrooms, where an opulent hotel chic look is being aimed for. Marble flooring is also hugely popular in kitchens, where its pale, honed finish pairs well with a huge number of unit colours and styles. (Although spills need to be quickly mopped up.)
However, stone flooring – and in particular marble – is not normally a choice available to those on a strict budget. Prices for marble flooring usually start at approximately £50/m2.
Check out porcelain and ceramic marble replicas instead — the White Carrara Marble Effect Ceramic Floor Tiles here, from Walls and Floors (opens in new tab), cost just £13.95/m2.
7. Invest in a Stylish Rug to Cover an Old Floor
One of the simplest and least disruptive routes to solving the problem of how to deal with an old floor without spending a fortune, or getting down on your hands and knees to lay a new one, is simply to lay a beautiful new rug.
This is an ideal solution not only for those who are conscious of the pennies, but also if you plan on moving house in the not-so-distant future.
This fresh and breezy rug is the Medina Safi Rug from Weaver Green (opens in new tab). It comes in a range of sizes, with the 150cm x 90cm version costing £130.
8. Inject Some Fun into Your Flooring With Terrazzo
Terrazzo flooring is beautiful, eye-catching and really durable — plus it comes in every colour and pattern combination under the sun. It is suitable for all kinds of applications and is one of the best bathroom flooring ideas given its looks and durability, providing it is properly sealed.
Terrazzo originated in 16th-century Italy and is made up of marble chippings set into cement. It can either be poured in situ by hand or made off-site into blocks or ready-made tiles. The only real downside is the cost. Tiles start at around £75/m2 while poured terrazzo can easily end up costing £250/m2.
Happily, there are alternatives that are much kinder on the bank balance. These Popsical Earth Terrazzo Ceramic Tiles from Walls and Floors (opens in new tab) feature realistic chippings of wood, concrete and stone and cost just £24.95/m2.
9. Don't Discount Laminate Bathroom Flooring
While laminate flooring is not the same as wooden flooring – being made instead from compressed fibreboard planks with a top layer featuring a photographic wood-effect image, finished with a clear protective coating – it is a much more affordable option. Plus, if you find out how to lay laminate flooring you can make further savings on installation.
In the past people shied away from using it in wet areas, but newer products mean this is no longer an issue — just check that you are buying a water- and humidity-resistant fibreboard-based laminate.
Love AQUA's laminate flooring from Lifestyle Floors (opens in new tab) has a special water-repelling coating and lacquered bevel to ensure no water can seep through. It costs approx. £40.17/m2.
10. Paint Your Existing Flooring
Not only will sprucing up your existing floor give it a new lease of life and completely transform the look of a room, but painting floorboards is also a cheap solution and an eco-friendly one to boot, making use of what you already have.
Opt for a paint specifically designed for the job to ensure the floor retains its good looks for many years to come.
Intelligent Floor Paint from Little Greene (opens in new tab), shown here in Royal Navy 257, is suitable for all floors and interior woodwork and is easy to apply, drying in just two hours. The paint costs £78 for 2.5L pot that will cover 30m2.
11. Explore the Affordable LVT Ranges
LVT flooring, also called luxury vinyl flooring, or LVF, is easy to install, practical and durable. It comes in a huge range of colours, effects and patterns and is a great lower cost alternative to natural stone or poured concrete — plus it can be laid over underfloor heating.
Although LVT is more expensive than standard vinyl flooring, it is not always a costly option if you shop around. Basic LVT starts from £25/m2, although this can easily rise to £60/m2 depending on the product you choose.
The Galleria LVT from Lifestyle Floors (opens in new tab) costs a reasonable £29.97/m2.
Natasha is Homebuilding & Renovating's Associate Editor and has been a member of the team for over two decades. An experienced journalist and renovation expert, she has written for a number of homes titles. She has renovated a terrace and is at the end of the DIY renovation and extension of her Edwardian cottage. She is now looking for her next project.
Homebuilding & Renovating Newsletter
Get the latest news, reviews and product advice straight to your inbox.
Thank you for signing up to Homebuilding. You will receive a verification email shortly.
There was a problem. Please refresh the page and try again.