What is the Best Flooring For Underfloor Heating?
By Natasha Brinsmead published
Wondering what's the best flooring for underfloor heating? We explain the options you should be looking at and the pros and cons of each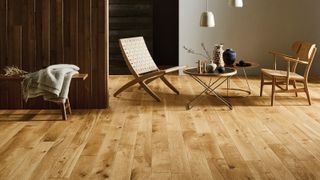 (Image credit: Ted Todd)
The question of which is the best flooring for underfloor heating is now a common one, given that underfloor heating (UFH) is now one of the most popular ways to heat a home.
Underfloor heating not only offers a comfortable, even heat, but it is also a really efficient method of warming a house. It is well suited to many forms of renewable technology too, such as heat pumps — plus it keeps walls clear of radiators making furniture layout easier.
Many people considering UFH, or already living with it, are concerned that their choice of flooring will be negatively affected by UFH but this is often not the case at all.
Our guide talks you through the best flooring for underfloor heating, explaining any issues you should be aware of to ensure your floor and heating work in perfect harmony.
How to Choose the Best Flooring for Underfloor Heating
The good news here is that there are actually only a small number of types of flooring that aren't suitable for use with underfloor heating. However, that said, some flooring materials work better than others.
"The best flooring for underfloor heating is one that efficiently transfers heat from the UFH to the surface of the floor," explains Jo Snell, Self-Build Manager at Nu-Heat (opens in new tab). "Hard surfaces like stone or ceramic tiles, or engineered wood, offer the best heat transfer as they are the most thermally conductive, but many other options work well."
Another consideration to bear in mind is the type of UFH you have — certain flooring types need special consideration when it comes to electric underfloor heating but are fine for use with wet systems.
Solid Wood Flooring and Underfloor Heating
Solid wood flooring is a beautiful choice, offering warmth and character yet, like so many natural materials, it is not without with its quirks.
When it comes to using wooden flooring with underfloor heating, bear in mind that, unlike engineered products, solid timber is prone to movement when exposed to changes in moisture and temperatures levels and can warp and twist, making it a dubious choice for use with UFH.
"While wooden floors are suitable for underfloor heating, we always recommend using engineered wood for your wooden flooring with a UFH system," says Nu-Heat's Jo Snell. "Engineered wood gives the same effect as solid hardwood but with the added benefits of strength and durability once it is laid."
If you have your heart set on a solid wooden floor, bear in mind that:
Solid wood can distort when used over UFH.
If you want to use it, select a kiln-dried timber with a moisture content of between 6-9%.
Store the timber in a dry place to acclimatise it and use a floor temperature sensor to detect overheating.
Aim to use boards of 18mm in width or less.
Laying Engineered Wood Flooring Over Underfloor Heating
When it comes to UFH and wooden floors, engineered wood flooring is the best choice. Because it is made up of layers of timber, with a solid veneer, it is far more stable than solid wooden boards.
"We recommend using engineered wood floorboards with our underfloor heating systems due to their strong structural design," says Jo Snell. "The recommended board width of the engineered wood when going over underfloor heating is 150mm."
But what about timber parquet flooring and underfloor heating?
"For parquet flooring over underfloor heating, solid wood is not recommended and only engineered timber parquet should be used," says Jo.
Although engineered flooring is a great match for underfloor heating, there are still a few considerations to bear in mind:
An expansion gap of around 15mm should be left around the perimeter of the room to allow the floor to expand and contract.
When heating up your UFH system for the first time, it's crucial that this is done slowly to avoid 'shocking' the timber floor.
Timber floors must be allowed to acclimatise in the property prior to installation to avoid the timber expanding or contracting after fitting.
Ask your flooring supplier for the recommended maximum base/surface temperature of the timber and pass this information on to your UFH installer.
Stone Flooring and Underfloor Heating
Stone flooring is beautiful and offers a wealth of natural beauty to the home — yet it can be cold underfloor. Happily, stone floors are perfect for use with underfloor heating — in fact, according to Warmup (opens in new tab), the best type of flooring to use with underfloor heating is tile and stone.
This is mainly down to stone flooring's high heat conductivity and excellent heat retention, meaning stone tiles warm up quickly and stay warm for longer than many other flooring materials.
Pretty much all stone flooring can be used over UFH — with marble being one of the best types for thermal conductivity.
Points to note include:
Thicker stone tiles will take slightly longer to heat up than their thinner counterparts (Warmup recommend a maximum thickness of 20cm.)
A decoupling membrane and flexible adhesive should be used when tiles are laid to reduce the risk of any hairline expansion cracks appearing.
Always use insulation when laying on a concrete subfloor.
Using Ceramic and Porcelain Tiles With Underfloor Heating
As with stone flooring, floor tiles made from ceramic and porcelain are also brilliant for use over underfloor heating.
"Porcelain and ceramic tiles are good flooring materials to use with underfloor heating and present a more affordable option than natural stone," says Jo Snell. "Tiles tend to conduct heat well, meaning that heat is transferred easily to the tiles, warming the room quickly. They are also good at retaining heat, therefore helping to improve the overall efficiency of your underfloor heating system."
Points of note when laying ceramic or porcelain tiles over UFH include:
The subfloor must be completely level and stable.
Always use a decoupling membrane to prevent tiles cracking due to movement.
Using Vinyl and Lino Over Underfloor Heating
There is often a little confusion surrounding the use of vinyl and LVT flooring over underfloor heating, but rest assured, you can combine the two — providing you take a couple of precautions, namely keeping an eye on the maximum floor surface temperature.
"The thin nature of vinyl and lino flooring makes it ideal for underfloor heating as the heat can permeate the floor more easily in order to heat the room," says Jo Snell. "However, always check the manufacturer's recommended maximum floor surface temperature to ensure that the covering is suitable for use with underfloor heating.
"Most manufacturers state 27°C, which is more than adequate in most situations. A floor temperature sensor should be fitted to limit the heat output from the floor."
Ignoring maximum surface temperatures can result in a faded floor or damage.
When it comes to using electric underfloor heating with vinyl and lino, it is often recommended that there should be a self-levelling compound or screed laid on top of the heating mat. It is crucial to check with your flooring supplier for the product's compatibility with electric UFH as different products have different requirements.
Special considerations include:
Before installing vinyl over your UFH system, you need to make sure that the area is completely dry — this is particularly important with newly laid concrete subfloors.
After you have fitted your vinyl or lino flooring, the UFH should not be turned on for at least 48 hours in order for the adhesive to fully dry.
UFH should be turned off for 48 hours prior to the installation of vinyl and lino.
Check that the adhesive used can withstand the temperature of the underfloor heating (usually a maximum of 27˚C).
Polished Concrete and Underfloor Heating
Polished concrete can work really well with underfloor heating, but there are a couple of things to bear in mind if this is an idea that takes your fancy.
On the plus side, concrete has a high thermal mass so it will retain and distribute heat really well.
However, on the downside, like some other flooring materials, it can crack if subjected to sudden changes in temperature, so care needs to be taken when it comes to leaving the concrete to cure and also in turning the UFH system on.
In order for your concrete floor and UFH system to work well together you should:
Allow your concrete floor to fully cure after the UFH system is laid and the concrete installed.
Turn the water temperature of your UFH up by just 1˚C a day until it gets to temperature — many professionals advise a maximum water temp of 30˚C.
Poured Resin Floors Over Underfloor Heating
Poured resin is becoming increasingly popular in the UK as it can be poured over the entire floor for a seamless, easy-to-clean finish — it can even be re-sanded and sealed as and when required. Poured resin is also a great match for underfloor heating.
"A polished screed floor finish is an ideal scenario for UFH, offering a good heat transfer that is harder to achieve with traditional floor coverings such as carpet or engineered wood which add an insulative layer.
"In a standard new build property, the UFH will be set within the screed subfloor. There is no additional preparation required before laying any polished screed layer other than following those recommended by the manufacturer."
So, what are the considerations when using a poured resin over UFH?
In retrofit situations, you will need to use a low profile UFH system in conjunction with a self-levelling compound for a nice level finish.
A layer of glass fibre render mesh is also often a good idea to reduce the risk of any stress fractures in the self-levelling compound.
Using a Laminate Flooring Over Underfloor Heating
Laminate is a cost-effective floor covering that is available in a range of finishes and textures — but can it be used over underfloor heating?
"One particular benefit of laminate is that it is not as prone to warping under changes in temperature when laid over underfloor heating," says Jo Snell. "Laminate is much more resistant to temperature changes and as a result will not warp or change shape at higher temperatures."
Laminate can be used with both electric and wet underfloor heating systems.
Before installing a laminate floor over underfloor heating, bear in mind:
You should leave a 15mm expansion gap around the perimeter of the room when laying to avoid 'buckling'.
The recommended maximum temperature that a laminate floor should be heated to is 27˚C to avoid damage.
Thick laminate flooring can be slow to heat up — aim for no thicker than 18mm.
The floor should be heated up slowly when using your UFH for the first time (around 5˚C a day).
Laying Carpet Over Underfloor Heating
Despite the popularity of hard flooring types, such as wood and tile, carpet remains a great option for rooms where an extra level of comfort underfoot is required — such as in bedrooms and living rooms.
"While carpet is a suitable choice of floor covering for underfloor heating, there are certain types of carpet that should be avoided," advises Jo Snell. "If a carpet is too thick, the floor will be too well insulated for you to feel the benefit of your UFH system in the room. Certain carpet backings can also affect the ability for heat to travel through the carpet into your room.
"Carpets with hessian backing rather than rubber, are recommended for use with UFH systems. Although they tend to be more expensive, the hessian allows heat to travel through the carpet whereas rubber acts as an insulator.
"When looking at tog ratings, you need to take into account the rating of both the carpet and the carpet underlay. The combined value of the carpet and underlay should not exceed 2.5 tog, and preferably less than 1.5 tog for systems with a heat pump."
Other considerations for those pairing a carpet floor with underfloor heating are:
The thicker your carpet, the less efficient your underfloor system will be.
When it comes to underlay, steer clear of felt and polyurethane as they can affect heat transfer.
Natasha is Homebuilding & Renovating's Associate Editor and has been a member of the team for over two decades. An experienced journalist and renovation expert, she has written for a number of homes titles. She has renovated a terrace and is at the end of the DIY renovation and extension of her Edwardian cottage. She is now looking for her next project.
Homebuilding & Renovating Newsletter
Get the latest news, reviews and product advice straight to your inbox.
Thank you for signing up to Homebuilding. You will receive a verification email shortly.
There was a problem. Please refresh the page and try again.