Bathroom Floor Tile Ideas: Inspiration For Bathing Bliss
By Natasha Brinsmead published
The best bathroom floor tile ideas should combine practicality with good looks — our round-up of great ways to create interest with your floors has it covered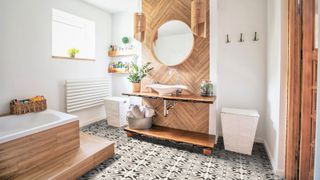 (Image credit: Mad About Mid Century Modern)
Bathroom floor tile ideas need to take into account many factors given that bathrooms are relatively needy spaces compared to other rooms of the house.
Any bathroom flooring ideas need to be able to withstand water, constant fluctuations in temperature and humidity levels, feel warm underfoot and ideally be non-slip and stain-resistant too.
Of course your bathroom flooring also needs to look good — and ideally require minimal maintenance to hold on to these good looks.
We've been busy pulling together some of the most eye-catching bathroom floor tile ideas out there that successfully combine aesthetics with practicality to ensure your bathroom works well for you on every level.
Finding the Right Bathroom Floor Tile Ideas For You
Whichever kind of bathroom flooring you choose, tiles included, it needs to reflect your needs, both in terms of how you want your bathroom design scheme to look once it is finished, as well as how you want it to perform.
When choosing bathroom floor tiles, take into account the following points:
Who will be using the bathroom? In family bathrooms or those that will frequently be used by children and older members of the household, non-slip tiles should be a priority.
How big is your bathroom? Certain tile styles suit different room sizes better than others.
Will you be laying tiles on a DIY basis? Heavy and large-format bathroom tiles can be tricky to install.
What kind of heating are you planning on? If you want underfloor heating you will need to ensure your tiles are suitable.
What is your budget? Those keeping an eye on costs may find some materials out of their range.
What is the overall style you are aiming for? Certain textures and finishes suit different design schemes better.
Once you have considered the above points it is time to get going — your bathroom floor tiles will form a large part of your bathroom design as a whole so be sure to choose early on to avoid delays in your project.
1. Get The Marble Look For Less
Not only do marble finishes give an instant hit of luxury to any space they grace, they are also right on trend just now.
However, on the downside, marble doesn't come cheap, so if you fancy bathroom floor tiles made from this high-end material and are after cheap flooring ideas, you may be left wondering if it is such a good idea.
Happily, there are alternatives — some of the ceramic and porcelain look-a-likes are really convincing and won't require the same sealing and maintenance as a natural stone either.
2. Get Coastal Chic With Wood-Effect Tiles
Some types of wood flooring can be problematic in the bathroom, with high moisture and humidity levels causing them to twist or warp.
However, wood flooring undoubtedly carries with it a character and charm that is hard to match. If you fancy wood flooring – and whitewashed boards can really add a lovely sense of seaside style – you might like to consider porcelain wood-effect tiles instead to overcome any associated issues.
These Friston Wood Effect Matt Grey Tiles from Walls and Floors (opens in new tab) have an undulated matt finish for a natural, characterful look and cost £18.95/m2.
3. Combine Two Tile Styles
As the backdrop for your entire bathroom you can really go to town with your floor and bathroom wall tile ideas. There is nothing in the rule book to say that your tiles should match — or even co-ordinate. Often, going for a brave contrast between wall and floor tiles results in some of the most striking finishes.
Here, Hyperion Tiles' (opens in new tab) Brompton Porcelain Borough Tiles have been used on the floor with dark and moody gloss metro tiles on the walls for a really eclectic look.
4. Go For All Over Luxury
If you are going to go for oversized, and if you love the look of marble then you may as well go the whole hog and use it all over your bathroom — it will really make an opulent statement.
To create this look, Illusion Sand Polished Wall and Floor Tiles from Tile Mountain (opens in new tab) have been used. They measure a whopping 600 x 1,200mm, cost 29.99/m2 and are made from porcelain designed to look just like marble.
5. Jump on the Herringbone Floor Bandwagon
Herringbone floors are hot news right now and are cropping up in all the most stylish homes, in living rooms, bathrooms and also as one of the most talked about kitchen flooring ideas of the moment.
Here, Ca'Pietra Palazzo Marble Herringbone Mosaic tiles from Hyperion Tiles (opens in new tab) have been used. Combining a classic antique marble finish with the slender herringbone design results in a pleasing end result that combines both contemporary and classic style. The tiles cost £22.21/m2.
6. Create Wow Factor With Large-Format Bathroom Floor Tiles
If it is bathroom wow-factor you are after then large-format bathroom floor tiles is most definitely the way to go. A word of caution though, large-format tiles can be tricky to lay on a DIY basis so do bear this in mind if you are planning on fitting your bathroom without professional input.
For this striking, contemporary bathroom, Illusion Snow Polished Wall and Floor Tiles from Tile Mountain (opens in new tab) have been used. As they are made from porcelain, rather than the marble they replicate, they will be a little easier to handle in terms of their weight. The tiles cost £29.99/m2.
7. Inject Heritage Style With Pattern
If you are renovating a bathroom in a period house, draw out any original features, such as mouldings, high ceilings, windows and decorative finishes by using bathroom floor tile ideas that offer a nod to the era of the house.
Ca'Pietra Quintessential Porcelain Ashley Tiles from Hyperion Tiles have been used to grace this characterful bathroom scheme and combine beautifully with the wall panelling and eye-catching mural. They have a tactile, slightly worn finish for authenticity and cost £39/m2.
8. Follow the Trend For a Matt Finish
Bathroom floor and wall tiles with a matt finish are not only very fashionable right now but they also come with other advantages.
Matt finish tiles tend to show up less in the way of marks than high gloss and are also great for those keen to ensure their tiles are non-slip. These porcelain Samphire Matt Beige Tiles from Walls and Floors (opens in new tab) feature a mottled, textured stone effect and cost £18.95/m2.
9. Match Floors to Walls
For a fun, cohesive look match your floors to your walls by using the same tiles throughout. This is a brave look, but one that is very much worth it for the striking end result given. Before purchasing tiles, do check that they are suitable for floors and walls as not all will be.
Here, a sweet coffee bar style has been achieved using Walls and Floors' (opens in new tab) pastel green and white Osby Green Patterned Porcelain Tiles. These tiles, which cost £34.95/m2, can actually be laid in many different patterns, from linear to checkerboard.
10. Don't Discount Cork Tiles in the Bathroom
Although not all cork flooring is suitable for bathroom floors, there are many products around that are.
Cork flooring has many benefits in the bathroom — it is warm underfoot and can be used over underfloor heating too. It is also great for allergy sufferers and easy to lay.
The Bacana Charcoal Corka from The Colourful Flooring Company (opens in new tab), shown here, offers a new take on an old flooring favourite. It's finished with a tough protective coating which makes it great for busy family homes and means it is also water-resistant. Corka flooring costs £58/m2.
11. Visually Enlarge a Small Bathroom With Circles
If it is small bathroom ideas that you are after then this one is for you. Curves and circles are well-known for their ability to soften the edges of a space and distract the eye from its true proportions. This is why floor tiles with a circular pattern work so well in smaller spaces — perfect for en suites or shower rooms.
Here, Havana Wall and Floor Pattern Tiles from Walls and Floors (opens in new tab) have been used, with their bold repetitive pattern in muted grey tones acting to really visually extend the space. The tiles are made from porcelain and cost £28.95/m2.
12. Bring Back Crazy Paving
Remember crazy paving? Ok, so this isn't quite like that, but you get the idea. Laying
bathroom floor tiles of various sizes and shapes in a totally random pattern will result in a really interesting and quirky end result.
In this beautiful bathroom, designed by Hugo Oliver (opens in new tab), the eclectic choice of finishes and fittings was crying out for a floor that could hold its own within the exciting scheme and the mix of parrallelogram-shaped tiles with smaller rectangular brick effect tiles does just that.
13. Brush Up On Your Geometry
The trend for all things geometric is showing no signs of going anywhere soon and nowhere is it more popular than in the bathroom.
One of the best bathroom floor ideas is to combine geometric and mosiac tiles — this results is a stylish honeycomb effect that suits both large and small bathrooms.
Here, Kromatika Bleu Clair Tiles from Tile Mountain (opens in new tab) add a fresh and pleasingly symmetrical look to the bathroom scheme. The porcelain tiles cost £39.95/m2.
14. Use Reclaimed Effect Tiles For Character
Reclaimed finishes are the perfect choice for those who want a rustic, industrial or shabby chic look in their bathroom.
That said, solid reclaimed wood floors are not the most practical choice for bathrooms, where their irregular surface and propensity for movement can be problematic.
Thankfully, there are plenty of bathroom-friendly flooring types out there that do a great job of mimicking the look — including these Reclaimed Wood Effect Floor Tiles from Walls and Floors (opens in new tab) which are made from porcelain and cost £19.95/m2.
15. Go For a Classic Stone Look-a-Like
Stone flooring is a beautiful and classic choice for all areas of the home and, in the bathroom, can add a real sense of warmth.
However, it does require care to be taken when installing it in a bathroom — most stones will need sealing prior and after installation and regularly thereafter in order to retain their moisture and stain-resistance. In addition, they can be expensive.
Why not consider a stone-effect tile in the bathroom instead to save on maintenance and money? The Witton Noce Stone Effect Floor Tiles from Walls and Floors (opens in new tab) cost just £19.95 yet look like tumbled natural stone — plus they are non-slip.
Natasha is Homebuilding & Renovating's Associate Editor and has been a member of the team for over two decades. An experienced journalist and renovation expert, she has written for a number of homes titles. She has renovated a terrace and is at the end of the DIY renovation and extension of her Edwardian cottage. She is now looking for her next project.
Homebuilding & Renovating Newsletter
Get the latest news, reviews and product advice straight to your inbox.
Thank you for signing up to Homebuilding. You will receive a verification email shortly.
There was a problem. Please refresh the page and try again.