Cradle to Cradle: A Clear Way to Source More Sustainable Build Materials
By Hugh Metcalf published
What is Cradle to Cradle? We explore the concept and look at how it might apply to your self build or renovation project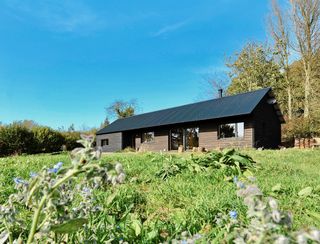 (Image credit: EcoCocon)
Cradle to Cradle is a concept that has been around for going on 20 years, and has been a driving force behind the development of sustainability in many, many new products, processes and buildings during that time.
While it may be a term more widely adopted by industry, rather than having huge consumer awareness, as self builders and renovators, you may come across this term in the hunt for materials for your site, especially if you're paying close attention to your build's environmental impact. Cradle to Cradle certification is a signpost for products and building materials with superior sustainability credentials.
(MORE: Eco Homes)
A Cradle to Cradle approach to materials is an effective way to improve the ecological impact of your home, so find out more with our quick guide to what Cradle to Cradle is and how you can source products and materials for your build.
What is the Concept of Cradle to Cradle?
Cradle to Cradle refers to the life cycle of a product or material. The traditional life cycle of a product is Cradle to Grave, a linear cycle that sees a resource extracted, product manufactured and in use before ultimately ending up as waste. It's important to note that materials with a Cradle to Grave life cycle may be recyclable to some extent and 'live a few lives', but ultimately, the amount of recyclable content degrades over time, meaning that it is always destined to create some waste.
Cradle to Cradle, on the other hand, is what's known as a closed loop life cycle, meaning that there is no end of life for these materials in a Cradle to Cradle cycle — they are perpetually recyclable to some degree, though not always in the literal sense.
Cradle to Cradle works on the principle that waste equals food or fuel. Cradle to Cradle is classified into two systems — a biological cycle and a technology cycle.
The biological cycle refers to materials that naturally biodegrade, creating a traditional life cycle for organic matter, restarting the cycle by creating a biological nutrient that fuels a new plant. Materials that fall in this category are usually naturally occurring in abundance.
The technology cycle refers to non-biodegradable materials such as metals, some plastics and chemicals which can be reused or recycled to the same (if not better) quality, providing that they remain unmixed. Cradle to Cradle products in a technology cycle will be designed to ensure that components can be disassembled in a way that preserves the 'technological nutrient' value.
What are the Pros and Cons of Choosing Cradle to Cradle Materials?
The major benefits of building with a Cradle to Cradle mindset is undoubtedly the eco-friendliness of such a choice. Not only do you know that less waste will end up in landfill in the long run, but Cradle to Cradle products are also sustainably manufactured.
The need for materials in a Cradle to Cradle product to be perpetually reusable or recyclable also plays a part in the overall material health, preserving natural ingredients and minimising chemicals which may cause harm to people and the environment.
(MORE: How to Build a Healthy Home)
One of the drawbacks of making a decision to use materials with Cradle to Cradle characteristics is the reliability and availability of suppliers. While sustainability is a factor that is only growing in importance for self builders, renovators and the general construction industry, Cradle to Cradle remains a niche within the sector as a whole.
You may also find that not all products which potentially do meet the requirements of a Cradle to Cradle life cycle are labelled as such. This is because Cradle to Cradle has become a licensed mark, only awarded to those who undergo rigorous testing from the certification body and pay to do so.
How Do I Find Cradle to Cradle Materials and Products?
The plus side of Cradle to Cradle materials only being certified by the Cradle to Cradle Products Innovation Institute is that you can be guaranteed of the credentials of any product displaying the C2C mark. Not only that, there is a product registry available, meaning you can search the database across various sectors to find products that have met the stringent standards of the Institute.
The Cradle to Cradle® certification has also transcended beyond just a focus on the closed loop cycle of a product, now covering a range of values that also enters socioeconomic realms.
"Cradle to Cradle® is the gold standard in sustainability — a holistic framework, where every aspect of the products are tested and evaluated," explains Ben Sturges, director of operations at C2C-certified paint manufacturers Graphenstone. "Core values including social ethics, material health, product re-usability, and water and energy conservation, are scrutinized and manufacturers have to continually improve their standards to keep their certifications."
Certification across these values is given in discrete levels: Basic, Bronze, Silver, Gold and Platinum — with an overall rating also achieved, all visible on the Cradle to Cradle Products Innovation Institute website.
Hugh is Digital Editor of homebuilding.co.uk and has worked on a range of home, design and property magazines, including Grand Designs, Essential Kitchens, Bathrooms, Bedrooms and Good Homes. Hugh has developed a passion for modern architecture and green homes, and moonlights as an interior designer, having designed and managed projects ranging from single rooms to whole house renovations and large extensions. He's currently renovating a Victorian terrace in Essex, DIYing as much of the work as possible. His current project is a kitchen renovation which involves knocking through walls and landscaping a courtyard garden.
Homebuilding & Renovating Newsletter
Get the latest news, reviews and product advice straight to your inbox.
Thank you for signing up to Homebuilding. You will receive a verification email shortly.
There was a problem. Please refresh the page and try again.