Patio Costs: Find Out How Much a New Patio Will Cost in 2022
By Natasha Brinsmead published
How much does a patio cost? It is essential to understand how much you will need to budget when creating a new outdoor seating space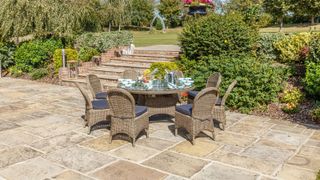 (Image credit: Bridgman)
Although patio costs will very much depend on size, style and materials, our guide is here with all the information you'll need to calculate how much this highly sought-after garden feature is likely to cost you.
Whatever your patio ideas may be, creating a beautiful outdoor space suitable for dining, seating or entertaining is a very worthwhile investment, making it possible to enjoy the garden even when your grass might be soggy or the ground elsewhere too uneven for taking patio furniture.
While no-one is disputing the many benefits of of adding a patio to your garden, the question of patio cost is certainly one that needs addressing. Our price guide will take you through the costs you are likely to face so that you can make informed decisions when it comes to materials, designs and sizes.
Patio Costs: Where to Start
A common question is how much a patio costs per m2. Unfortunately there is no easy answer to that, as there are several decisions you will have to make when it comes to your patio and each of these will have an impact on the final patio costs you will be looking at. These include:
Size
Materials
Location
Shape/design
Ground conditions
Labour
However, by looking in more depth at patio material costs along with labour prices, it is possible to get a fairly accurate idea of how much money will be needed to achieve your dream outdoor seating area.
The Cost of Patio Materials
One of the biggest influencers when it comes to patio costs will be the material you choose to cover the space with. Although you are likely to step into this project with plenty of garden paving ideas in mind, it is essential you understand the cost of patio materials at the outset to avoid disappointment.
It helps to look at the most common patio paving materials and what they each cost individually to begin with.
Concrete Paving Costs
Concrete is a material often overlooked, yet it is well worth searching out concrete paving ideas as it is both affordable and practical.
Basic concrete slabs start at £20/m2, while the best quality concrete paving, such as products that mimic the appearance of natural materials, will cost closer to £40/m2, rising to more than £80/m2.
Porcelain Tile Costs
When it comes to porcelain paving pros and cons, the advantages most certainly outweigh any disadvantages. However, this material tends to be on more expensive end of the spectrum.
The approximate average cost of porcelain paving tends to fall between £30/m2 to £65/m2.
Stone Patio Costs
Natural stone is one of the most expensive materials for patios, with prices starting from around £35/m2, easily rising to more than £100/m2 for premium granite pavers. Your exact choice of stone will determine the kind of costs you are looking at, as will the quality and style of paving.
Wooden Decking Costs
Perhaps you are torn between a patio or decking? If this is the case, then you will undoubtedly be wondering how much a timber deck costs.
Decking prices generally start at between £4-£6/m for softwood products, while hardwood decking costs from £15/m. If it is composite decking that you are after, you will be looking at costs of between £15-£30/m.
Brick Paving Costs
Brick paving can be a beautiful way to finish a patio, with reclaimed and blue bricks bringing a particular charm. However, laying a brick patio can be very labour intensive and the cost of reclaimed materials can be high too.
Depending on the bricks you choose and whether or not you lay them on a DIY basis, costs are likely to start from £32/m2, rising to £100/m2.
Patio Installation Costs
Although many people do choose to lay their patio on a DIY basis, it is crucial to ensure that a good sub-base is first laid and that the ground is properly prepared.
"One of the biggest misconceptions when it comes to laying a new patio or driveway, is that the materials are the most expensive part, when in fact 80% of the cost is made up of the sub-base and ground preparation," says Anna Hampshire, Head of Marketing at Marshalls. "This means that if you want to go for premium quality paving, it won't significantly increase the overall project cost."
If you decide to call in a professional to lay your patio, a landscape gardener or bricklayer might well be your first port of call.
On average, landscape gardeners charge between £100 to £150 per day, while bricklayers cost between £150 to £250 per day. If either requires the help of a labourer, they charge around £100 per day.
The average patio size is between 40-50m2 and could be expected to take around four to five days to lay.
There are also several often overlooked factors that could push your final patio costs up.
"Drainage is one of the less glamorous aspects of a new patio, however it's still an important one as you don't want to damage the foundations of your home," says Anna Hampshire. "A professional will be able to offer advice from laying a sub-base and the gradient of the patio to the possible installation of drainage channels.
"Hidden pipes and cables underneath your existing garden can add additional costs to your patio too," she continues. "They should be buried at sufficient depth in relation to the patio. Any additional removals such as trees, walls and flowerbeds will affect the overall price so it's something to consider at the start."
Natasha is Homebuilding & Renovating's Associate Editor and has been a member of the team for over two decades. An experienced journalist and renovation expert, she has written for a number of homes titles. She has renovated a terrace and is at the end of the DIY renovation and extension of her Edwardian cottage. She is now looking for her next project.
Homebuilding & Renovating Newsletter
Get the latest news, reviews and product advice straight to your inbox.
Thank you for signing up to Homebuilding. You will receive a verification email shortly.
There was a problem. Please refresh the page and try again.