Patio Lighting Ideas: 18 Ways to Illuminate Your Garden Area
By Rob Keal published
Patio lighting ideas can help you achieve a bright, welcoming outdoor space. Get inspiration for how to light up your patio with our 18 illuminating suggestions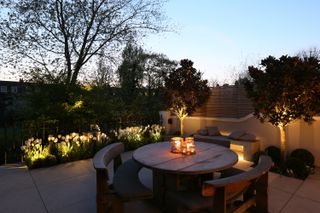 (Image credit: John Cullen Lighting)
Patio lighting ideas are a surefire way to get the glow you want for your garden. Are you looking to turn your outdoor space into a cosy haven? Well, patio lights can be your solution.
When it comes to patio ideas, you must take care to ensure that safety and style go hand in hand. A patio should be a welcoming place that you can relax in, and the right patio lighting makes this possible at any time of the day.
Our guide gives you 18 patio lighting ideas to think about when deciding how best to brighten your outdoor area.
Patio Lighting Ideas: What to Consider
"Patio lighting is perfect for creating a subtle ambiance, allowing you to entertain guests later into the evening," begins David Amos, Founder of Amos Lighting + Home.
"When considering the best lighting options for your patio it is important to measure the space and factor in the throw of the lights. Outdoor lighting is an investment; if you're going for quality it should last. We recommend choosing a style that suits the architecture of your home as well as your personal style, as this will aid longevity."
Joy McAllister, Director of Exterior Lights UK, adds: "The type of exterior light to use to illuminate a patio is the first consideration.
"This can be a recessed light from the patio to provide either an up-light wash of light and/or a floor covering of light, which also makes it safer to walk across, or you can add perimeter lighting from adjacent low or high built walls, fencing, trees and steps."
Piero de Marchis, Director at Detail Lighting, advises: "The key consideration is how the space is going to be used. If the space is going to be used for entertaining, it will need articulated lighting on the seating or the table area.
"It's important to think about how much practical lighting will be needed to cover the patio area for safety, particularly where you have changes of levels to avoid any stumbles."
1. Hang String Lighting Above Your Patio
String lights are a popular choice among homeowners who want to get creative with their garden lighting ideas. Available from most DIY retailers, they tend to be highly versatile and complement almost any outdoor space.
Choose battery-powered or solar string lights which do not rely on mains power if you hope to save electricity. In terms of bulb type, smaller bulbs give a softer, more ornamental background sparkle, while medium-sized bulbs are your best bet if you are aiming for a well-lit patio.
2. Include Outdoor Lanterns for Ambience
Although they may not provide the most widespread illumination, lanterns always add atmosphere. Lanterns can be introduced in a variety of ways — from portable lanterns for your outdoor table, to hanging versions set above your garden furniture, any patio area is sure to benefit from their soft, warm glow.
"Lanterns are a great addition to outdoor space. Just because you're not inside, it doesn't mean you don't need to accessorise your space," says Juliette Thomas, Founder & Director of Juliettes Interiors.
"Cosy it up with lots of lanterns and decorative pieces to create a zoned space that feels welcoming, yet intimate. Add scatter lanterns to light up darker spots like steps which need to be seen, or group them together to create a focal point."
Just make sure you choose lanterns that are in keeping with your property type. Period homes look especially great with wrought iron lantern frames featured around the patio – or as part of any porch lighting ideas – while aluminium lanterns, with their sleek, contemporary look, complement modern homes.
3. Use Lighting to Zone Your Patio
If your patio leads to different parts of the garden, use lighting to define each zone. This creates cohesion throughout your plot and gives the illusion of depth, as well as providing enough light for guests to move around safely at night.
A lot of patios have bracket lights fitted on an exterior wall that help with zoning. However, more isolated areas of your garden will require further consideration if there is not a consistent supply of electricity nearby.
Installing bracket lighting above your patio may turn out to be a bigger job than you first thought, so be sure to discuss the electrics and work involved with your electrician before beginning anything.
4. Frame a Pergola With Lighting
A pergola acts as a natural frame for your patio lighting ideas, as long as the weight of the lights doesn't cause the framework to buckle or give way.
String lights or other decorative types of lighting are the best choice for this aesthetic, although it may be possible to add bigger lamps and lanterns, provided you have done your due diligence and ensured they are not too heavy.
de Marchis explains: "As with interior 'lifestyle lighting' similar considerations can be perimeter lighting — i.e. lighting walls or edges of a pergola for example with in-ground uprights, with additional focused lighting onto a seating or dining area typically from outdoor spotlights.
"Finally, it's particularly effective to highlight some eye-catching decorative elements, be that a feature pendant or string lights for special occasions."
5. Install Outdoor Wall Lights Around Your Patio
Wall lights are a great way to illuminate your entire patio area. Depending on where you position them, they should cover a large amount of space, helping to turn your patio into a well-lit outdoor zone that can be used no matter what the time of day.
In terms of design, the best outdoor wall lights come in many different sizes and styles nowadays, making choosing those that best complement the exterior of your property easier.
McAllister explains: "Most designs are based on using stainless steel or copper fittings for patios, but if using wall lights, they can come in different colour finishes. Older properties look more professional with classic style fittings and for newer properties slicker cleaner lines."
de Marchis adds: "Traditional wall carriage lanterns aren't particularly popular at the moment, we are finding that people are either opting for a crisp modern look or a vintage 'box-light' design."
6. Control Your Patio Lights With Smart Technology
Nowadays, more and more homeowners are switching over to smart technology for their appliances and light fittings. Perhaps your patio lighting ideas could do with a 21st century upgrade, too?
Of course, you will need to check whether any existing patio lights are compatible with smart tech first — the same with your smartphone or preferred device.
"Smart outdoor lighting can be designed and installed as part of a whole-house smart lighting system by a smart home installer (CEDIA is the go-to for contacts in this area), or there are lower-cost options (such as the Philips Hue outdoor range), which can be installed by an electrician," says Claire Lloyd, editor of Homebuilding & Renovating.
Either way, be sure to go through the proper channels in the lead up to installation so you avoid any hiccups further down the road.
7. Add Sparkle With a Net of Fairy Lights
Fairytales can come true around your patio with the addition of some sparkly fairy lights. More decorative than practical, what this type of lighting lacks in brightness it makes up for in ambience.
Fairy lights are recommended for their versatility. Drape them over any solid surface near the patio to create a magical glow that makes every evening truly special.
8. Use Patio Lighting Ideas to Illuminate Hazards
Give equal consideration to both the style and safety aspects of your patio design. Patio lighting is often used to signpost different areas of the space, with low-level lighting used to illuminate trip hazards — so there are no missteps.
This is a very good idea if you have lots of ornaments scattered around your patio, which people could easily trip on when it gets dark. Likewise, if you have a swimming pool or pond in your garden, this should have some fixed lighting around it.
9. Layer Your Patio Lighting Ideas
Layering light inside the home is very important, but it can also be applied to your patio lighting ideas. When it comes to layering light, the key is to understand the three main types of lighting: ambient, task and accent.
Contrary to its name, ambient lighting is the general illumination needed for you to move around your patio without bumping into things like garden furniture, outdoor appliances, etc. Task lighting is your practical light; it helps you see what you're doing when undertaking various activities on the patio, e.g. outdoor cooking or reading a book under the stars.
Finally, accent lighting highlights different features of a specific space, i.e. any focal piece of garden furniture, a fire pit, etc. By applying these principles to your patio lighting, you stand to create a more multi-functional outdoor area that is as great to look at as it is enjoyable to use.
All it takes is a little mixing and matching to layer your patio lights in an effective way. For example, despite the fact that a fire pit provides light as well as heat, the latter is its primary purpose, and you shouldn't rely on it exclusively for illumination.
Install some spotlights or embedded brick lighting around the fire pit to achieve greater depth of ambience and also make the fire pit a more practical, useable garden feature.
10. Combine Patio Lighting and Heating
One of the biggest problems homeowners face with using their patio is trying to keep warm outdoors during the cooler British summer evenings. However, if you are brainstorming new patio lighting ideas, it is worth noting that heat can also be incorporated into them.
Some patio pendant lighting varieties come with in-built heaters, so you no longer have to worry about falling temperatures while enjoying a peaceful evening outside. Just make sure you have several fitted alongside one another, so the heat is distributed evenly throughout the patio area.
Remember, if there are any parts of your patio that refuse to warm up, you can always invest in some of the best patio heaters for additional comfort.
11. Plant Spotlights Around Your Patio
Often discreet and unobtrusive, spotlights are a great way to illuminate your patio without being overly garish.
Spotlights come in all sorts of shapes and sizes nowadays, so they are easily adapted to suit most patioed gardens. For eco-conscious homeowners, you can also get solar versions, although these ideally need to be south-facing to get the best exposure to sunlight.
Solar-powered spotlights are more ideal when electrical wiring cannot be used. Position them in flower beds and any mulched areas surrounding the patio for fashionable yet functional lighting.
12. Line Your Patio Lighting Ideas
It is not only the lights you choose that get the most out of your patio lighting ideas. You must decide how best to arrange them so that your entire outdoor area is not only well-lit but wondrous to behold.
For the homeowner who is looking for something simple yet elegant outside, opt for a staggered line of lighting that runs down the centre of your patio. This creates a clean, unobstructed view of your garden's best features, including any trees and neatly manicured bushes nearby.
You can also use a combination of medium- to large-sized lanterns and bracket lighting to achieve this sophisticated, cohesive effect.
13. Have Fun With Outdoor Lighting
Feature lighting becomes a focal point in its own right on a patio. Ergo, you can afford to be somewhat playful with your patio lighting ideas, as long as they provide enough illumination for the whole outdoor area.
Using floor lamps to light up your patio creates an illusion of heightened space, and with a wide variety of shapes and patterns available from most DIY retailers, you are sure to find something that complements your garden paving ideas.
Circular floor lamps tend to cover a wide area, given their geometry, and therefore provide decent brightness. Just make sure you place them in the most sheltered spots around your patio — and pack away if the weather decides to storm.
14. Go for the Novelty Factor With a Tiki Torch
The humble Tiki torch has been bringing a beach-like atmosphere to gardens up and down the country for some time now. A stylish feature that lends itself to any garden party or BBQ, the lighting it provides is an added bonus, with its fun and whimsy being the main appeal.
Of course, no genuine Tiki torch flame offers complete patio-wide illumination, and it can also be risky if your patio is mostly used for social gatherings. In this instance, opt for electric lighting in a torch case (as shown above) to still enjoy that luau experience and hopefully improved brightness as well.
15. Utilise Freestanding Lamps to Light Your Patio
If your patio is big, lighting it means a much larger area has to be covered. To do that effectively, you should consider purchasing a freestanding lamp or two, which can help spread the light further than a standard bracket fitting.
Position each lamp equidistant from the other, and remember to put them where you need illumination the most, such as near any outdoor seating.
Freestanding lighting is a great small garden idea. Just be sure to pare back the size of your lamps — or maybe include a single model in one specific corner of the garden that you can keep bright well into the evening.
16. Create a Cosy Atmosphere With Candle Lights
With the advent of battery-powered candle lighting, you can now enjoy a sense of peaceful relaxation on your patio and not worry about being exposed to any naked flames.
Mix and match different candle sizes for a pleasant contrast in your outdoor area. You may also wish to place a few candle lights on your garden furniture to create a really comfortable and cosy feeling.
For maximum impact, drape some fairy or string lights over a nearby terrace or pergola to transform your patio into a truly serene outdoor getaway.
17. Add Intrigue With Rock Lights
For added charm and character, consider placing rock lights up and down your patio. This type of lighting provides effective illumination while also lending your garden a back-to-nature feel.
It is possible to purchase rock lights with cool or warm glows, but we definitely recommend the latter for a much softer garden ambience. Stack individually along your patio steps so that the brightness and calming effect are spread evenly throughout the area.
18. Light Your Patio Staircase for Safety
As far as staircase lighting goes, whether it is part of your patio or inside your home, safety is the number one priority. Of course, this does not mean compromising on style. The right patio stair lights will illuminate each step so that it becomes clearer to see, while also showcasing the overall grandeur of your outdoor staircase.
If your patio stairs are wide enough, it is worth investing in embedded lighting along both sides so that most if not all of the steps are completely lit.
This type of lighting job will almost certainly involve an electrician.
How Much Do Patio Lights Cost?
This depends on the types of patio lighting you want, the quantity and the scale and complexity of your project.
de Marchis explains: "As a guide, we would say to aim to have one light fitting every 1.5 metres, costing approximately £100 each."
Of course, this is a rough guide and will undoubtedly vary from manufacturer to manufacturer. The cheapest solar lighting options can cost as little as £5 – although it's worth spending more for a long-lasting, quality product – and brick lights from around £20.
However, if your patio lighting project is extensive, you should still set aside a total budget of anywhere between £100-£500, and remember to take into account installation costs as well. For a local electrician to help, expect to pay around £45 per hour.
Embedded staircase lighting and other complex jobs will require a lot more labour and material expense, and it is worth keeping this in mind while brainstorming your patio lighting ideas. If you plan on having this type of installation carried out, allow roughly double the average budget.
How Easy Is It to Install Patio Lighting?
Again, this will depend on the nature of your project and how much lighting you want around the patio.
Some types of patio lighting, e.g. string or fairy lights, are easy to hang and secure yourself. However, any work that requires new wiring to be fitted will need the expertise of a professional electrician and may take several hours (sometimes longer) to install.
Rob Keal is the Content Editor at Homebuilding & Renovating. With a background in content marketing, he began his career back in 2016 as a freelancer, before honing his craft at various digital marketing agencies. Looking to specialise in DIY and homes, he joined the team in February 2022.
Renovation has been part of his life since he was nine years old, when his parents bought a medieval cottage and completely revived it, introducing him to kitchen remodels, loft conversions, landscape gardening, and much more besides along the way. A bedroom extension and patio refurbishment are among his next planned projects. He is also passionate about interior design and landscape gardening.
Homebuilding & Renovating Newsletter
Get the latest news, reviews and product advice straight to your inbox.
Thank you for signing up to Homebuilding. You will receive a verification email shortly.
There was a problem. Please refresh the page and try again.