Porcelain Paving Pros And Cons: Is Porcelain Right For You?
By Natasha Brinsmead published
We take a look at porcelain paving pros and cons so that you can make an informed decision when it comes to choosing the right materials for your garden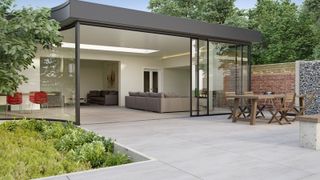 (Image credit: The London Tile Co.)
When it comes to looking at porcelain paving pros and cons it quickly becomes clear that porcelain is a fantastic material choice for anyone looking to create a beautiful and hardwearing patio or terrace.
As the weather turns warmer and we start to tentatively creep out into our gardens, for many of us thoughts turn to patio ideas and creating spaces to sit out and enjoy our outdoor areas. It might be that you want an expansive paved terrace to accommodate a large outdoor dining table for sociable al fresco get togethers, or perhaps you simply want to form a secluded little seating spot tucked away into a corner of the garden with space for a couple of deckchairs.
Whatever your needs, porcelain paving can be a great starting point. Our run down of the pros and cons associated with this material should make it easy to select the right product for you.
A Look at Porcelain Paving Pros and Cons
In order to make an informed decision, it is helpful to take a look at both the advantages and disadvantages of porcelain paving.
Although your paving choice should form just part of your patio design as a whole, the material you choose to cover the space with will form the backdrop for everything else. In addition, the paving material you choose will dictate how much maintenance work you will need to put in.
The Pros of Porcelain Paving
Porcelain pavers have many advantages, including:
Good longevity: Providing they are of a high quality and are properly laid, with a good bedding, porcelain tiles can last for many decades and up to 50 years in some cases.
Durable: Porcelain is made of dense natural clays and some additives. It is kiln fired to temperatures of up to 760˚C, resulting in an extremely durable material with exceptionally low water absorption.
Frost proof: Due to its low porosity, porcelain is not affected by extreme temperatures.
Low maintenance: Because of its low porosity porcelain paving requires no sealing and is easy to clean with a mop and water. However, the best pressure washers, if used from time to time, will also ensure your paving keeps its good looks.
Wide range: Porcelain paving comes in a massive range of colours, sizes, patterns and textures — manufacturers use inkjet printing technology to achieve a range of effects too such as natural stone and wood.
Fade resistant: Unlike some other materials, porcelain doesn't fade over time when exposed to sunlight.
Slip resistant: Because of its moisture-resistant qualities, algae, moss and mould doesn't build up on porcelain paving, preventing it from becoming slippery. Textured surfaces are also available to prevent tiles from become ice rinks in cold weather.
Fireproof: If you are torn between garden decking ideas and porcelain paving, you might like to consider that, unlike wood, porcelain is a fireproof product — good where you want a barbecue or fire pit.
The Cons of Porcelain Paving
Tricky to lay: On the downside, porcelain tiles can be a little fiddly to lay. Being thinner than concrete paving or natural stone means the beds they are laid on must be of an adequate depth and properly compacted. There should also be a final layer of sand or fine gravel that has been carefully levelled.
Harder to cut and drill: Their density means specialist tools are required when it comes to cutting them to size — not something every DIYer has in their garden shed. Diamond blades are a must and a wet saw is a good idea too.
Expensive: Porcelain paving does lie at the upper end of the paving price scale, above concrete and some of the cheaper natural stones such as certain sandstone varieties.
Better for contemporary gardens: Porcelain is a great paving material for contemporary garden schemes, where its uniformity and sleek appearance are ideal. However, those after more rustic, classic garden paving ideas might be better off with natural stone flagstones or brick.
Brittle: When compared to concrete paving, porcelain is quite a brittle material meaning that if not properly supported and laid it can crack under pressure.
Porcelain Paving Costs
Despite porcelain paving costs being higher than some other materials, such as concrete, its longevity and durability are usually seen to offset the initial outlay.
Cheaper than granite paving, and in line with many natural stones, porcelain paving tends to cost, on average, somewhere between £30/m2 to £65/m2. It is important to be aware, however, that there are products that will come in cheaper and more expensive than this.
Natasha is Homebuilding & Renovating's Associate Editor and has been a member of the team for over two decades. An experienced journalist and renovation expert, she has written for a number of homes titles. She has renovated a terrace and is at the end of the DIY renovation and extension of her Edwardian cottage. She is now looking for her next project.
Homebuilding & Renovating Newsletter
Get the latest news, reviews and product advice straight to your inbox.
Thank you for signing up to Homebuilding. You will receive a verification email shortly.
There was a problem. Please refresh the page and try again.