Concrete Paving Ideas: 10 Ways to Transform Your Patio Area
By Natasha Brinsmead published
Let our collection of concrete paving ideas be your inspiration when it comes to creating a beautiful outdoor seating space to sit and enjoy your garden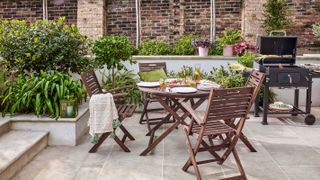 (Image credit: Dobbies)
If you are creating a new patio you may well be after concrete paving ideas — and if so, we have a brilliant range for you right here.
Although concrete is a material often overlooked by those on the hunt for patio ideas, in favour of natural stone or porcelain, it actually has plenty to offer.
Concrete paving is not only an affordable option, but it also comes in an impressive range of colours, finishes and effects. In addition, it is a hardwearing material if properly maintained and some of the best concrete paving ideas are those that convincingly replicate other materials such as timber and stone.
Concrete paving also looks great when combined with other materials, as this examples good to show.
How to Develop Your Concrete Paving Ideas
There is not just one type of concrete paving and there is a broad range of ways to use it.
While concrete might not be the first material that springs to mind when you think of beauty, you may well just find yourself pleasantly surprised when you start looking at the newest products available and the different ways of using them.
From rustic and weathered-looking slabs to sleek and contemporary — there are even some really convincing timber-effect concrete products out there which are ideal if you can't decide between a patio or decking.
What's more, some manufacturers are also looking at ways to make this material more sustainable.
1. Create Contrast Between Light and Dark
Contrast can be a really good thing in the garden — and is actually something to aim for if it is small garden design ideas that you are after.
By drawing the eye to a sharp change in colour or texture, the proportions of a space become less obvious.
Here, a small pale concrete paved patio area sits in complete contrast to the bold black-stained fence that ensconces it. The mid-brown wicker furniture acts as a bridge between the two shades and a central fire pit lends a cosy feel.
2. Create Instant Character With Stone Effect Tiles
Even those starting from scratch with their landscaping scheme can have a garden full of charm and warmth by employing concrete garden paving ideas that successfully replicate natural materials, such as stone and timber.
Look for riven, slightly imperfect finishes as opposed to honed and blemish-free to ensure plenty of rustic appeal. Heritage Paving from Marshalls, shown here in the Weathered Yorkstone colour, is cast from split stone flags with classic mason fettled edges.
3. Match Your Paving to Your Walls
Uniformity suits contemporary garden schemes particularly well. In this sun-drenched garden, the paving matches the textured render used on the walls of the garden house exactly creating a crisp, streamlined finish. The mass of frothy grasses around the perimeter soften the whole look.
4. Create a Fluid Look With Inside Outside Flooring
It isn't just stone paving that can be used both inside and out — concrete tiles can be used too.
If you have gone to the effort of installing sliding doors or a run of bi-folds to blur the boundaries between your interior spaces and your garden, it makes sense to complete the look by using the same paving on your patio as you have indoors.
5. Inject a Natural Feel to a City Roof Garden
Even small roof terraces and urban courtyard gardens can benefit from concrete paving. To ensure you feel cosseted and protected from the hustle and bustle of the outside world, use rustic, natural looking products that give you a sense of greener spaces.
Here, a timber-effect concrete – which is a great low-maintenance garden idea – has been used in combination with modern wicker furniture and a tall, tropical planting scheme.
6. Give Your Garden Room Its Own Patio Area
A patio or deck can really help to bed your summer house or garden room into its surroundings better. Make sure you think about these outdoor spaces at the same time as developing your garden room ideas to ensure you can extend your space to the outside, allowing for a seating area or a space for a collection of pots and planters.
Here, a combination of B&Q's Mahina Light Grey Concrete Paving slabs, chunky sleepers and a border of grey gravel combine to complement the contemporary grey structure really well.
7. Go For a Traditional Scheme With Cobbles
Looking just like authentic clay cobbles, these Carpet Stones from Bradstone are an easy-to-lay alternative. The cobbles are pre-laid on an underlying flexible mat, which can be cut and shaped with a pair of scissors making it easy to fill any awkward spaces.
They can even be used to create elaborate designs — ideal for those wondering how to lay a paving circle.
8. Give a Town Garden a Country Feel
Concrete paving comes in all shades, but if you want a soft, laid back vibe in your garden, a creamy, unobtrusive shade will be perfect.
Here, the paving acts as a stylish backdrop for the attractive brick wall boundary and lush, overflowing raised beds. It is a great idea to continue your paving choice up steps and around the top of planters, as has been done here.
9. Opt For a Timber Look Over Water
Wooden decks look particularly beautiful when installed over water, providing the perfect spot to sit and enjoy your aquatic surroundings.
However, if you are concerned about the maintenance that tends to accompany many garden decking ideas, such as timber rotting or becoming slippery, then concrete look-a-like wooden decking could be just the ticket.
Woodstone Paving from Marshalls does a great job of replicating the look of aged timber but requires minimal effort when it comes to upkeep.
10. Choose Smooth Paving for a Contemporary Look
The most successful contemporary gardens tend to have bold, structural backgrounds and use sleek, geometric lines for an unfussy finish.
Architectural plants and grasses should form the basis of your planting scheme and when it comes to the paving, choose honed, regular and minimalist products in monochromatic shades.
Here, Bradstone's Eco Paving looks great teamed with a selection of matching pots — plus it has a reduced carbon footprint of more than 20% compared to the previous version of the product.
How Much Does Concrete Paving Cost?
Just as with other types of garden paving, the cost of concrete paving varies. At the lowest end of the price scale, very basic concrete slabs cost from around £20/m2. However, these products often tend to offer little in the way of aesthetic appeal.
Top quality concrete paving, such as those that mimic the appearance of natural materials, come in at closer to £40/m2, easily rising to more than £80/m2 for products containing granite aggregates or similar.
Natasha is Homebuilding & Renovating's Associate Editor and has been a member of the team for over two decades. An experienced journalist and renovation expert, she has written for a number of homes titles. She has renovated a terrace and is at the end of the DIY renovation and extension of her Edwardian cottage. She is now looking for her next project.
Homebuilding & Renovating Newsletter
Get the latest news, reviews and product advice straight to your inbox.
Thank you for signing up to Homebuilding. You will receive a verification email shortly.
There was a problem. Please refresh the page and try again.