Painting Patio Slabs: Give Yours a Fresh New Finish
By Steve Jenkins published
Painting patio slabs the right way can help lend a revitalised look to any garden. Transform your patio into the perfect outdoor space to with our pro tips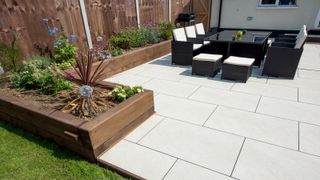 (Image credit: Getty Images)
Painting patio slabs is ideal for breathing new life into your garden, while also saving you time and money. With the right preparation and paint, you can turn your patio from a tired eyesore into a fresh outdoor space.
Is your patio looking old or past its prime? Has it been painted before and the paint is starting to flake? Do you want to give it a hot new contemporary colour without the hassle and cost of a new patio being laid? In the same vein as painting a wall, painting patio slabs will help smarten things up outside and achieve the beautiful finished look that you want.
This guide to painting patio slabs will help with everything from picking the right paint to making sure you get a good-looking, long-lasting finish on your patio.
Can I Paint My Patio Slabs?
You can paint patio slabs, but the first thing you need to consider is what material your slabs are made from.
Are they concrete, natural stone, brick or something else? These are all very similar materials and can be painted, but you will need to use the right paint to get the best finish.
It's often concrete patio slabs that get painted, as they typically lose their appeal and are one of the easiest materials to paint. If you have natural stone or similar, think about trying to restore them to their former glory — a jet wash and/or patio cleaner should to reveal their natural beauty and appeal once again.
A Step-by-Step Guide to Painting Patio Slabs
1. Clean the patio slabs thoroughly
A poorly prepped surface means that your paint job won't last as long. You will need to make sure that your patio is clean and both grease- and algae-free before you start.
First, get a stiff brush to remove any dirt, dust and debris. Then, if your patio is in reasonably good condition, you can just use a jet wash to clean.
If your patio has grease, moss and/or mould on it, however, invest in a decent patio cleaner like Brintons Patio Magic to give it a thorough clean and leave it to dry fully. Make sure to follow the manufacturer's instructions.
2. Remove any old paint
If your patio hasn't been painted before, you can skip this step and move straight on to the next one.
A jet wash can be used to remove the existing paint on your patio, but be careful as it might remove the pointing as well. If it doesn't remove the paint, you'll need to purchase a good-quality paint stripper.
Once you have removed as much of the old paint as possible, you will need to wash down the patio to get rid of any residue. You can use one of the best pressure washers or warm soapy water and a long handled stiff brush.
3. Prep your patio slabs and paint
First, check the weather forecast; you'll need a warm rain-free day to paint. Before you start painting, mask off any areas you don't want to get paint on with masking and newspapers or dust sheets.
If you have smooth patio slabs, use a 9- or 12-inch roller. Put the roller onto a broom handle or extension pole, so you don't have to do a lot of bending. Then, use a 4-inch brush to paint any areas the roller doesn't reach. If you have heavily textured slabs, use a 4-inch brush to make sure that you get into all the crevices.
Start in one corner, usually the furthest away, and work backwards in sections. Apply a thin coat of primer — even if the paint you are using is self-priming — and leave to dry as per the manufacturer's instructions.
Next, apply two thin layers of top coat, leaving to dry in between coats. Thin layers ensure that you get a harder, longer-lasting finish. Then leave to dry/cure as instructed — usually 24-48 hours — before walking on the patio again.
How Long Will the Paint Last Before It Needs Repainting?
As a rule, you can expect between three and five years from a new patio paint job, but there are lots of factors that will influence the lifespan of your painted patio.
How well you prep your patio before painting and what types of paint you use will make a big difference. A well-prepped patio with the right paint applied correctly could last another couple of years. A poorly prepped patio using the wrong paint won't last long at all.
The weather conditions where you live and how often the patio is used will again affect how long before a repaint is needed. An occasionally used patio in a warmer climate with average rainfall will last longer than a heavily used patio in a cold and rainy climate.
Just make sure you prep well and use the right paint to get the maximum out of your painted patio.
Is It Worth Painting Patio Slabs?
If you want to give your patio design ideas a quick refresh, then painting is definitely the most economical option. Plus, it will cost considerably less than having a new patio laid.
Painting patio slabs also gives you the option to change the colour of your patio when you feel like it. This is something you can't do with an unpainted patio.
Of course, it's important to bear in mind that a painted patio won't last as long as a well-laid and well-maintained patio — these can last for decades. It's a balancing act between a short-term solution or a long-term fix, and only you can decide what's best for your outdoor space.
What Is the Best Paint to Use When Painting Patio Slabs?
Choosing the right paint when painting patio slabs is the key to that all-important pristine finish.
Masonry paint might initially seem like a good choice for concrete, stone and brick, but it's not hard-wearing enough for areas that have a lot of footfall.
What you need is a specialist floor or concrete paint. TA Paints Floor Paint and Zinsser Allcoat Exterior Paint, for example, are both hardwearing and come in a variety of colours.
Another good choice is Resincoat Patio Floor Paint, but this only comes in shades of grey. It's important to know the kind of finished look you want before painting patio slabs, as this will help streamline the paint-buying process.
Steve is an avid DIYer with over 20 years of experience in transforming and renovating homes. He specialises in painting and decorating, but has strong all-round building skills, having previously worked in the industry for 10 years.
Homebuilding & Renovating Newsletter
Get the latest news, reviews and product advice straight to your inbox.
Thank you for signing up to Homebuilding. You will receive a verification email shortly.
There was a problem. Please refresh the page and try again.