Front Door Furniture Ideas: 11 Extras for Your Home Entrance
By Rob Keal published
The right front door furniture ideas help finish any entrance — see our 11 hardware suggestions for your home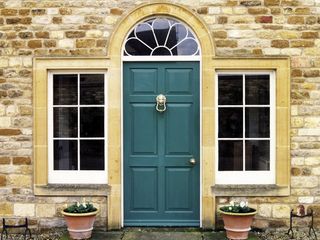 (Image credit: Getty Images)
Front door furniture ideas add instant elegance and kerb appeal, transforming any first impressions of your home into one cohesive vision that captivates guests and passersby alike.
Whether you're looking to give your existing entrance a lift after painting a front door or embarking on a complete exterior design overhaul, you should consider a wide range of options — preferably those that lend themselves to both style and practicality. This balance requires an open-minded approach, as there are so many front door furniture ideas that are suited to all different types of homes.
Discover 11 of the best front door furniture ideas to help elevate your entrance and make your doorscaping dreams come true.
Front Door Furniture Ideas: What to Consider
Choosing the right front door furniture can add magic to a property and increase that all-important kerb appeal.
"With so many things to consider during a self build or renovation, front door furniture can easily slip down the list — and understandably! However, finishing entrance designs with a flourish will make all the difference when visitors descend to inspect your new home," explains Amy Reeves, Assistant Editor of Homebuilding and Renovating.
"No doubt you will have chosen your paint, flooring and furniture to coordinate — so your door furniture and fixtures and fittings should complement those, too," adds Sam Bruce, Head of PR/Showroom Manager at Turnstyle Designs.
Of course, when considering front door furniture ideas, you must decide on hardware that reflects both property style and individual taste.
"For more contemporary tastes, trend-led accessories which incorporate brass, stone and crystal can optimise the look and feel of a door," explains Lucy Pascall, Director of Pushka Home.
"Everybody's requirements are different. For cost-effectiveness, polished chrome is an ideal and inexpensive choice — but regardless of price, you can always find elegant solutions," adds Dean Stabley, Product Manager and Director at Broughtons.
1. Install a Doorbell That Complements the Front of Your House
Doorbells are not just there for guests to announce themselves; they also create a personal, welcoming experience for anyone visiting your home. Featuring a doorbell as part of your front door furniture must be carefully considered, because there are various makes and models available on the market today that can influence the overall look and feel of a property.
"If your doorbell has seen better days, now is the time to take advantage of new technology," advises Craig Dillon, B&Q Category Manager — Timber & Joinery. "Wireless doorbells take seconds to install, with no wiring to negotiate. Having an up-to-date doorbell creates a kerb appeal to passers-by and guests, showing the homeowner as tech savvy and house proud.
"A range of styles such as the Byron Gold effect Wired Door chime or Ring Pro 2 Plug-In Wireless Video doorbell means you'll find it easy to pick one that suits your home and your home security needs."
Elizabeth Assaf, owner of UK contemporary door specialists Urban Front, goes on to explain: "Nowadays, doorbells are popular, small and not very big; however, with the new RING doorbells where you can answer a caller even if you are not in — they are expected to be quite visible."
Expect to pay anywhere between £10-£15 for a standard wired doorbell, plus an installation fee of roughly £100-£150 — the installation itself should take no longer than a couple of hours.
If you live in a modern house full of the most up-to-date fixtures and fittings, you may wish to consider installing one of the best video doorbells. Keep in mind though that these are usually pricier (from £50-£230 depending on the manufacturer) and have higher installation costs as well (£120-£200 based on a typical electrician's hourly rate).
2. Have a Think About Which Door Handles Will Work Best
Door handles not only allow ease of access to your home, but they also offer unmatched elegance and beauty when set alongside other front door furniture ideas and the best front door colours.
There are many different door handle designs available on today's market, suited to all manner of properties, with simple pull varieties being the go-to choice for most homeowners right now.
Assaf explains: "For contemporary doors, long pull handles are still very popular in a sleek, simple design — and in various colours like black or bronze. Some clients don't like the long pulls, as they can look a bit commercial, but generally, contemporary doors suit a long handle.
"Lever handles are a lot less popular these days. We've found that most of our clients prefer either a square edge or D handle to any other design.
"Bronze is by far the most popular material [for front door handles] at the moment, although when given the price, clients tend to stick with black or stainless steel."
3. Give Your House a Name and an Identity With a Front Door Sign
Wondering how to create kerb appeal with your front door furniture? A front door sign can help.
At first glance, front door signs may seem whimsical and a bit twee, but in fact they work to establish an identity for your home, so you can then make it unique with additional furnishings specific to your individual tastes.
Front door signs can be made using lots of different materials, but remember to choose something that complements your property's style. For example, aluminium signs pair perfectly with aluminium front doors and other aluminium finishes, producing a sleek, minimalist look.
On the other hand, if you live in a quiet country cottage, you should consider selecting materials that achieve a cosy, comforting effect, such as wood or — for something grander — wrought iron. White on slate is another popular style used on front door signs for this type of home.
4. Showcase Your House Number in a Creative Way
Whether you're assessing how to fit an external door or brainstorming new front door furniture options, you should give some serious thought to displaying your house number. Showcasing this is a quick and easy way to add kerb appeal to any property.
Dillon explains: "Not only are house numbers a great way to signpost your house, but they are a cost-effective way to add your unique sense of style before anyone even sets foot into your home."
Assaf agrees: "We love numbers on doors — we do them in stainless steel, rust, black or bronze, and we also do them etched into the wood on a door. They are very popular for contemporary homes."
You may wish to simply give the existing numerals on your front door a refresh with some good-quality door furniture polish, but if you feel like trying something new, be sure to choose a design that's in keeping with the property's original build.
An etched aesthetic, for example, works best on more modern homes — and especially light wood front doors. The contrast helps create a standout effect that enhances the house number considerably.
Older front doors, however, benefit from having house numbers repositioned on the surrounding brickwork or a nearby wall, to avoid getting lost in the door panelling.
5. Incorporate a Bespoke Door Knocker Into the Design
A statement piece to complement any front entrance design ideas, introducing a bespoke knocker to your home is a surefire way to get the neighbours' attention. Despite usually being associated with older, more ornate buildings, the right door knocker can also lend itself to a stylish, modern home, enhancing both the character and appearance of the property.
Assaf explains: "Door knockers aren't as popular on contemporary homes these days, but something sleek and unobtrusive is definitely right for contemporary doors. If it's a traditional door, then something interesting in the shape of an animal or insect in a bronze would be a good choice."
Door knockers come in many different sizes and shapes, including faces, and the price differs according to the type of design, as well as the material the knocker itself is made from.
For example, basic chrome varieties can be bought for as little as £10, given their mainstream appeal (though larger, more elaborate designs will still be priced quite highly). Knockers made of solid brass, however, typically fetch anywhere from £15 all the way up to £200, on account of their style and durability.
As a rule, budget around £25-£50 for a bespoke door knocker. This will give you enough choice for your front door furniture ideas, while also keeping costs down.
6. Update Your Home Exterior With Contemporary Stylings
Recent times have seen a rapid shift in consumer behaviour towards more modern front door furniture, even if the property isn't a new build.
For example, simple yet effective metal front door handles are becoming increasingly common in more contemporary homes with composite doors, because of their clean look and improved grip ability. Likewise, some newer front doors are manufactured in a way that conceals the handle altogether, adding a sense of mystery to any property — new build or otherwise.
When deciding on contemporary stylings for your property, consider how functional they are and if they look good within the exterior door space as a whole. Certain modern furnishings, including door handles and knobs, can even make home entrances appear more spacious, thanks to their design.
7. Fit a Letterbox So There Are No Missed Deliveries
A letterbox makes a highly practical addition to any home, regardless of property type. Not only do letterboxes offer a safe, secure environment through which to receive important post, but they also help keep drafts at bay and stop your beautiful hallway ideas from being buffeted by the elements — helping to preserve their condition for longer as well.
The ideal letterbox for your front door will depend on which type of property you own. An antique-style letterbox, for example, is perfectly matched with a period property, while at the same time, metal letterboxes are the obvious choice for more modern homes due to their clean, monochromatic appearance.
Most uPVC doors made today include a letterbox plate as standard, so fitting a new one shouldn't be a problem — with the right professional assistance. However, some older wooden front doors may not have a letterbox plate included as part of their original design. In this case, it's advisable to call an experienced front door specialist to help you get one fitted.
8. Choose the Right Door Knob for Your Home Exterior
Door knobs have been complementing front doors since the latter half of the 19th century, providing a classic finishing touch to traditional homes as well as today's contemporary dwellings.
Enhanced grip and leverage mean that door knobs offer both functionality and style. There was a time when door knobs could only be bought in classic ball or bun shapes. Nowadays, though, you can purchase them in oval or egg-shaped varieties for that extra touch of class.
Installing a new door knob in a modern home involves simply unscrewing the existing knob and latch plate, before replacing both with updated models. However, period properties — especially those over 100 years old — may require further consideration if the door knob fitting is of an older make no longer in mass production.
Either way, remember to take accurate measurements of your front door and speak to someone at your local DIY retailer about procuring the right door knob for your front entrance. This is very important if you own a listed building, too, as any alterations to the property must be above board and compliant with local planning regulations.
9. Unlock in Style With Escutcheons (Keyhole Covers)
To personalise your front door furniture ideas and keep them looking their neatest, escutcheons — or keyhole covers — are an excellent style choice. Escutcheons surround your keyhole or door lock to provide protection against both damage and general wear and tear.
Different escutcheons are suited to different types of door lock, depending on how the mechanism functions and also the style of the front door itself. For example, locking door handles separate from the main keyhole may also have an escutcheon in place to protect them if you miss the keyhole when entering your home.
Standard escutcheons are usually around half a centimetre in diameter, with an optimum thickness of no more than 10mm. Although, you can get larger sizes if the keyhole area you wish to cover is quite sizeable.
10. Get a Kick Plate Fitted for Extra Protection
Helping to shield your front door from dings and dents, a kick plate is a useful addition to any entrance. More commonly found in public and commercial buildings, kick plates are becoming increasingly popular among homeowners, too — particularly those with families who are always on the go.
If your front door is made from a material that marks easily, like softwood, it can get damaged over time with frequent use. By installing a kick plate at the foot of your front door, you will be adding an extra layer of protection, bolstering it against wear and tear as a result of human footfall.
Generally speaking, the best kick plates are made from metals such as aluminium, stainless steel or even brass. These are not only strong and durable, but also a great functional style choice, given their adaptability to different types of front doors.
11. Hang a Wreath to Create a Warm Welcome
Wreaths are not just for front door ideas at Christmas, but can in fact be used to add vibrancy and a natural look to your home entrance. Suitable for period properties and new builds alike, a wreath is one of the easiest, most effective and decorative ways to make your home feel warm and inviting.
However, there is some contention among industry professionals as to whether wreaths should be hung from front doors because of the potential for lasting damage.
Assaf explains: "We only ever recommend wreaths be placed on an outside wall, as it's so easy to damage a door with a wreath — especially doors like ours. Definitely worth it in the right season, though."
As a possible workaround, to avoid damaging your front door, use an S-shaped over-the-door wreath hanger like this one from Amazon. These are relatively inexpensive and easy to fit from inside your home, looping over the top of the door itself, so you can always check that your wreath is in the right position.
Design permitting, it may even be possible to hang your wreath from the door knocker if it is high enough. Either way, ensure that the wreath is placed at eye level for maximum appeal when entering your home.
How Much Does Front Door Furniture Cost?
The total cost of bringing your front door furniture to life will depend on whatever projects you've got planned for your exterior entrance.
Replacing things like door knobs, handles and the like is usually a fairly straightforward DIY job; however, you may still wish to find a local carpenter or repairman to ensure the job goes smoothly.
In all, you should aim to budget anywhere between £50-£100 for smaller front door furniture, which should cover any unexpected parts needed as well as labour costs.
More complex projects, such as fitting a new letterbox or connecting up a brand new doorbell system, are usually more expensive because of the various tradespeople involved, including electricians. As such, budgeting anywhere from £250-£300 is a safe starting point for these bigger tasks.
How Can You Prevent Front Door Furniture From Becoming Dull or Corroded?
Certain front door furniture materials are susceptible to dulling and corrosion with time. This is a completely natural occurrence and cannot be avoided. For example, brass often loses its shine after one or two years because of oxidation. Other materials used in the making of front door furniture also have this problem, but don't tarnish quite so obviously.
Light corrosion or dulling on a front door can be dealt with in about 10 minutes using rubber gloves, soapy water, a soft scouring brush and some good-quality furniture polish. First, scrape off any dirt and tarnish deposits with the scouring brush, before polishing the affected area thoroughly. This should leave a lustrous new sheen.
However, if the elements have taken too severe a toll on your front door furniture, you will need to replace them. Speak to someone at your local DIY retailer for advice on the best options to limit the recurrence of dulling, tarnishing or corrosion.
Rob Keal is the Content Editor at Homebuilding & Renovating. With a background in content marketing, he began his career back in 2016 as a freelancer, before honing his craft at various digital marketing agencies. Looking to specialise in DIY and homes, he joined the team in February 2022.
Renovation has been part of his life since he was nine years old, when his parents bought a medieval cottage and completely revived it, introducing him to kitchen remodels, loft conversions, landscape gardening, and much more besides along the way. A bedroom extension and patio refurbishment are among his next planned projects. He is also passionate about interior design and landscape gardening.
Homebuilding & Renovating Newsletter
Get the latest news, reviews and product advice straight to your inbox.
Thank you for signing up to Homebuilding. You will receive a verification email shortly.
There was a problem. Please refresh the page and try again.