How to Fit an External Door
By Natasha Brinsmead published
Installing a new front or back door is actually quite a complicated affair. This guide explains the issues and how to get it right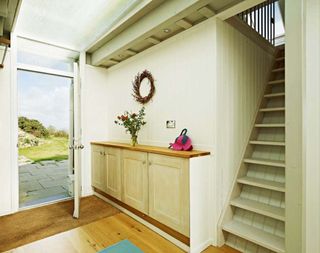 (Image credit: Simon Maxwell)
Although fitting an external door is similar in many ways to installing an internal one, there are a few major differences — mainly due to the comparative weight of external doors, any glazing involved, and the fitting of locks, security devices and extra door furniture such as letterboxes and escutcheons. In addition, there will be thresholds and weatherstrips to consider, as well as choosing a primer and finish suitable for withstanding the elements.
Before you begin work, you should be aware that replacing a frame and external door is considered a 'controlled fitting' under Building Regulations, so you'll need to notify Building Control of your plans if you're not using a 'competent person' to undertake the work.
This is a job which can be carried out on a DIY basis, but the benefits of employing a carpenter or joiner to do the work are that they will be familiar with the Building Regulations that surround external doors. They will also make quick work of fitting any locks, which can be fiddly.
The simplest option is to purchase a doorset, which is a door already hung within the frame. If you are fitting a new door in an existing frame, you might find that the frame is not square or does not fit a standard-size door, in which case your new door will have to be cut to fit or custom-made.
You or your carpenter or joiner will first need to get accurate measurements for the new door and frame. Although most timber doors can be trimmed to fit, how much they can be trimmed by will depend on the door you choose — so make sure you check this out before buying.
Using an electric plane is the best way to get an even cut, before the door is sanded and finished. Remember, when cutting the door, trim from the top and the bottom, and from each side — this is particularly important on panel doors in order to keep the panels central. Plane from the ends towards the middle to avoid any splintering at the edges, and if a larger section needs cutting, use a circular saw to make the cut.
You want to aim for a gap of 2mm around the door within its frame, although the gap at the bottom should reflect the thickness of the finished floor covering. When it comes to the hinges, the position of new hinges will need to be marked on the frame and the door.
Hinges for exterior doors should sit between 125.5-150mm from the top and 175-230mm from the bottom of the door. A third hinge will be required at a midway point. Hinges should be either steel or brass (brass is usually recommended for hardwood doors) and measure 90-100mm.
The recesses for the hinges should be chiselled out and the hinges fitted to the door — they must fit flush and sit snugly in position. The door can then be supported in its position within the frame and the hinges fixed to the frame, using one screw in each hinge, before checking the door opens and shuts easily and adjusting until it does — remaining screws can then be put in place and locks and door furniture fitted.
Step-by-Step
1. Decide whether you are going to opt for a complete doorset, or will be using an existing frame to fit the door into.
2. Get accurate measurements of the size of the door opening.
3. Trim the door to fit if necessary and route out a rebate if required.
4. Chisel out recesses for the hinges and screw the hinges to the door.
5. Fit hinges to frame.
6. Fit locks and door furniture.
Our Estimate: 1 day to complete
DIY or £160-£200 to hire a professional
Choosing Locks
Locks for exterior doors should carry a kite mark and be passed to British Standard BS3621 — in fact, most insurance companies will insist you have these.
As a rule, the more levers, pins or discs that a lock has, the harder it will be to pick.
For front doors it is best to fit two locks — a mortice deadlock about halfway up and a night latch one-third of the way down the door. However, if you only fit one lock, make it an automatically dead-locking night latch.
Hinge bolts are a particularly good idea for doors that open outwards — positioned 150mm below the top hinge and 150mm above the bottom hinge.
Natasha is Homebuilding & Renovating's Associate Editor and has been a member of the team for over two decades. An experienced journalist and renovation expert, she has written for a number of homes titles. She has renovated a terrace and is at the end of the DIY renovation and extension of her Edwardian cottage. She is now looking for her next project.
Homebuilding & Renovating Newsletter
Get the latest news, reviews and product advice straight to your inbox.
Thank you for signing up to Homebuilding. You will receive a verification email shortly.
There was a problem. Please refresh the page and try again.