Double Glazing Costs: A Handy Price Guide
By Natasha Brinsmead published
Wondering what double glazing costs? Whether you are replacing single glazing or fitting new windows our guide is here to help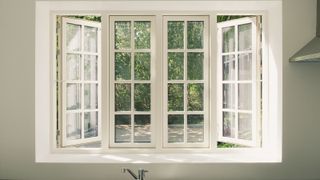 (Image credit: Klar)
Double glazing costs depends on many factors and so it can be difficult to give one standard price.
Costs can vary hugely which can be confusing for homeowners trying to plan their budget and when choosing types of windows. However, in our double glazing price guide we offer you the average prices you can expect when buying new double glazing or upgrading single glazing.
We also take a look at some of the best ways to be sure that you are getting value for money when investing in this all-important feature.
Factors That Affect Double Glazing Costs
It is useful to understand which factors are likely to increase or reduce the double glazing costs you will be faced with. The main cost influencing factors are:
Your location
The supplier
House size/how many windows need glazing
Frame material
Window style
'Extras' such as solar control glass
Double Glazing Costs For New Windows
The type of windows you have has a direct result on double glazing costs. For example, aluminium windows will cost more than uPVC.
Generally, uPVC windows lie at the cheaper end of the price scale with aluminium and hardwood windows at the top.
Double glazing costs for a new uPVC window can come in at anything between £300 up to £1,230 and beyond. Double glazed windows in other materials, such as timber and aluminium can easily cost £3,000 or more.
The style of window you opt for will also affect prices. For this reason we have split the main windows types up to explain costs more simply.
Casement windows: Casement windows tend to be the cheapest when it comes to fitting double glazing, Average prices range from £250-£1,250 for uPVC; between £550 - £2,000 for aluminium and from £900 - £3,000+ for hardwood.
Sash windows: Sash windows are one of the most expensive when it comes to double glazing costs. uPVC sash windows start, on average, at £600, while hardwood sash windows start at around £1,800 and rise to well above £3,000.
Tilt and turn windows: The cost of double glazed tilt and turn windows lies somewhere in between sash and casements. You can expect prices to come in around 25% more than casement.
The above prices would be expected to include supply and installation.
The Cost of Replacement Double Glazing
It is not unusual for the need to arise to replace just one or two units of double glazing, as opposed to requiring an entirely new window. Perhaps the unit seal has failed and it is become misted up, or maybe a crack has appeared.
What's more, replacing single panes with double glazing is obviously a far cheaper option than buying completely new windows. (Although do bear in mind that not all single glazed windows can accommodate double glazed units. Secondary glazing might be a good alternative in this instance.)
Depending on the size of the glazed unit, expect prices of between £55 - £145 for both the glass and installation.
Double Glazing vs Triple Glazing: The Costs
Triple glazed windows are becoming more and more popular, particularly with self builders. However, they do cost more than double glazing and it is easy to understand why many people question whether they are worth it.
But just how much more does triple glazing cost than double? On average, triple glazed windows cost around 20% more than double.
Double Glazing Costs: Top Tips for Buying
In order to better understand double glazing costs, it is useful to bear the following expert tips in mind.
Beware of fitting double glazing in existing windows: While is is always better to retain period windows rather than to replace them, do speak to a joiner or window specialist before replacing single glazing with double. Although it might seem like a good idea, the frame and fittings might not be strong enough to support the weight of the new glass.
Address draughts first: It is all well and good fitting double glazing into old windows, but unless you deal with draughty frames, it might be a pointless, yet costly, task.
Shop around: Aim to get at least three quotes in and try to speak to past customers in order to get a good idea of what a fair prices looks like.
Think long term: Double glazing is an investment that can not only save on your energy bills but could also increase the value of your home and make it more comfortable to live in. Therefore, don't try to scrimp. Get personal recommendations to ensure the products you buy are going to be worthwhile.
Save by buying in bulk: Often, suppliers will offer discounts if you are fitting double glazing to more than just one window.
Natasha is Homebuilding & Renovating's Associate Editor and has been a member of the team for over two decades. An experienced journalist and renovation expert, she has written for a number of homes titles. She has renovated a terrace and is at the end of the DIY renovation and extension of her Edwardian cottage. She is now looking for her next project.
Homebuilding & Renovating Newsletter
Get the latest news, reviews and product advice straight to your inbox.
Thank you for signing up to Homebuilding. You will receive a verification email shortly.
There was a problem. Please refresh the page and try again.