Net Zero Strategy Published: Key Takeaways
By Jack Woodfield published
The government's Net Zero Strategy is out, so what impact could it have on homeowners?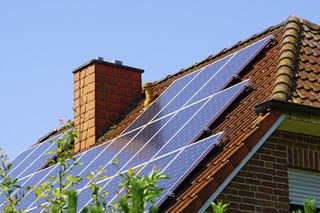 (Image credit: getty images)
The UK government has set a target that the UK will be net zero by 2050, which will end up affecting most, if not all homeowners in the UK.
Around 14% of the UK's carbon emissions comes from heating our homes, according to the Committee on Climate Change, so homeowners will eventually be required to make changes to their homes to improve their energy efficiency.
Ahead of the UN climate summit COP26 taking place in Glasgow in November, the government published its Net Zero Strategy (opens in new tab) on Tuesday, which includes key roadmaps for industries, and is supposed to dramatically reduce greenhouse gas emissions in the UK. It also published the Heat and Buildings Strategy on the same day.
Here's how the government's net zero objectives could affect you and your home.
(MORE: Home Improvers Key to Zero Carbon Homes)
Net Zero Strategy Announcements
The Net Zero Strategy states the aim to fully decarbonise the power system by 2035, and to ensure that all heating appliances in homes are low carbon from 2035.
However, the Heat and Buildings Strategy confirmed that while a blanket gas boiler ban may not be on the cards, there will be incentive-led transition to more sustainable home heating.
Sales will end of new petrol and diesel cars by 2030, with £620m funding allocated for zero emission vehicle grants. Charging an electric car at home may soon become the new normal.
But a review (opens in new tab) published by the Treasury on Tuesday alongside the Strategy said that it is not possible to forecast how individual household finances will be hit over the course of the transition to net zero.
Other pledges include:
What is Net Zero?
Net zero is the process of achieving a balance between the carbon emitted into the atmosphere, and the carbon removed from it. Once the former is no greater than the latter, net zero will be achieved.
Reaching net zero will not be easy. It will require significant reductions in the emissions that come from our homes, from our gas boilers for example, which will mean homeowners will have to make changes to improve their home's energy efficiency, such as installing a heat pump or hydrogen boiler.
It will also require industries to make significant changes to their operations to lower their emissions. The car industry will need to shift towards developing electric vehicles, and energy suppliers that generate electricity from burning fuels such as coal, oil and natural gas will need to adopt low-carbon alternatives.
Agriculture will be affected too, with farmers required to transition to low-carbon food production methods through changes to farm management practices.
(MORE: How Will Hydrogen Heating Work in Homes?)
What Does Net Zero Mean for Homeowners?
It is expected that the majority of existing UK homes will need to be retrofitted in some way to help reach net zero by 2050.
In the government's Energy White Paper, published in December, ministers said that a major programme for retrofitting homes to improve energy efficiency would be introduced, but this has not yet been launched.
Campaigners including the Federation of Master Builders and the National Home Improvement Council have long advocated for a national retrofit strategy to make our homes greener, healthier, and more affordable to run.
There are currently no compulsory measures to drive homeowners towards retrofitting, but there are several improvements you can make to improve your home's energy efficiency. These include:
How Government Plans Could Impact You
Since the 2019 net zero announcement, the government has been moving to advance green initiatives, and has recently published a string of plans designed to accelerate the push towards net zero:
Will Gas Boilers be Banned?
A gas boiler ban has been considered an unavoidable check point on the road to net zero. It could mean millions of British households will either need to replace their boilers with heat pumps or install boilers that are capable of running on hydrogen gas.
It had been expected that gas boilers will be banned from new build homes in 2025, but in the Heat and Buildings Strategy the government said it was planning to consult on whether it is "appropriate" to prevent new build homes from being connected to the gas grid in England from 2025.
The Heat and Buildings Strategy also confirmed that while there won't be a gas boiler "ban", government targets are in place to ensure only low-carbon heating systems are installed in existing homes from 2035.
What Financial Help is Available for Homeowners?
To help homeowners afford the initial upfront cost of energy-efficient improvements, the following government schemes are available:
It has also been reported that the Green Homes Grant could be rebooted later this year in the October Spending Review.
Why is the UK Striving For Net Zero by 2050?
Scientific evidence tells us that greenhouse gas emissions, stemming from human activity, are a significant contributor to climate change. The UK government declared a climate emergency in May 2019.
Then in June 2019, the UK became the first major economy to approve legislation committing to reduce the UK's net emissions of greenhouse gases by 100% (relative to 1990 levels, the earliest available data point for annual global decarbonisation) by 2050. In 2018, UK emissions stood at 57% of 1990 levels.
To advance net zero, the government has made pledges relating to:
And in May, the government also announced a £166.5 million funding package to develop technologies in carbon capture, greenhouse gas removal and hydrogen.
Is Net Zero Possible?
Net zero by 2050 is a bold target that will require significant changes from homeowners as well as industry.
There is a glimmer of hope though. Government data (opens in new tab) from March 2021 shows the UK's emissions have fallen by 48.8% from 1990 levels, and both the Committee on Climate Change and IEA assert that net zero by 2050 is possible.
But BEIS says that major challenges lie ahead in persuading homeowners to install heat pumps, which could cost up to £35,000 per home. At an online event for the industry in May, BEIS conceded that it was "uncertain" what the "optimal solution" was to encourage behaviour change among consumers.
Jack has worked in journalism for 11 years and is the News Editor for Homebuilding & Renovating, a role he has had since 2019. He strives to break the most relevant and beneficial stories for self builders, extenders and renovators, including the latest news on the construction materials shortage and hydrogen heating. In 2021 he appeared on BBC's The World at One to discuss the government's planning reforms.
He enjoys testing new tools and gadgets, and having bought his first home in 2013, he has renovated every room and recently finished a garden renovation.
Homebuilding & Renovating Newsletter
Get the latest news, reviews and product advice straight to your inbox.
Thank you for signing up to Homebuilding. You will receive a verification email shortly.
There was a problem. Please refresh the page and try again.