Heat and Buildings Strategy: How Does it Affect Homeowners?
By Jack Woodfield published
The Heat and Buildings Strategy reveals a 2035 cut-off target for installing natural gas boilers — and how you can get £5k towards the cost of a heat pump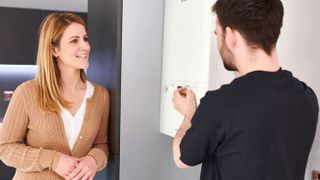 (Image credit: Ideal Boilers Logic+ Boilers Range Quiet Mark (UK))
The Heat and Buildings Strategy is a significant new publication which could have wide-reaching implications for homeowners in England.
Having been delayed multiple times, the government Strategy was published on 19 October and pledges £3.9 billion of new funding for decarbonising heat and buildings to help the UK meet its net zero target.
These plans include the Boiler Upgrade Scheme launching in April - a renaming of the Clean Heat Grant - and an innovation programme to accelerate the growth of the heat pumps market.
There's also targets to ensure no new fossil fuel boilers are sold after 2035, but no-one will be forced to remove their existing natural gas boilers.
However, the Strategy has been criticised for failing to introduce a domestic retrofitting strategy and for delaying a decision on how to integrate hydrogen heating into our homes until 2026.
This is what you need to know about the measures that will be introduced, and how they could impact your home.
What is the Heat and Buildings Strategy?
The Heat and Buildings Strategy (opens in new tab) is first of its kind in England, laying out a roadmap to tackle emissions in homes and businesses.
Its publication coincides with soaring energy price rises which could affect millions of households over winter. Roughly 14% of the UK's carbon emissions comes from heating our homes, according to the Committee on Climate Change (CCC), and the Strategy gives clear signals to homeowners about the need to improve their energy efficiency.
🆕 £5k grants for heat pumps & other low carbon heating.By 2030 heat pumps should cost the same as gas boilers.Reducing our dependency on fossil fuels & exposure to global price spikes.Full Heat & Buildings Strategy👉 https://t.co/8qmT5FjXMN#TogetherForOurPlanet pic.twitter.com/55bjxcbKvdOctober 19, 2021
Business and Energy Secretary Kwasi Kwarteng said of the Strategy: "Recent volatile global gas prices have highlighted the need to double down on our efforts to reduce Britain's reliance on fossil fuels and move away from gas boilers over the coming decade to protect consumers in the long term.
"As the technology improves and costs plummet over the next decade, we expect low carbon heating systems will become the obvious, affordable choice for consumers."
Which Pledges Have Been Announced?
The Boiler Upgrade Scheme — funding for homeowners to help install low-carbon heating systems such as heat pumps
A plan to lower heat pump costs
A Heat Pump Ready innovation programme to help make clean heat systems smaller and easier to install and cheaper to run
Targets to ensure all new heating systems installed in UK homes by 2035 are either using low-carbon technologies, such as electric heat pumps, or support new technologies like hydrogen boilers
£3.9 billion of new funding, including £950m to go towards the Home Upgrades Grant scheme, to be used by local authorities to support low-income households with carrying out energy efficiency upgrades
Boiler Upgrade Scheme
Launching in April, the £450m Boiler Upgrade Scheme will enable households to apply for government grants of £5,000 or £6,000 to install low-carbon heating systems.
The government says that homeowners who choose to install a heat pump on the scheme will pay a similar amount as if they were installing a traditional natural gas boiler.
In the government's 10 Point Plan for a Green Industrial Revolution published last year, it pledged to fit 600,000 heat pumps per year by 2028, but Mike Childs, head of science at Friends of the Earth, fears the grants won't lead to enough heat pumps being installed.
"Of course this is presented to look fantastic, and with industry backing, but a quick glance reveals it to be quite modest. £450m delivered via individual £5,000 grants means 90,000 heat pump installations over three years," he said.
"That just isn't very much, and won't meet the prime minister's ambition of 600,000 a year by 2028. Investment will drive down the cost of heat pumps, and technical innovation plus skills training is a part of this, but so is scale. These grants will only incentivise the best-off households."
Heat Pump Costs Will Fall
In a bold pledge, the government is aiming for low-carbon heating systems such as heat pumps to cost the same to buy and run as fossil fuel boilers by 2030. It says that big cost reductions of between a quarter and a half by 2025 are expected, as the market expands and technology develops.
However, details are sparse on how this will be achieved, and the challenge facing the government is stark.
The cost of installing heat pumps can range between £8,000-£14,000, and while they can lead to long-term energy savings, a recent report (opens in new tab) by the Energy and Utilities Alliance revealed 80% of people said that this was either too excessive and they couldn't afford to pay (54%), or that they would pay it only with financial support (26%).
'Heat Pump Ready' Innovation Programme
A £60m innovation fund will be launched to grow and expand the heat pump market. This will provide funding to drive technological innovation which will make heat pumps smaller, easier to install and cheaper to run in the long-term.
Natural Gas Boiler Target
The natural gas boiler ban looked set to commence from 2035, but the government has stopped short of announcing an outright ban.
Instead, the Strategy says that while only low-carbon heating systems will be installed in homes from this date, no-one will be forced to remove their existing fossil fuel boilers.
The government plans to use the transition of the next 14 years to help households gradually move away from fossil fuel boilers in an affordable, practical and fair way.
Levies Will be Shifted From Electric Bills
There will also be a shift in levies away from electricity bills over the next decade. This is to ensure that the price of electricity falls meaning heat pumps will be no more expensive to run than gas boilers. A call for evidence is expected to be published with decisions made in 2022.
Key Strategy Criticisms
Industry groups had advocated for the introduction of a national retrofit strategy as part of the Strategy. The government confirmed that insulation will be improved in social housing and for those in fuel poverty, and announced plans for "upgrading as many homes as possible to achieve EPC band C by 2035 where cost-effective, practical and affordable", but it stopped short of introducing a new insulation or retrofitting plan.
Brian Berry, chief executive of the Federation of Master Builders (FMB), said of this omission: "If there is no detail in the Strategy on how we can address the megatonnes of carbon lost through the leaky walls and roofs of our homes, it will have failed and the benefits of installing heat pumps risk being lost."
(MORE: We Need to Talk About Insulate Britain's Demands for our Homes)
And Paul Testa, founder of Paul Testa Architecture (opens in new tab) and contributor to Homebuilding & Renovating, added that he was surprised at the lack of energy-efficiency measures announced, saying, "we need to do more than just decarbonise our heat network, we need to reduce our demand as well".
Meanwhile, the government also confirmed that hydrogen heating won't be used in homes for at least five years, a disappointing outcome for Worcester Bosch (opens in new tab), which is currently trialling its 100% hydrogen boiler prototype.
CEO Carl Arntzen said: "Whilst it is encouraging to see that hydrogen is still on the agenda and is referred to within the Strategy, it is a shame to see that a decision around hydrogen won't be made until five years from now."
What's the Reaction Been?
The Heat and Buildings Strategy plan to replace gas boilers with heat pumps is a critical part of making our homes more energy efficient. But not insulating the homes we're heating is like running the bath without the plug in.1/2 pic.twitter.com/KUmdEvTF7yOctober 19, 2021
Phil Hurley, chair of the Heat Pump Association, welcomed the "bold steps" towards accelerating the installations of heat pumps on homes.
"The announcement will give industry and installers a huge confidence boost that now is the time to scale-up and retrain in preparation for the mass roll out of heat pumps, as well as making heat pumps more affordable, so all consumers can soon access and enjoy the benefits of reliable low carbon heating that stands the test of time."
And Keith Anderson, chief executive of ScottishPower, said of the Boiler Upgrade Scheme: "Ready access to support grants will kick-start the demand for electric heating, allowing the industry to accelerate the delivery of electrification and quickly bring down upfront costs through innovation and growing the supply chain."
But Mike Foster, CEO of the Energy and Utilities Alliance believes the Strategy is "insufficient for the scale of the challenge we face".
Commenting on the Boiler Upgrade Scheme, he said: "The grant hardly sets the world alight and is insufficient to the scale of the challenge we face in terms of reaching Net Zerio."
"It subsidises 30,000 heat pumps being installed each year and is well short of the support needed to get to 600,000 heat pumps installed each year by 2028. My suspicion is that the Chancellor is putting the brakes on the Prime Minister's flight of green fantasy."
Jack has worked in journalism for 11 years and is the News Editor for Homebuilding & Renovating, a role he has had since 2019. He strives to break the most relevant and beneficial stories for self builders, extenders and renovators, including the latest news on the construction materials shortage and hydrogen heating. In 2021 he appeared on BBC's The World at One to discuss the government's planning reforms.
He enjoys testing new tools and gadgets, and having bought his first home in 2013, he has renovated every room and recently finished a garden renovation.
Homebuilding & Renovating Newsletter
Get the latest news, reviews and product advice straight to your inbox.
Thank you for signing up to Homebuilding. You will receive a verification email shortly.
There was a problem. Please refresh the page and try again.