Hydrogen Strategy: Here's How it Could Affect Homeowners
By Jack Woodfield , Hugh Metcalf published
The government's Hydrogen Strategy plans for up to 35% of the UK's energy consumption to come from hydrogen by 2035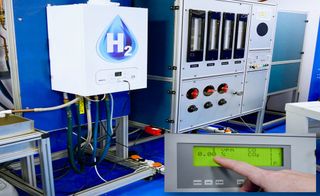 (Image credit: Baxi)
The government's Hydrogen Strategy has been published with ministers aiming to power up to three million homes with hydrogen by 2030, and it has been warmly welcomed by industry experts.
Currently around 85% of UK homes are heated with polluted natural gas, and hydrogen heating could play an important role in decarbonising our homes because the main by-product of burning hydrogen gas is water.
The Hydrogen Strategy, which reveals the intention for up to 35% of the UK's energy consumption to come from hydrogen by 2035, is a statement of intent from the government over moving to the low-carbon energy source. It also firms up some of the details alluded to in Boris Johnson's 10-point Green Industrial Revolution Plan in November.
Business and energy secretary Kwasi Kwarteng said of hydrogen heating: "This home-grown clean energy source has the potential to transform the way we power our lives and will be essential to tackling climate change and reaching net zero."
(MORE: What Does Net Zero Mean for Homeowners?)
Responding to the strategy, Mike Foster, CEO of the Energy and Utilities Alliance (EUA) said it "represents a huge step in the right direction for the introduction of the technology", and Viessmann said it "sets a clear direction of travel for the industry".
What is the Hydrogen Strategy?
Hydrogen boilers could well be the future for many UK homes, and the Hydrogen Strategy (opens in new tab) sets out a target of 5GW of low-carbon hydrogen production capacity by 2030.
This could be used to replace natural gas boilers to power up to three million homes in the UK every year, according to the government.
The Strategy also reveals plans to ensure that new natural gas boilers can be easily convertible to use hydrogen, and be 'hydrogen-ready' by 2026.
Further analysis by the government suggests that by 2050, 20-35% of the UK's energy consumption could come from hydrogen, including hydrogen heating for the home, but also heavy, energy-intensive industries like oil and chemical refineries and shipping.
(MORE: Hydrogen Boiler Explosion Claims Report 'Cherrypicked')
The government is basing its Hydrogen Strategy on the success of its early adoption of offshore wind coupled with strong private sector investment, and believe that the UK's 'hydrogen economy' could be worth as much as £900 million by 2030 and provide 9,000 jobs, growing to £13 billion and 100,000 jobs by 2050.
Energy and climate change minister Anne-Marie Trevelyan said: "This strategy sends a strong signal globally that we are committed to building a thriving low-carbon hydrogen economy that could deliver hundreds of thousands of high-quality green jobs, helps millions of homes transition to green energy, support our key industrial heartlands to move away from fossil fuels and bring in significant investment."
What Does the Hydrogen Strategy Include?
It includes a 'twin track' approach to hydrogen technologies. This means that focus will be given to both 'green' electrolytic and 'blue' carbon capture-enabled hydrogen production, with further details to be unveiled in 2022.
Blue hydrogen, or fossil-fuel hydrogen, is extracted from fossil gas in a process that requires carbon capture technology to trap emissions, whereas green hydrogen is created through the use of renewable energy to split water into hydrogen and oxygen.
The strategy will also examine the development requirements of the gas network and storage to ensure that a thriving hydrogen industry is possible. A hydrogen sector development action plan is also slated for early 2022 to outline how the government will support development of the hydrogen sector.
The government is also consulting on a £240 million Net Zero Hydrogen Fund which will be used to support new hydrogen production plants across the UK.
The strategy also outlines a study into the safety and feasibility of mixing 20% hydrogen into the existing gas supply, which could reduce emissions by as much as 7%.
What Could This Mean for Homeowners?
As mentioned above, the government will consult later this year on "the case for enabling, or requiring, new natural gas boilers to be easily convertible to use hydrogen ('hydrogen-ready') by 2026."
This means that, while hydrogen boilers are not yet available, plans are in the works for hydrogen-boilers to be put on to the market by 2026.
(MORE: What is the gas boiler ban?)
Additionally, the government has launched a public consultation on business models for the hydrogen sector, with similar Contracts for Difference (CfDs) used in the offshore wind sector that would help the cost of hydrogen heating fall quickly as one potential avenue.
The government would use CfDs to offer developers protection against volatile wholesale prices, and said this would also protect homeowners from paying increased support costs.
In July, the boiler industry's big four manufacturers confirmed that a hydrogen-ready boiler will cost no more than its natural gas equivalent. Baxi, Worcester Bosch, Vaillant and Ideal confirmed that a new price-promise will be introduced which could save homeowners £2.3 billion.
Boiler Guide (opens in new tab) estimates that pricing would be similar to natural gas boilers - somewhere between £400 to £3,000 before factoring in the installation.
What Has the Reaction Been?
The government's commitment to hydrogen as a key component of decarbonising heating in the UK has been applauded, although there are some key questions that the strategy raises.
Jan Rosenow, a special advisor to the Department of Business, Energy and Industry Strategy, questioned the figure of three million homes powered by hydrogen by 2030 on his Twitter account, suggesting that the real figure would be much lower, around 70,000, and that hydrogen has a limited role to play in the short term.
The news of a potential blend of hydrogen into the existing gas supply is something that many believe will ease the transition between natural gas and hydrogen boilers and offer reductions in emissions in the short term.
"We are enthused to see the government also recognise the role a hydrogen blend into the grid will play in reducing carbon emissions without homeowners needing to change appliances or boilers," said Mike Foster.
"It is of great importance that the transition to hydrogen does not cause disruption or large costs to consumers. The blend is a way to significantly reduce emissions with no change, which will in turn leave time for the groundwork to be laid for a seamless switch to 100% hydrogen later on."
However, Ian Rippon, CEO of MCS, which certifies low-carbon technologies, says that the Hydrogen Strategy distracts from the important job of retrofitting existing homes to decarbonise heat, diverting much needed funds.
"Using green hydrogen to heat our homes is up to five times more expensive than current natural gas prices, and up to seven times less efficient than using renewable energy to power a heat pump.
"Given the current lack of supporting infrastructure and carbon capture, usage and storage facilities, plus the ultimate cost to consumers of adopting a hydrogen-based strategy, we would urge the government to reconsider."
Jack has worked in journalism for 11 years and is the News Editor for Homebuilding & Renovating, a role he has had since 2019. He strives to break the most relevant and beneficial stories for self builders, extenders and renovators, including the latest news on the construction materials shortage and hydrogen heating. In 2021 he appeared on BBC's The World at One to discuss the government's planning reforms.
He enjoys testing new tools and gadgets, and having bought his first home in 2013, he has renovated every room and recently finished a garden renovation.
Homebuilding & Renovating Newsletter
Get the latest news, reviews and product advice straight to your inbox.
Thank you for signing up to Homebuilding. You will receive a verification email shortly.
There was a problem. Please refresh the page and try again.