Heating Controls Explained
By Tim Pullen published
The technology for heating controls in our homes is advancing rapidly, says energy efficiency expert Tim Pullen. Discover what options are available and how they will impact your bills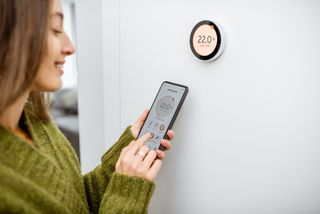 (Image credit: getty images)
For as long as we have had central heating we have had heating controls. These used to be fairly crude as they dealt with the temperature of the whole house from a single thermostat.
The last few years have seen a rapid development in control technology, which can make a significant difference to accuracy, efficiency and heating bills. As is often the case, there is now a plethora of choice and it is difficult to know what is best.
What is Wrong with our Existing Heating Systems?
A combi boiler will use just a single timer or programmer, as water is heated as required. There are serious question marks over whether this is a good idea for the homeowner as it offers the bare minimum level of control.
Similarly, a simple indirect hot water cylinder will have a thermostat fixed to the cylinder to measure the temperature of the water in it. The implication of this is that all the water in the cylinder will be at the same temperature and the boiler will run to heat it until the desired temperature is reached.
A thermal store offers far more control as it will store water at a range of temperatures. If we have underfloor heating we want water at around 40°C but we also want domestic hot water at 64°C to kill legionella bacteria. The controls inherent in a thermal store allow us to do that without wasting energy.
Should I Still Use TRVs?
The old-style analogue room thermostat is still being installed, usually one to each floor. At best, these are accurate to +/-2°C — poorer quality ones can double that inaccuracy. A programmer allows the heating to be switched on and off multiple times each day, and to deal with hot water separately. This is a better option than a combi boiler, but by not much.
More common now are thermostatic radiator valves (TRVs). These are fitted to the radiator, with graduation typically from one to six. They give no indication of the actual temperature in the room, beyond comfortable or uncomfortable. These were popular for a few years but have, thankfully, fallen out of favour.
The big change in the past few years has been the realisation that different rooms need different temperatures at different times, often referred to as zone control.
What is Zone Control Heating?
Zone control actually means controlling the heating in each room, and it can be done in one of two ways: centrally or individually.
Centrally: An underfloor heating system will be controlled centrally. A thermostat in each room reports back to the central programmer where the homeowner sets the time and temperature for each room.
Individually: For radiator systems a similar level of control comes via programmable radiator thermostats. These are battery powered and allow for precise control of the time and temperature in each room. They are fitted like TRVs and some simply replace the body of a pre-existing TRV so that the heating system does not have to be drained down.
There are also wireless options that can be programmed from a central point, otherwise each thermostat has to be programmed individually.
How do Remote Heating Controls Work?
A phone app allows the user to change the temperature or timing of the heating and/or hot water system from wherever they happen to be.
Some, like the Nest and Tado, are said to be intelligent in that they learn the user's habits and automatically change their settings to meet prevailing conditions. They can apparently detect that the homeowner is not in the house and will delay switching the heating on, or turn it off.
These systems have a device in the house that connects to the existing control system, which is accessed via a phone app. The thinking is that if the user has a 'busy' lifestyle (eg going out after work) the app will allow them to adjust the heating accordingly.
There are significant claims made for these devices, like 'savings of £150 per year' and there are applications where this could be true, like controlling the heating in a holiday home. So far the Energy Saving Trust has been unable to confirm how accurate those claims are.
How Much do Heating Control Systems Cost?
The cost of a zone control system for an underfloor heating system will vary with the size of the house and the manufacturer. Budget £1,000 to £2,000 for an installed system.
Programmable radiator thermostats will cost £20 to £30 each, plus installation. The wireless option will add £200 to £300 to the bill.
The remote control system will cost from zero (the Nest device is free to Npower customers) to around £300, including installation.
How Effective are Smart Heating Controls?
Nest has produced a comprehensive and, it has to be said, very impressive modelling analysis of the energy savings they predict by using the various features on its thermostats. The results vary depending on:
the location (different parts of the UK have different heating requirements);
the size of the house itself;
the amount of heat the house uses as a 'baseline'
The estimates suggest that with use of the various setbacks and 'away' settings that Nest provides, the smart thermostat could reduce energy consumption by around:
5-6,000kWh (£225-270) per year for a detached home
3-5,000kWh per year (£135-225) for a semi-detached home
2,500-4,000kWh per year (£112-180) for a terraced home
Nest thermostats cost around £180, giving them a rather impressive payback time of between nine months and two years.
(MORE: Are Smart Meters a Good Idea?)
What Smart Heating Controls are Available?
All the new smart heating systems are based around replacing your existing controls with a new box of tricks which can be controlled by an app from anywhere in the world, and which is either wired up to your boiler and heating system, or uses a wireless system to do the same thing.
Price wise, the various offerings all seem to come in between £200 and £250, though note that some prices include installation and some don't.
British Gas' Hive Active Heating™ is one of the simpler systems. It essentially replaces your existing heating controls with its own versions which you can then either control remotely or conventionally. In this respect, it's one of the least smart of the applications.
Nest offer a facility to switch your heating on and off automatically by linking it to your mobile, which knows where you are — a feature referred to as occupancy detection.
Tado is a German business that does everything that Nest does but without the Apple-like style, and is compatible with other manufacturers' products. It costs £250 plus installation.
Honeywell too has long been established in heating controls. The company has recently launched evohome, which is a proprietary system for controlling all the different elements of your heating system, including individual rooms and radiators.
PassivSystems (a UK-based company) have launched its product PassivLiving which has a scheduler and thermostat that you can either programme or adjust to suit.
Worcester's Wave Smart Thermostat (around £250 or so installed) allows manual (remote) and automatic (learned) programming. It includes weather compensation by postcode monitoring rather than external sensors. It also takes into account the current room temperature and only fires the boiler at the necessary level, making for a much more efficient system.
Z-Wave is a wireless communication protocol now widely used in the field of home automation. Sitting somewhere between WiFi (which uses much more energy) and Bluetooth (which has a very limited range), it is particularly well suited to home control systems because each device acts as a repeater so that they mesh with one another and don't need to be boosted or wired together.
Z-Wave extends far beyond just heating control: lighting, audio visuals, security, and smoke alarms can all be incorporated into a Z-Wave control system too, providing the equipment is Z-Wave compliant. Search online for Z-Wave controls and you'll find a number of manufacturers working in this field.
nCube is a British start-up dedicated to exploiting Z-Wave as the medium for home control. It too offers a remote heating solution, but it also offers home lighting and security as options, controlled from an app on your phone, putting it someway in advance of most of the competition.
nCube's basic offering, the heating starter package, is built around a Z-Wave hub, based on the ubiquitous Raspberry Pi computer card, and a Horstmann wireless heating control. By using Z-Wave, the system can also control individual radiators using Danfoss radiator valves.
The beauty of the nCube system is that it is not tied to any particular manufacturer and does not need to be supported by nCube in the future.
Tim is an expert in sustainable building methods and energy efficiency in residential homes.
Homebuilding & Renovating Newsletter
Get the latest news, reviews and product advice straight to your inbox.
Thank you for signing up to Homebuilding. You will receive a verification email shortly.
There was a problem. Please refresh the page and try again.