Green Homes Grant: Get Vouchers for Energy-Efficient Home Improvements
Green Homes Grant vouchers can be used to install heat pumps, insulation, double glazing and more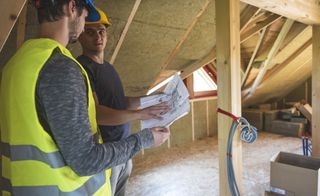 (Image credit: getty images)
The Green Homes Grant is a government scheme which launched on 30 September, and is designed to help homeowners make energy-efficient home improvements.
Under the scheme, which runs until March 2021, homeowners in England can access vouchers for improvements up to the value of £5,000 per household. And two-thirds of the cost is covered by the government. 
Not only will the scheme help homeowners to make their homes warmer during winter, but it can also help you save money on energy bills.
Insulation, double glazing and heat pumps are among the eligible improvements to help warm up , but gas boilers are not included in the scheme. 
(MORE: Get bespoke advice for your Grant-eligible home improvements)
What is the Green Homes Grant?
The Green Homes Grant scheme is a £2bn investment as part of a wider £3bn government plan to cut carbon emissions. 
Grants are provided in the form of vouchers which can be used towards making specific energy-efficiency improvements that best suit your home. 
The government anticipates that around 650,000 homes in England will be covered by the grant. Both homeowners and landlords will be eligible, although new build domestic properties and non-domestic properties (such as shops and offices) are not. 
The scheme has been widely praised by industry experts, but it is far from flawless. Since its launch, concerns have since been raised that the grant could be oversubscribed, following findings from a poll which suggested actual demand could be more than 10 times the number of grants available.
Furthermore, applicants have reported being unable to access quotes from installers within their area, leading to concerns that the scheme is turning into a postcode lottery. 
(MORE: Get bespoke advice for your Grant-eligible home improvements)
How do I Apply for the Green Homes Grant?
There are three key steps to follow before you can access the vouchers:
Step One: Use the Simple Energy Advice (SEA) service to check your eligibility, and which energy efficiency or low-carbon heat improvements can be made to your home. This questionnaire takes as little as five minutes to complete online. 
Step Two: Next, you'll need to find TrustMark and/or Microgeneration Certification Scheme (MCS) registered tradespeople to undertake the work. It is recommended to obtain at least three quotes to make sure you are getting the best value for money. The SEA website will highlight accredited trades in your area.
Step Three: You can make an online application using the government website to obtain a voucher, detailing the energy-efficiency measures you wish to carry out.
To complete step three, you'll need:
The name and date of birth of the property owner or owners
The name and date of birth of anyone living in the property who is receiving benefits
A quote for the work from a TrustMark-registered tradesperson
The TrustMark licence number of your chosen tradesperson
Which Home Improvements Does the Green Homes Grant Cover?
The Green Homes Grant gives homeowners and landlords vouchers to install:
Insulation (such as loft, cavity wall or floor insulation)
Low carbon heating (such as heat pumps, biomass boiler or solar thermal)
In addition, households can use vouchers for further energy-saving measures. These include one or more of the following:
Double/triple glazing (only where replacing single glazing)
Energy-efficient doors (only where replacing doors installed prior to 2002)
Draught proofing
Heating controls and insulation, such as thermostats and smart heating controls.
(MORE: Get bespoke advice for your Grant-eligible home improvements)
What's Not Covered by the Grant?
Gas boilers are a notable omission from the list of home improvements covered by the scheme. And while solar thermal panels are included on the grant, solar photovoltaic panels are not covered. 
The following projects are not covered by the Green Homes Grant: 
Any renovation that was carried out prior to a voucher being issued
Any renovation that does not improve a home's energy efficiency
Building a new extension to your home
Insulating extensions or conservatories that do not have fixed heating installed
What are the Vouchers Worth?
The government will pay at least two-thirds of the cost of home improvements that save energy, up to £5,000. So for example, if you were to have double-glazed windows installed for around £2,000, then the government would contribute around £1,333, and you, the homeowner, would pay around £666.
The poorest households will be eligible to receive up to £10,000 towards these improvements, and they will not have to contribute anything to the cost. 
You can qualify for the Green Home Grants low-income scheme if you receive at least one of the following:
Attendance Allowance
Carer's Allowance
Child Tax Credits (CTC) 
Contribution based Employment & Support Allowance (ESA)
Contribution based Jobseekers allowance (JSA)
Disability Living Allowance (DLA)
Income based Employment & Support Allowance (ESA) 
Income based Jobseekers allowance (JSA)
Income Support (IS) 
Industrial Injuries Disablement Benefit
Housing benefit
Pension Guarantee Credit
Personal Independence Payment (PIP) 
Severe Disablement Allowance
Universal Credit (UC)
Working Tax Credit (WTC)
How Does the Green Homes Grant Work?
Insulation first
Your home will need to be deemed to have adequate insulation before being eligible for the installation of low carbon heating. 
The eligible improvements are split into two categories: primary and secondary. 
Homeowners must install at least one measure from the primary category in order to qualify for the vouchers.
The primary category comprises improvements made to: 
Insulation
Solid wall (internal or external)
Cavity wall 
Under-floor (solid floor, suspended floor)
Loft 
Flat roof 
Pitched roof 
Room in roof 
Insulating a park home
Low Carbon Heating
Solar thermal (flat plate or evacuated tube collector)
Biomass boiler
Hybrid heat pump
Secondary Measures
Vouchers for secondary measures are capped at the same amount provided in relation to the primary measures.
For example, if you claim £1,500 for insulation, then you will receive a maximum of £1,500 for double glazing.
Providing that you apply for at least one measure from the primary category, you will also be able to claim for a grant for secondary measures. 
These include improvements to: 
Windows and Doors
Draught proofing
Double or triple glazing (where replacing single glazing)
Secondary glazing (for single glazing)
Energy efficient replacement doors (replacing single glazed or solid doors installed before 2002)
Heating Controls and Insulation
Hot water tank thermostat
Hot water tank insulation
Heating controls (such as: appliance thermostats, smart heating controls, zone controls, intelligent delayed start thermostat, thermostatic radiator valves)
(MORE: Get bespoke advice for your Grant-eligible home improvements)
Could the Eligible Improvements Reduce my Energy Bills?
The Treasury claims that utilising the vouchers could help families make an average annual saving of £200 on their energy bills. 
The vouchers could also help homeowners reduce their carbon footprint by cutting 700kg of carbon emissions per year, the government adds. 
Ahead of winter, Cllr Angela Lax, cabinet member responsible for housing at Lichfield District Council, said: "The Green Homes Grant scheme offers an amazing opportunity to install energy saving measures at a fraction of the cost. Not only will it help keep homes warmer in the winter, but it could help cut fuel bills and lower the amount of carbon produced locally."
Another benefit of the scheme is that it could help homeowners increase the value of their homes. Personal finance experts, money.co.uk, has researched six of the eligible improvements on the grant, and this is how much value they could add to our homes*:
Ground source heat pump: +5.4% (£13,407) 
Biomass boiler: +3.2% (£8,000) 
Solar Panels: +14% (£34,758) 
Insulation Measures: +6.4% (£16,000) 
Double glazing: +10% (£24,827) 
Heating controls: +6.4% (£16,000)
*based on the average home in England being worth £248,271.
When Will the Vouchers be Available?
It is understood that the first vouchers will be issued by mid-November. 
This has led to the National Insulation Association (NIA) writing to the chancellor to request clarity on the future of the scheme, amid fears this timeline doesn't leave enough time for all 600,000 homes to be upgraded.
The NIA said: "Despite an estimated target of 600,000 homes across England, and the scheme launch on 30th September, the latest news is that vouchers will not be available until mid-November. This leaves just four and a half months for the industry to deliver."
Will the March 2021 Deadline be Extended?
Keep up to Date
Follow the latest news on the Green Homes Grant by signing up to our newsletter and following us on Twitter.
As things stand, all work must be completed and the Green Homes Grant voucher redeemed subject to its terms and conditions by 31 March 2021. However, the government is facing growing pressure to extend the scheme. 
The Confederation of British Industry (CBI) has stated its desire for the scheme to be extended to March 2022, and an MCS survey of accredited tradespeople revealed that 44% think the scheme should be extended by 18 months or longer. 
Because of the relatively short timeline, there is also concern that some projects won't finish on time.  
Paul Hughes, head of communications at smart thermostat specialist tado, told Homebuilding & Renovating: "It is quite a short timeline, and I would imagine the government is going to be monitoring the progress of applications, and considering whether to extend the grant."
Only Vetted Tradespeople Can Be Used 
Only local and approved TrustMark and Microgeneration Certification Scheme (MCS) registered tradespeople can carry out the work, which the government says will give households confidence that improvements to their homes will be of the highest quality. 
But some SME tradespeople have been left frustrated by this, due to the challenges they face in obtaining accreditation. 
Nick Lloyd, managing director of Urbane Eco, said: "I understand some of you are frustrated that we are not participating in the Governments Green Homes Grant scheme at the moment. However, it's very impractical and unworkable for an SME to get Trustmark accredited."
"I am very concerned that, given the extra cost to a company to employ extra staff to do all the paperwork, plus the cost of paying out to accreditation bodies and the extra training and personnel required under PAS2030/35, the £5,000 grant will not go anywhere near in full to the customer."
(MORE: Get bespoke advice for your Grant-eligible home improvements)
We have put up many posts outlining WHY installers are not registering for #Trustmark As stated we are inundated with requests for quotes but unable to comply. The route to the Trustmark is via PAS2030 (2019)/PAS2035. Completely unrealistic for the average SME. #greenhomesgrantOctober 18, 2020
Challenges Beset Green Homes Grant Rollout
Many homeowners have reported challenges applying for vouchers, mostly relating to accessing quotes from tradespeople, and timelines for requested work. 
The Guardian and The Sun claim that applicants have been unable to find anyone to install floor or wall insulation in the city, while contractors in some areas are so overrun that they are no longer returning calls.
Martin Lewis, the founder of MoneySavingExpert.com, and environmental campaigner Friends of the Earth have both warned that problems accessing quotes risks turning the scheme into a postcode lottery.
"A decent number are struggling to find approved local installers. Some are then being told they won't be able to complete the work within the six-month deadline," Lewis said. 
The new Green Homes Grant has systemic flaws as govt launched before there were enough installers. To remedy this as a min @beisgovuk should1. Release the £2bn in tranches to stop postcode lottery where only those in areas with installers access it2. Extend 6mth time limitOctober 5, 2020
Rally Cry For Tradespeople
The government has since set up a training competition to help more quality tradespeople to work on the scheme, following pressure from industry professionals. 
A government spokesman said: "Almost 1000 companies have signed up to the Green Homes Grant so far with more registering every day, including many businesses that operate nationally with substantial capacity to carry out work across the country. We are working closely with industry to ensure there are enough installers to meet demand."
And last week, North Devon MP Selaine Saxby issued a rallying cry to local local tradespeople and home energy efficiency businesses to sign up to be a TrustMark provider.
She said: "Improving the energy efficiency of homes has been identified as one of the best ways for the UK to reduce its carbon footprint, and North Devon homeowners can play their part.
"Local tradespeople and businesses can also take advantage of this scheme by registering as a service provider."
Improvements Must be Made
On 14 October, MCS called for improvements to be made to the scheme so it is easier for installer and consumers alike.  
Ian Rippin, CEO of MCS, said: "Since the launch of the Green Homes Grant, we have been fielding calls on a daily basis from installers seeking clarity and expressing their concerns over what they feel are flaws in the scheme.
"It's also proving to be a challenging process for homeowners, as the eligibility assessment asks quite specific questions about property infrastructure that your average homeowner is unlikely to know. Consequently, a great deal more work is needed to help consumers understand the best options for making their home more energy efficient."
Can I Apply for the Grant if I Rent my House?
If you rent your home then you yourself are not eligible to apply for the grant. 
However, landlords of rented properties, including private and social landlords, can apply for two thirds of the cost of improvements with grants capped at £5,000. 
I Live in Scotland, Wales or Northern Ireland, am I Eligible?
While the Green Homes Grant is only available in England, there are alternative sources of support available:
Be Wary of Rogue Traders
"The Green Homes Grant scheme will never include official representatives coming to your property uninvited or cold calling on the phone to encourage you to join the scheme," the government says. 
But, unfortunately, since the scheme's launch there has been concern that some scam artists could exploit the trust of homeowners looking to apply for the grant. 
If you feel you have been targeted by a scam you can report this to Action Fraud online. 
What Else Should I Consider?
The vouchers will also cover some supplementary costs, such as professional services (such as structural engineer costs) and contractor costs (such as waste removal and scaffolding). Associated work, such as improving ventilation and changes to pipework and radiators, will also be covered. 
However, while the vouchers will provide a much-needed boost for low-income households, the £5,000 cap – or £10,000 for the poorest homeowners – may not be enough for certain energy-efficiency improvements to be made.
For example, external wall insulation on a three-bedroom house is likely to cost in the region of £10,000, while a larger detached home will cost £8,000-£15,000. Vouchers up to the value of £5,000 will not cover two-thirds of the costs in these instances. 
Will I Need an Energy Performance Certificate?
Energy Performance Certificates (EPCs) are valid for 10 years, so your property may already have a valid EPC. If so, your EPC should automatically be picked up when you enter your details into the Simple Energy Advice Service website.
If an EPC is not registered to your house, you will have to answer a series of questions about your home's energy use on the SEA website in order to determine which improvements you are eligible for. 
Strictly speaking, there is no requirement for you to have an EPC in order to complete the eligibility questionnaire, or to apply for the grant. But having an EPC is useful, as it provides up-to-date information on which energy-efficiency measures are best suited to your home. 
On Wednesday 30 September, the government launched a new digital service to make it easier to find an Energy Performance Certificate (EPC) assessor.
Can the Grant be Used With the Renewable Heat Incentive?
Yes. The Green Homes Grant can be used in conjunction with the domestic Renewable Heat Incentive (RHI), but only if you do not currently receive RHI payments for the specific installation you are applying for with the grant. 
The RHI is a government scheme which provides a payment to homeowners who install renewable heating systems, such as heat pumps, for a period of seven years.
This may be helpful in situations where the voucher doesn't cover the whole cost of the improvement (such as low carbon heating), which you can combine with the RHI. 
Plus, if you already own a heat pump covered by RHI, then you could choose to have a further renewable heat measure (such as solar thermal) under the Green Homes Grant. 
Homeowners will first need to apply for a Green Homes Grant and then apply for RHI. The cost of the vouchers provided will then be taken off the value of their projected RHI payments. 
However, this cannot work the other way round: you cannot apply for RHI first before applying for the Green Homes Grant. 
Reaction to the Green Homes Grant
The Green Homes Grant scheme has been welcomed by business groups and industry leaders alike. 
Iain Bevan, commercial manager of heating and renewables at Daikin UK, said: "There's so much choice now with what you can do to your home, there has never been a better time to make it more energy efficient and kinder to the planet.
"We can feel more positive about the future of the planet and hopefully encourage as many people as possible to make greener changes.
However, Origin COO Victoria Brocklesby fears that many homeowners could miss out on the scheme. "There's obviously a lot going on right now, but I'm not sure whether the government has done a good enough job in promoting this scheme to homeowners, especially given that the cut-off for the scheme is in March," she said.
Omission of Boilers Sparks Debate
The omission of gas boilers from the eligible improvements has divided experts. 
David Holmes, founder of Boiler Guide, was "surprised and disappointed" by the omission, insisting that gas boilers have a pivotal role in the decarbonisation of homes. 
And Martyn Bridges, director of technical communication and product management at Worcester Bosch shared his disappointment.  
He said: "We were disappointed to see gas and oil boilers overlooked in the Green Homes Grant. There are some 8m homes that are still running standard efficiency, non-condensing boilers and if these were changed to high efficiency condensing boilers we would see anything up to 20% (and more) increase in efficiency and consequential emissions."
But Russell Smith, founder of Retrofit Works, was not surprised, saying: "No matter what you do with boilers, you should not be putting in new boilers right now. It's a no-brainer to go for ground source and air source heat pumps instead."
Get Bespoke Advice for Eligible Home Improvements
Homebuilding.co.uk partners with the UK's best suppliers to match your requirements with their products and services. Simply answer a few questions about your home and the grant-eligible improvements you are interested in and we'll put you in touch with a suitable partner for bespoke advice for your project.
How It Works
1. Enter your details below. Tell us a bit about your project and what you are looking for, and leave some contact details.
2. We search our database. We'll match your requirements with the products and services that our partners offer.
3. Partners will contact you. Don't worry about being bombarded - only the suppliers that match your requirements will contact you.
Homebuilding & Renovating Newsletter
Get the latest news, expert advice and product inspiration straight to your inbox.
Thank you for signing up to Homebuilding. You will receive a verification email shortly.
There was a problem. Please refresh the page and try again.