Green Homes Grant: What is it?
The Green Homes Grant will provide homeowners with vouchers for energy efficiency improvements, in which the government will cover two-thirds of the cost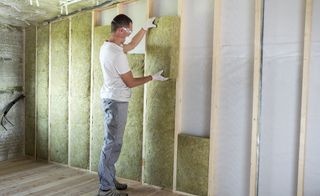 (Image credit: Getty Images)
The Green Homes Grant was introduced in July 2020 by chancellor Rishi Sunak to help homeowners in England and Wales make their homes more energy efficient. It is set to launch in September 2020.
The announcement of the Green Homes Grant followed a fraught spring for the UK economy, which contracted by 25% amid the coronavirus pandemic. 
The Green Homes Grant was one of the major updates in the government's Summer Statement — laying the foundations for a green recovery. Once launched, the government will pay two-thirds of energy-efficient home improvements up to £5,000. 
As well as planning to create thousands of new jobs, the government believes the scheme will help the UK meet its 2050 target of achieving net zero carbon emissions. 
Since its announcement, more information has started to be unveiled, and there is strong support for the scheme. However, there are also concerns that the vouchers could lock in poor performance for longer. 
Here's what we know so far.
What is the Green Homes Grant?
The Green Homes Grant scheme will provide £2bn for projects such as ensuring houses are properly insulated. This is part of a wider £3bn plan to cut carbon emissions. 
The grants will be provided in the form of vouchers which can be used towards making energy-efficient improvements to homes. 
The Treasury claims that utilising these vouchers could save families up to £300 a year on energy bills, although it is not clear how this has been calculated. Sunak confirmed that the average annual saving will likely be in the region of £200.
How Does the Green Homes Grant Work?
In order to obtain a voucher, homeowners will have to make an online application detailing the energy efficiency measures they wish to carry out. These details will then forwarded to accredited local suppliers. 
Once one of the suppliers has issued a quote, and the requested work has been approved, then the government will issue the voucher towards the work. 
Who Can Apply for the Vouchers?
Both homeowners and landlords will be eligible, according to the chancellor, but we await further details. Mr Sunak confirmed that up to 650,000 homes will be covered by the grant.
Research in July by Moneysupermarket found that 51% of homeowners are planning to use the Green Homes Grant, while a further 26% are considering doing so. 
However, people in Scotland are not eligible for the scheme. Raymond McGurk, chief executive of BRS Technology, a Scottish Internet of Things sensor company, says that the Green Homes Grant needs to include Scotland.
He said: "There's a huge opportunity here for the country to be at the front of this issue. The PM has been visiting Scotland and saying it is important, well here's a chance for him to prove it and show the health of Scots matters to him by finding a way to make this a UK level grant."
How Much are the Vouchers Worth?
Under the scheme, the government will pay at least two-thirds of the cost of home improvements that save energy, up to £5,000. 
For example, if you were to have a new, more energy-efficient boiler installed for around £2,000, then the government would contribute around £1,333 and the homeowner would pay around £666.
The poorest households will be eligible to receive up to £10,000 towards these improvements. And these poorest homeowners will not have to contribute anything to the cost. 
What Does the Green Homes Grant Cover?
Homeowners will be able to spend these vouchers on a myriad of improvements, including:
When Will the Green Homes Grant be Available? 
Applications for the scheme will open in early September 2020. 
How Can I Claim Green Homes Grant Vouchers?
From September, it will be possible to apply for the grant online, but you will not be able to sign up before then. 
This is important, because in the weeks following the scheme's announcement, it was reported that scams were targeting homeowners with promises about the scheme. Some homeowners received scam calls, emails and texts telling them that they are eligible for the grants, while other scams claimed to offer specific energy-saving measures such as insulation.
We'll be updating this page with government announcements about accessing the grants. In the meantime, if you feel you have been targeted by a scam you can report this to Action Fraud online. 
What Else Should I Consider?
While the vouchers will provide a much-needed boost for low-income households, the £5,000 cap - or £10,000 for the poorest homeowners - may not be enough for certain energy efficiency improvements to be made.
For example, external wall insulation on a three-bedroom house is likely to cost in the region of £10,000, while a larger detached home will cost £8,000-£15,000. Vouchers up to the value of £5,000 will not cover two-thirds of the costs in these instances. 
Architect Paul Testa from Paul Testa Architecture and contributor to Homebuilding & Renovating magazine, said: "The scheme is going to be great for really poor households, who will be able to get a boiler replacement or cheap double glazing, and this will provide immediate relief. But all this will do is lock in poor performance for longer. It's forcing people to go down the cheapest route".
Reaction to the Green Homes Grant
Keep up to Date
Follow the latest news on the Green Homes Grant by signing up to our newsletter and following us on Twitter.
News of the Green Homes Grant scheme was welcomed by business groups and industry leaders alike. 
Brian Berry, chief executive of the Federation of Master Builders (FMB), said: "This is very good news, signalling both an important step towards building back better and greener, and a vote of confidence for local builders up and down the country." 
However, industry experts fear the scheme could yet exacerbate the problems facing households if the work is not undertaken correctly. 
David Hilton, director of Heat and Energy Ltd and contributor to Homebuilding & Renovating, agrees that while the scheme could prove significant for some households, it could yet prove problematic.
"I welcome the move and anything that supports homeowners to make their homes energy efficient is of course a good thing," said Hilton. "However, knee-jerk reactions can be problematic, and these vouchers might not have a lasting effect if the scheme is not rolled out properly.
"For example, I've seen problems with poorly fitted insulation. If you therefore use these vouchers to install internal insulation but you do not fix external problems, then it will not have a lasting effect. And who will ensure this is done properly?"
Details are sparse as to how the scheme will be regulated, and Mike Fairman, CEO of Checkatrade, agrees that it will be essential to hire only experienced and vetted traders to carry out home improvement projects.
"We welcome this move from the government to help bolster the trade economy, through the promotion of energy saving home improvements. However, homeowners should be wary of cowboy builders and traders who don't have adequate experience, who will be looking to profit off this initiative," said Fairman. 
Will Rural Areas Benefit?
Some industry experts have raised concerns that the Green Homes Grant scheme will not be as impactful in rural areas. 
Some rural homes rely on off-mains gas solutions to heat their homes, which is typically far more expensive, and this can create significant problems for households struggling financially.
Paul Rose, CEO of Politics Home, said: "Many would no doubt welcome help to make their homes more energy efficient and the Green Homes Grant scheme could help. But how much of the £2bn funding will find its way to rural homes? Many live in some of the least energy efficient properties in Europe so would need to fund additional, expensive home energy efficiency improvements.
"The chances are that already-stretched rural households will continue to live in the cold, poorly insulated homes they struggle to affordably heat."
Tom Fyans, campaigns and policy director at CPRE, the countryside charity, added that he was sceptical at the plan, and claims that rural housing investment requires far greater funding.

"While we have seen promising starts on energy efficiency, the chancellor has missed major opportunities to begin building back better when it comes to transport and housing investment."
Heat Pumps Tariff to Launch
Late July, Good Energy announced that it will launch the UK's first-ever tariff for heat pumps this autumn, and the clean energy supplier revealed that the Green Homes Grant was influential in creating the new tariff.
This is because the Green Homes Grant makes it more economically viable for homeowners to install low-carbon renewable technologies.
The tariff will offer cheaper unit rates for homeowners with heat pumps, as well as offering reductions in rates during specific times of the day. 
Find out more about how the heat pump tariff will work
Join the #KillaKilowatt Campaign 
To further help homeowners improve their energy efficiency, a new campaign called #KillaKilowatt has been launched by leading heating engineers.
The campaign has a simple message: drop the temperature flow on your boiler to 60°C, to help make it more efficient when condensing water.
The movement is building momentum on social media as engineers collaborate on ways to change people's boiler usage to help impact the environment and save people money.
Homebuilding & Renovating Newsletter
Get the latest news, expert advice and product inspiration straight to your inbox.
Thank you for signing up to Homebuilding. You will receive a verification email shortly.
There was a problem. Please refresh the page and try again.