Green Homes Grant: The Complete Guide
Under the Green Homes Grant, you can get vouchers worth up to £5k to make green home improvements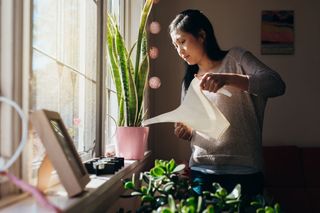 (Image credit: Getty)
The Green Homes Grant is a £2bn government scheme which offers vouchers up to the value of £5,000 to help homeowners make green home improvements. These include the installation of heat pumps, insulation and double glazing.
Upon its launch, the government anticipated that around 650,000 homes in England would be covered by the grant. Both homeowners and landlords are eligible, although new build domestic properties and non-domestic properties (such as shops and offices) are not. If you are a tenant you cannot apply directly, but your landlord can. 
The original deadline for all work to be completed was 31 March 2021, but in November the government extended the deadline to 31 March 2022. 
(MORE: Get bespoke advice for your Grant-eligible home improvements)
How do I Apply for the Green Homes Grant?
There are three key steps to follow in order to apply for home improvements on the Green Homes Grant:
Step One: Go onto the Simple Energy Advice (SEA) service, to find out if you're eligible for funding, and to check which energy-saving or low carbon measures can be added to your home. 
Step Two: Find TrustMark and/or Microgeneration Certification Scheme (MCS) registered tradespeople to undertake the work. It is recommended to obtain at least three quotes to make sure you are getting the best value for money. The SEA website will highlight accredited trades in your area.
Step Three: Make an online application using the government website,  detailing the energy-efficiency measures you wish to carry out, to obtain your voucher.
To complete step three, you'll need:
The name and date of birth of the property owner or owners
The name and date of birth of anyone living in the property who is receiving benefits
A quote for the work from a TrustMark-registered tradesperson
The TrustMark licence number of your chosen tradesperson
Which Home Improvements Does the Green Homes Grant Cover?
The Green Homes Grant gives homeowners and landlords vouchers to install:
Insulation (such as loft, cavity wall or floor insulation)
Low carbon heating (such as a heat pumps, biomass boiler or solar thermal panels)
In addition, households can use vouchers for further energy-saving measures. These include one or more of the following:
Double/triple glazing (only where replacing single glazing)
Energy-efficient doors (only where replacing doors installed prior to 2002)
Draught proofing
Heating controls such as thermostats and smart controls.
According to a poll of 1,000 homeowners in England by City Plumbing, the most coveted energy-efficient home improvements that are covered by the grant are:
Loft insulation (21%)
Cavity wall insulation (20%)
Solid wall insulation – internal or external (17%)
Under floor insulation (16%)
Radiators (13%)
(MORE: Get bespoke advice for your Grant-eligible home improvements)
What's Not Covered by the Grant?
Gas boilers are a notable omission from the list of home improvements covered by the scheme. And while solar thermal panels are included on the grant, solar photovoltaic panels are not covered. 
The following projects are not covered by the Green Homes Grant: 
Any renovation that was carried out prior to a voucher being issued
Any renovation that does not improve a home's energy efficiency
Building an extension to your home
Insulating extensions or conservatories that do not have fixed heating installed
What are the Vouchers Worth?
The government will pay at least two-thirds of the cost of certain home improvements (including insulation and low carbon heating) that save energy, up to £5,000. 
So for example, if you were to have internal wall insulation installed for around £5,000, then the government would contribute around £3,660, and you, the homeowner, would pay around £1,340.
Low-income households will be eligible to receive up to £10,000 towards improvements, and will not have to contribute anything to the cost. You can find out if you're eligible for up to £10,000 when you apply for a voucher. 
The government confirmed following confirmation of the extension that the voucher amounts will remain the same until 2022. 
How Does the Green Homes Grant Work?
IMPORTANT NOTE
Homeowners must install at least one measure from the primary category in order to qualify for the vouchers.
The eligible improvements are split into two categories: primary and secondary. 
Primary measures include:
Solid wall (internal or external) insulation
Cavity wall insulation
Under-floor (solid floor, suspended floor) insulation
Loft insulation
Flat roof insulation
Pitched roof insulation
Room in roof insulation
Solar thermal (flat plate or evacuated tube collector)
Biomass boiler
Hybrid heat pump
Secondary Measures
Vouchers for secondary measures are capped at the same amount provided in relation to the primary measures.
For example, if you claim £1,500 for insulation, then you will receive a maximum of £1,500 for double glazing.
Providing that you apply for at least one measure from the primary category, you will also be able to claim for a grant for secondary measures. 
Secondary measures include:
Energy efficient replacement doors (replacing single glazed or solid doors installed before 2002)
Double or triple glazing (where replacing single glazing)
Draught proofing
Secondary glazing (for single glazing)
Hot water tank thermostat
Hot water tank insulation
Heating controls (appliance thermostats, smart heating controls, zone controls, intelligent delayed start thermostats and thermostatic radiator valves)
(MORE: Get bespoke advice for your Grant-eligible home improvements)
How Long Do I Have to Use The Vouchers?
Green Homes Grant vouchers will remain valid for three months from the date they are issued or until 31 March 2022, whichever is earlier.
For example, if your voucher is approved in February 2021, you will have until May 2021 to complete the work in your home. 
However, homeowners can request an extension for circumstances outside of their control.
How do I Redeem my Voucher?
Once your work has been completed (and you are happy with it), you can redeem your voucher here. 
How Much Could These Improvements Save on Energy Bills?
The Treasury claims that utilising the vouchers could help families make an average annual saving of £600 on their energy bills and reduce their carbon footprint by 700kg of carbon emissions per year. 
Another benefit of the scheme is that it could help homeowners increase the value of their homes. Personal finance experts, money.co.uk, has researched six of the eligible improvements on the grant, and this is how much value they could add to our homes*:
Ground source heat pump: +5.4% (£13,407) 
Biomass boiler: +3.2% (£8,000) 
Solar Panels: +14% (£34,758) 
Insulation Measures: +6.4% (£16,000) 
Double glazing: +10% (£24,827) 
Heating controls: +6.4% (£16,000)
*based on the average home in England being worth £248,271.
Green Homes Grant Extended Until 2022
On 17 November 2020, it was announced that the scheme would be extended until 31 March 2022 to give homeowners more time to make improvements, and to give accredited tradespeople more opportunity to meet demand. 
The government had faced growing pressure to extend the scheme, with the short initial deadline of 31 March 2021 sparking concern that some projects wouldn't finish on time. 
Mark Wilkins from Vaillant Group, said: "We welcome the extension to the GHG. When the scheme was first launched, we had voiced concerns over whether the ability to install heat pumps and other low-carbon heating technologies in sufficient quantities would be limited by a shortage of installers. 
"The extension to the deadline will allow more time for installers in the UK to get trained up and obtain MCS and TrustMark certifications."
Extension Follows Green Homes Grant Criticism
The announcement followed criticism from tradespeople, homeowners and industry experts that the deadline was too short, with concerns raised that the grant could be oversubscribed, with 300,000 homeowners prospectively missing out due to demand. 
Moreover, applicants have reported being unable to access quotes from installers within their area, leading to concerns that the scheme is turning into a postcode lottery. 
Ian Rippin, CEO of MCS, the national standards organisation for renewables, said: "We have been calling for an extension to the grant, so the new March 2022 deadline is a step in the right direction that should enable more installers and consumers to benefit.
"That said, it is vitally important that we support skills and training for the sector. The grant extension needs to be backed by the policy instruments that enable growth while protecting quality and consumer confidence in the technologies available."
Long-Term Policy is Required
Despite the extension, campaigners still want to see the government introduce a longer-term plan to ensure homes continue to be retrofitted for years to come. 
Brian Berry, chief executive of the Federation of Master Builders, welcomed the extension, but added that green refurb grants should be available up to 2040.
"Our existing homes contribute 20% of all our carbon emissions and consume 35% of our energy. A long-term retrofit strategy is needed over the next two decades to make all our existing homes more energy-efficient."
Mark Wilkins added: "To enable our industry to make the levels of investment needed and expand production, we need a long-term roadmap from the Government setting out how the UK is going to decarbonise heat in its homes."
You Must Use Vetted Tradespeople
Only local and approved TrustMark and Microgeneration Certification Scheme (MCS) registered tradespeople can carry out the work, which some SME tradespeople had been left frustrated by this, due to the challenges they face in obtaining accreditation. 
Chrissie Lloyd, managing director of Urbane Eco, told us that applying for the grant has been unrealistic for the average SME. 
(MORE: Get bespoke advice for your Grant-eligible home improvements)
But Brian Berry says that extending the scheme will reassure builders who had deemed that the level of investment required to work on the scheme would not be worth it because of the short deadline. 
Berry said: "The extension of the Green Homes Grant for another year is very positive news, and shows that builders' concerns have been listened to. This will give the reassurance needed to the building industry to invest in the scheme." 
Concern Over Green Homes Grant Scams
Since the scheme's launch there has been concern that some scam artists could exploit the trust of homeowners looking to apply for the grant. 
Meanwhile, This is Money claims there have been reports that homeowners are being hit with overinflated quotes when applying for improvements.
A Department for Business, Energy and Industrial Strategy spokesman said: "We have a zero-tolerance approach to fraud, i­ncluding inflating prices. Fraud cases will undergo due process and an adjudication will be made by the Green Homes Grant Fraud Team, leading to appropriate action against the offending party."
If you feel you have been targeted by a scam you can report this to Action Fraud online. 
Is the Green Homes Grant Available in Scotland, Wales and Northern Ireland?
The Green Homes Grant is only available in England, but there are alternative sources of support available:
Can the Green Homes Grant be Used With the Renewable Heat Incentive?
Yes, but only if you apply for the grant first and then apply for the RHI. The cost of the vouchers provided will then be taken off the value of their projected RHI payments. 
However, this cannot work the other way round: you cannot apply for RHI first and then apply for the Green Homes Grant. 
Will I Need an Energy Performance Certificate?
Strictly speaking, there is no requirement for you to have an EPC in order to complete the eligibility questionnaire, or to apply for the grant. But having an EPC is useful, as it provides up-to-date information on which energy-efficiency measures are best suited to your home. 
Heat Pump Partnership
Energy supplier EDF has announced that it is teaming up with eco-heating technology specialists Daikin to help more people access heat pumps. 
EDF says the moves will help to educate homeowners on eco-frindly heating solutions, and how heat pumps can be backed by zero-carbon electricity tariffs. 
Chris Connon, senior manager of heat at EDF, said the company wanted to offer their customers "smarter, innovative solutions" to heat their homes. 
Get Bespoke Advice for Eligible Home Improvements
Homebuilding.co.uk partners with the UK's best suppliers to match your requirements with their products and services. Simply answer a few questions about your home and the grant-eligible improvements you are interested in and we'll put you in touch with a suitable partner for bespoke advice for your project.
How It Works
1. Enter your details below. Tell us a bit about your project and what you are looking for, and leave some contact details.
2. We search our database. We'll match your requirements with the products and services that our partners offer.
3. Partners will contact you. Don't worry about being bombarded - only the suppliers that match your requirements will contact you. 
Homebuilding & Renovating Newsletter
Get the latest news, expert advice and product inspiration straight to your inbox.
Thank you for signing up to Homebuilding. You will receive a verification email shortly.
There was a problem. Please refresh the page and try again.