Green Homes Grant: The Ultimate Guide
The Green Homes Grant runs until March 2022 - this is everything you need to know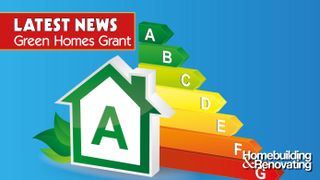 (Image credit: Future)
The Green Homes Grant enables homeowners to apply for funding toward energy-efficient home improvements, such as heat pumps and insulation. 
The scheme launched in September 2020, and will run until 31 March 2022 (having been extended in November 2020). 
Providing you are eligible, the government will provide two-thirds funding up to £5,000, or up to £10,000 for low-income homes. The homeowner, or landlord, must pay the other third. 
The eligible improvements fall into two categories: primary and secondary, so you can't pick and choose which improvements you want (more on this below).  
(MORE: Get bespoke advice for your Grant-eligible home improvements)
How Does the Green Homes Grant Work?
The Green Homes Grant is divided into two categories: 
Primary home improvements 
To qualify, you must install at least one measure from the primary category. Primary measures are defined as the home improvements which make the biggest difference to your home's energy efficiency. 
Secondary improvements
Once you have applied for, and redeemed your primary voucher, you can then apply for a voucher for secondary measure (providing you have money remaining following your application for a primary measure). 
The contribution on a secondary measure will be capped at the same amount provided in relation to the primary measures. 
For example, if you claim £1,500 for insulation (a primary measure), then you will be eligible for a maximum of £1,500 for double glazing (a secondary measure).
Am I Eligible for the Green Homes Grant?
Homeowners and landlords are eligible, although new build domestic properties and non-domestic properties (such as shops and offices) are not. 
The government anticipates that around 650,000 homes in England will be covered by the grant. Although it's important to note that you will only be eligible for improvements which make a discernible impact to your energy efficiency, which will be evaluated as part of your application.
Which Improvements Can I Make?
Primary measures include:
Secondary measures include:
Energy efficient replacement doors (replacing single glazed or solid doors installed before 2002)
Draught proofing
Double/triple glazing (only where replacing single glazing)
You can see the full list of eligible improvements on the government's website. 
How do I Apply for the Green Homes Grant?
There are three key steps to follow in order to apply for home improvements on the Green Homes Grant:
1. Find out if you're eligible
Go onto the Simple Energy Advice (SEA) service and enter your postcode. You can then find out if you're eligible for funding, and which energy-saving or low carbon measures would most benefit your home. 
2. Find quotes 
Find tradespeople to undertake the work. Subcontractors do not have to be TrustMark and/or Microgeneration Certification Scheme (MCS) registered to work on the scheme, but they do need to perform the work on behalf of a company with this accreditation.  
It is recommended (although not essential) to obtain at least three quotes to make sure you are getting the best value for money. The SEA website will highlight available tradespeople in your area.
3. Apply
Make an online application using the government website, detailing the energy-efficiency measures you wish to carry out, to obtain your voucher.
Which Improvements Are Not Eligible?
New gas boilers are not covered by the scheme. And while solar thermal panels are included on the grant, solar photovoltaic panels are not covered. 
The following projects are not covered by the Green Homes Grant, either: 
Any renovation that was carried out prior to a voucher being issued
Any renovation that does not improve a home's energy efficiency
Building an extension to your home
Insulating extensions or conservatories that do not have fixed heating installed
How Much Are Vouchers Worth?
Up to £5,000
Most homeowners will be eligible to apply for vouchers up to £5,000 to make primary measure improvements (plus secondary measure improvements, if you have money left over). 
The vouchers cover two-thirds of the cost so you, the homeowner, will need to pay the other third. 
Up to £10,000
Low-income households are eligible to receive up to £10,000 towards improvements, and will not have to contribute anything to the cost. 
You can find out if you're eligible for up to £10,000 when you apply for a voucher. 
How Long are Vouchers Valid For?
Need an Extension?
Homeowners can request an extension for circumstances outside of their control, the government has confirmed.
Green Homes Grant vouchers are valid for three months from the date they are issued, or until 31 March 2022, whichever is earlier.
For example, if your voucher is approved in April 2021, you will have until July 2021 to ensure that the work is completed. 
The first set of vouchers were distributed in November, but there have reportedly been delays in people receiving their vouchers, meaning delays of months before work can begin.
How do I Redeem my Voucher?
Once your work has been completed (and you are happy with it), you can redeem your voucher here. 
Can I Reduce my Energy Bills?
Utilising the vouchers could help families make an average annual saving of up to £600 on their energy bills, according to the Treasury. You could also reduce your carbon footprint by 700kg of carbon emissions per year. 
Uptake Short of Government Target
As of January 2021, it is estimated that around 40,000 households have applied for vouchers, which is low considering the government's aim is to upgrade 600,000 homes. 
In September 2020, Origin COO Victoria Brocklesby feared that many homeowners could be missing out on the scheme. 
"I'm not sure whether the government has done a good enough job in promoting this scheme to homeowners. Quite a lot of people may not even realise that the scheme exists, or that they need to register to apply for it."
A study this month of 2,000 people by Schenider Electric revealed that 61% were not aware of the Green Homes Grant or any other government green home initiatives, or had no plans to use the grants. 
Homeowners Report Application Problems
A survey carried out in November by the Environmental Audit Committee (EAC) revealed 86% of homeowners have had a poor experience with the process, and nearly 75% found it difficult to find a registered contractor.
Homeowners have also reported problems including complex paperwork, poor  access to local accredited tradespeople and long delays for the issuing of vouchers.
The EAC had requested details of what improvements would be made following the extension of the scheme to March 2022.
Why Was the Green Homes Grant Extended?
A primary reason for the Green Homes Grant extension was due to criticism that the initial deadline of 31 March 2021 was too short, and that homeowners did not have enough time to complete their projects. 
The grant extension was also welcomed by industry bodies, which said the extra time will be important to help more tradespeople benefit. 
Do I Need Accredited Tradespeople?
Prior to January 2021, only approved TrustMark and Microgeneration Certification Scheme (MCS) registered tradespeople could carry out work on the Green Homes Grant. 
Some tradespeople had reported that the costs and length of application to work on the grant meant it was unrealistic for the average SME. 
But the government relaxed this requirement on 4 January 2021, via the installer terms and conditions of the scheme, and subcontractors can now work on the grant even if they are not TrustMark registered, MCS registered or hold the required PAS. 
However, subcontractors can only perform installations on the grant providing the work is done on behalf a company which holds these accreditations.
What Does This Mean for Homeowners?
Applicants have reported being unable to access quotes from installers within their area, leading to concerns that the scheme was turning into a postcode lottery. 
By relaxing the rules on installers, the government hopes to overcome the challenges homeowners were facing finding an installer.
The changes apply to vouchers issued from 4 January 2021 onwards until further notice. 
Training Opportunities Increase
The government recently announced the winning applicants of a Green Homes Grant training competition it launched last year. 
A total of £6.9m of funding has been made available through the Green Homes Grant Skills Competition for training organisations to help create a new army of experts equipped and professionally trained to deliver the scheme.
The government hopes the skills competition will result in more than 5,000 training opportunities. 
Just three out of 250 builders who have expressed an interest in the Green Homes Grant scheme have so far completed the necessary registration and training, according to the Federation of Master Builders.
Is There a Long-Term Plan?
The grant will end on 31 March 2022, and it is unclear if the government plans to replace it with an alternative scheme. 
Brian Berry, chief executive of the FMB, said: "Without a long-term government plan for making our homes greener and more energy-efficient, we won't be able to tackle fuel poverty, end preventable winter deaths, or meet the UK's climate change targets.
"Builders don't yet have the confidence they need in the domestic energy efficiency market to invest in their businesses and start offering these services to homeowners."
Why are There Primary and Secondary Measures?
New insulation and low carbon heating are classed as primary measures because they are considered by the government to make the biggest difference to your home's energy efficiency.
These improvements can help to reduce your heating bills and carbon emissions, and improve the thermal efficiency of your home. 
The improvements within the secondary measures can do this too, but the primary measures are considered to be the most worthwhile improvements homeowners can make under the Green Homes Grant.
Green Homes Grant Scams Warning
Applying online is the only way of accessing a Green Homes Grant voucher. Since the scheme's launch there has been concern that some scammers could exploit the trust of homeowners looking to apply for the grant. 
There have also been reports that some homeowners have been hit with overinflated quotes for improvements covered by the Green Homes Grant.
If you feel you have been targeted by a scam you can report this to Action Fraud online. 
What about Scotland, Wales and Northern Ireland?
The Green Homes Grant is only available in England, but there are alternative sources of support available:
What's more, as part of Scotland's green homes pledge, hundreds of homes could soon become the first in the world to use 100% green hydrogen to heat their properties and cook their meals. The new trial could help households across the country replace fossil fuel gas.
Can Vouchers be Used With the Domestic RHI?
Yes, but only if you apply for the grant first and then apply for the Domestic Renewable Heat Incentive. The cost of the vouchers provided will then be taken off the value of their projected RHI payments. 
However, this cannot work the other way round: you cannot apply for RHI first and then apply for the Green Homes Grant. 
Get Bespoke Advice for Eligible Home Improvements
Homebuilding.co.uk partners with the UK's best suppliers to match your requirements with their products and services. Simply answer a few questions about your home and the grant-eligible improvements you are interested in and we'll put you in touch with a suitable partner for bespoke advice for your project.
How It Works
1. Enter your details below. Tell us a bit about your project and what you are looking for, and leave some contact details.
2. We search our database. We'll match your requirements with the products and services that our partners offer.
3. Partners will contact you. Don't worry about being bombarded - only the suppliers that match your requirements will contact you.  
Homebuilding & Renovating Newsletter
Get the latest news, expert advice and product inspiration straight to your inbox.
Thank you for signing up to Homebuilding. You will receive a verification email shortly.
There was a problem. Please refresh the page and try again.