Hydrogen Heating: Eyes Turn to Heat & Buildings Strategy For Next Steps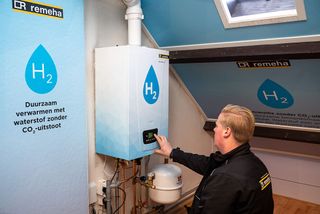 (Image credit: BDR Thermea Group)
The development of hydrogen heating progressed further in last week's Hydrogen Strategy, but industry experts are now looking to the Heat and Buildings Strategy for insight on the next steps for heating our homes, and how hydrogen will be involved. 
The Hydrogen Strategy pledged that hydrogen will power up to three million homes by 2030, but only a handful of pages in the 121-page document were dedicated to heating in the home. 
Martyn Bridges, director of technical communication and product management at Worcester Bosch, told Homebuilding & Renovating that he "expects some crossover" in the Heat & Buildings Strategy, which could reportedly be published in the first week of September. 
Bridges also says that while there is still a degree of uncertainty as to the best route to decarbonise heat at scale in the UK, he expects both heat pumps and hydrogen boilers will have a part to play. 
Worcester Bosch has developed a 100% hydrogen boiler prototype which is undergoing UK trials, and Bridges says that clarity from the government is important as to the next steps. "The sooner they say yes to placing hydrogen and hydrogen-ready boilers onto the market, the sooner we can get the investment needed to begin developing our portfolio."
Why is Hydrogen Heating Being Developed?
In the UK, the government and energy experts within the UK are best assessing how to heat existing homes while lowering carbon emissions from natural gas boilers, and heat pumps and hydrogen boilers could have a key role to play.
Currently around 85% of UK homes are heated with polluting natural gas, and hydrogen technology is considered by experts to have a key role in helping the UK reach net zero by 2050. This is because the main by-product of burning hydrogen gas is water. 
While renewable tech such as air source heat pumps, which run off electricity, will be vital in heating our homes, it's recognised that the technology is not suitable for all homes. 
Hydrogen represents a way of greening up the gas grid, and hydrogen boilers could be a viable low-carbon heating system in the future. 
A Ready-to-go Solution
One of the key benefits in swapping to hydrogen from gas is that it will involve very little disruption to homeowners.
Hydrogen boilers like the ones developed by Baxi Heating and Worcester Bosch can run on 100% hydrogen as well as natural gas. This means that transferring to hydrogen gas in the future will be easy for those with a hydrogen-ready boiler because it can convert to hydrogen without the need for an entirely new heating system.
Plus, hydrogen-ready boilers such as Viessmann's Vitodens 100-W gas condensing boiler — which is capable of running with a hydrogen mix of up to 20% — can not only help homeowners reduce their energy bills and cut carbon emissions, but enable a smooth transition to hydrogen in the event that hydrogen is introduced to the UK gas grid in the near future.
Hydrogen boilers are not yet available in the UK. But it is widely expected that no new natural gas boilers will be installed in new UK homes from 2025, which will be confirmed in the forthcoming Heat and Buildings Strategy, while ministers are reportedly considering a cut-off date of 2035 for natural gas boiler installations in existing homes. 
This could mean millions of British households would either need to replace their boilers with heat pumps or install hydrogen-ready boilers capable of running on hydrogen gas.  
As confirmed in the Hydrogen Strategy, the government aims to consult later this year on the case for enabling, or requiring, new natural gas boilers to be easily convertible to use hydrogen by 2026.
Hydrogen Heating Has Government Support
The 10-point plan published in November, as part of the government's Green Industrial Revolution, pledged to develop the first town powered entirely by hydrogen by 2030, with milestone targets along the way: starting with a hydrogen neighbourhood in 2023, moving to a hydrogen village by 2025. 
The Hydrogen Strategy elucidated how the progression to hydrogen heating will be made, and laid out the groundwork for ensuring up to 35% of the UK's energy consumption comes from hydrogen by 2035.
And, earlier this year, a £60m cash boost was announced by the Department for Business, Energy & Industrial Strategy (BEIS) to scale up the development of low-carbon hydrogen in the UK. The funding will be used to bring down the costs of producing hydrogen and help identify and scale up more efficient solutions for making clean hydrogen from water using electricity.
How Will Hydrogen Heating Work in Our Homes?
The future of hydrogen heating in homes will most likely be a combination of a heat pump and a hydrogen boiler, according to Remeha, part of BDR Thermea Group in the Netherlands.
The Netherlands are frontrunners in the development of hydrogen heating, which has a huge, comprehensive natural gas distribution in the Netherlands and is in the midst of transitioning from natural gas to zero carbon: either through electricity, hydrogen or biogas. 
Remeha says that the complexities of each of the two low-carbon heating options means a combination of the two would be the likeliest way to effectively heat our homes. 
Rick Bruins, business development manager at Remeha told Homebuilding & Renovating that a small heat pump would be effective for tackling outside temperatures up to 0ºC, then when it starts to freeze, the hydrogen boiler would begin to heat up the home. 
"Installing a heat pump with enough power to heat a home which is -10ºC is very expensive, but hydrogen is expensive too, so the combination of the two would make for a cost-effective solution," said Bruins.
Based on estimates from the Dutch government and local energy suppliers, hydrogen boilers will be heating homes in the Netherlands within 15 years.
But Hydrogen Heating Faces Obstacles
Costs
One of the main criticisms of hydrogen heating is that it can be costly to produce, which could limit its availability. This is because it relies on either using renewable energy to split water into hydrogen and oxygen (the process used to make 'green hydrogen'), or using carbon capture technology to prevent emissions being released by splitting fossil fuel gas into 'blue hydrogen'.
(MORE: Heat pumps half the cost of hydrogen boilers)
Environmentalists including climate think tank E3G, WWF, and Greenpeace have previously urged the government to ignore what they call "hype" over the use of hydrogen to provide heat, citing the expensive processes to create green hydrogen and expressing doubts over the environmentally-friendly credentials of carbon capture technology used to create blue hydrogen.
However, in July, the boiler industry's big four manufacturers confirmed that a hydrogen-ready boiler will cost no more than its natural gas equivalent. Baxi, Worcester Bosch, Vaillant and Ideal confirmed that a new price-promise will be introduced which could save homeowners £2.3 billion. 
Boiler Guide estimates that pricing would be similar to natural gas boilers - somewhere between £400 to £3,000 before factoring in the installation.
Safety
Earlier this month the government had to reiterate that hydrogen heating will be safe after an Arup study claimed hydrogen boilers could cause four times more explosions than natural gas boilers. 
The study also revealed, however, that this could be fixed by installing two excess flow valves to easily regulate how hydrogen flows through the pipes.
Bridges said of the study: "The headline should have been that hydrogen boilers will save lives because there is no carbon monoxide created from hydrogen, which is by far the biggest hazard with burning gas. We are very confident that hydrogen is safer than natural gas." 
Which Trials are Ongoing?
Low Thornley, Gateshead
The UK's first homes to be fuelled entirely with hydrogen heating officially opened for public demonstration in July. The two semi-detached homes based at Northern Gas Networks' innovation site in Low Thornley, Gateshead are powered entirely by hydrogen boilers — developed by Baxi Heating and Worcester Bosch.
All of the appliances including hobs, cookers and fires are hydrogen-powered, and these will be rotated so different manufacturers can showcase their innovations and seek consumer feedback. 
The homes will now be made available for schools, colleges and universities to visit, to help raise awareness about energy efficiency in homes. 
Northumberland
In November 2020, hydrogen boilers from Baxi Heating and Worcester Bosch were installed into the first UK homes to demonstrate the technology's efficiency.
The innovative prototypes will be trialed at The 'HyStreet' test site in Northumberland, which consist of specially built demonstration houses. More than 200 tests will now be completed to research and prove the safety and efficacy of converting homes and gas networks to hydrogen.
The current trials in Northumberland will demonstrate how existing gas networks can be repurposed to safely carry 100% hydrogen.
Fife, Scotland
Fas network operator SGN submitted plans earlier this year for H100, the world's first domestic hydrogen heating grid. The first homes in the world to use green hydrogen through a local gas grid will move ahead in Fife, Scotland by the end of next year, subject to planning permission.
Keele University
Last year, in the first HyDeploy pilot trial, 20% of hydrogen was injected and blended into Keele University's existing private gas network, which supplies 30 faculty buildings and 100 domestic properties.
Cumbria
Three purpose-built houses at the RAF Spadeadam base in Cumbria are being used to test out 100% hydrogen homes.
Carlisle
The H21 is a series of a test projects that aim to prove the gas grid can be converted to hydrogen, which are being conducted on a wild hillside at a Royal Air Force base. 
Tim Harwood, who is running the H21 pilot project near Carlisle, says the gas grid could be ready to switch to hydrogen within two years, but has called for greater hydrogen capacity to be made available by the government. 
Winlaton, Gateshead
In a separate trial in Gateshead, 670 homes will be some of the first in the UK to trial natural gas blended with hydrogen. The project will begin in early 2021 and last around 10 months.
Wales
A £4.8m hydrogen hub to be set up in Wales to pilot the creation of hydrogen from renewable energy was announced in the Spring Budget.
Homebuilding & Renovating Newsletter
Get the latest news, reviews and product advice straight to your inbox.
Thank you for signing up to Homebuilding. You will receive a verification email shortly.
There was a problem. Please refresh the page and try again.