Hydrogen Heating Trials Could be Transformative For How We Heat Our Homes
Two new hydrogen heating trials in 2021 will showcase the benefits of low-carbon heating in our homes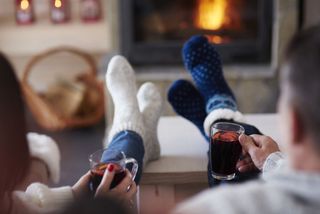 (Image credit: Getty Images)
Plans for two major hydrogen heating trials are underway, as the UK moves another step forward towards heating our homes with hydrogen. 
In Scotland, gas network operator SGN has submitted plans for the world's first domestic hydrogen heating grid. And in Gateshead, 670 homes will be some of the first in the UK to trial natural gas blended with hydrogen. 
Hydrogen technology is considered by experts to play a key role in the future of smart heating. Hydrogen would be used to make the mains gas network greener, because the main by-product of burning hydrogen gas is water.
While renewable tech such as air source heat pumps, which run off electricity, will be vital in heating our homes, it's recognised that the technology is not suitable for all homes. Greening up the gas grid therefore represents a further step forward to achieving low-carbon heating. 
(MORE: Improve your energy efficiency with the Green Homes Grant)
World's First Hydrogen Heating Grid
SGN submitted plans to Fife Council this week for H100 Fife, an "education and presentation centre" which shows how hydrogen could heat homes instead of natural gas. 
The centre will feature hydrogen-powered domestic appliances such as boilers and hobs, and people can visit the centre to see if they want to apply for a five-year trial starting this year. 
The trial will see a hydrogen production and storage facility built that will power up to 300 homes in Levenmouth, a conurbation in Fife. There will be no need to replace radiators or plumbing, and homeowners' energy bills will remain the same.  
The fuel will be created through electrolysis, which uses electricity to separate hydrogen from oxygen using a supply of water. And with an offshore wind turbine powering the SGN facility, the fuel will in theory be 100% carbon free. 
The project, which is supported with funding from national energy regulator Ofgem, the Scottish Government and other UK gas distribution networks, now depends on planning permission from Fife Council. The planning application will go before councillors for a decision on 28 April.
Gateshead Trial is a Key Milestone
Meanwhile in Gateshead more than 650 homes and commercial buildings will trial the use of blended green hydrogen for around 10 months. The project will begin in early 2021.  
This is being led by Northern Gas Networks, as part of the HyDeploy North East scheme, alongside Cadent, which delivers gas to more than 11 million houses and businesses in the UK.
The project will see 20% (by volume) of hydrogen be injected and blended into the natural gas network that serves the village of Winlaton in Gateshead. HyDeploy claims this is the highest proportion being tested in Europe at present.
Currently around 85% of homes are heated with polluting natural gas, and this trial will mark a key milestone to see if it can reduce emissions in these homes. 
Last year, in the first HyDeploy pilot trial, 20% of hydrogen was injected and blended into Keele University's existing private gas network, which supplies 30 faculty buildings and 100 domestic properties.
Government Signals Intent
A significant development for hydrogen heating occurred in November following Boris Johnson's 10-point plan, as part of the government's Green Industrial Revolution.
The prime minister pledged to develop the first town powered entirely by hydrogen by 2030, with milestone targets along the way: starting with a hydrogen neighbourhood in 2023, moving to a hydrogen village by 2025. 
Mr Johnson also announced up to £500m to help progress hydrogen heating, including trailing homes using hydrogen for heating and cooking. Of this, £240m will go into new hydrogen production facilities. 
The government will also work with industry professionals to help generate 5GW of low-carbon hydrogen production capacity by 2030 for homes, as well as transport and power. 
A 'Ready-to-go' Solution 
The government's hydrogen heating pledge was celebrated by industry experts, and could represent a turning point for the way we heat our homes. 
Baxi Heating told Homebuilding & Renovating that the pledge represented a "strong message of support" for hydrogen technology, while Worcester Bosch told us that the investment could mean hydrogen will be a ready-to-go solution for heating homes in the future. 
Jeff House, Head of External Affairs at Baxi Heating, told us: "The Prime Minister's 10 Point Plan offers much to celebrate for the heating sector and signposts the direction of travel for future policy needed to meet the net-zero emissions challenge. There is a strong message of support for hydrogen."
Carl Arntzen, CEO of Worcester Bosch, added: "The 10 steps set out by the Prime Minister are bold and we are delighted to see that hydrogen will play a key role in delivering them. The investment of £500 million in hydrogen is a positive start and can help to reduce carbon emissions significantly - particularly in the way that we heat our homes.
"With the foundation of solid government backing, hydrogen will be a ready-to-go solution in the near future and therefore making a strong impact in the fight against climate change. It demonstrates the role that technology can and should play in finding practical solutions to the challenges that we face". 
Which Other Trials are Ongoing?
In November, hydrogen boilers from Baxi Heating and Worcester Bosch were installed into the first UK homes to demonstrate the technology's efficiency.
The innovative prototypes will be trialed at The 'HyStreet' test site in Northumberland, which consist of specially built demonstration houses. More than 200 tests will now be completed to research and prove the safety and efficacy of converting homes and gas networks to hydrogen.
The current trials in Northumberland will demonstrate how existing gas networks can be repurposed to safely carry 100% hydrogen.
And the transition might be easier than you might think. Hydrogen boilers like the ones developed by Baxi and Worcester Bosch can run on 100% hydrogen as well as natural gas. This means that transferring to hydrogen gas in the future will be easy for those with a hydrogen-ready boiler because it can convert to hydrogen without the need for an entirely new heating system.
Homebuilding & Renovating Newsletter
Get the latest news, expert advice and product inspiration straight to your inbox.
Thank you for signing up to Homebuilding. You will receive a verification email shortly.
There was a problem. Please refresh the page and try again.