What the Energy White Paper Means for Homeowners
By Jack Woodfield published
The Energy White Paper is underpinned by ensuring homeowners pay less for heating, and use cleaner energy sources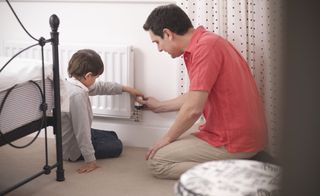 (Image credit: Getty Images)
The government's new Energy White Paper has proposed a £240m net-zero Hydrogen Fund to help kick-start hydrogen heating, which could one day be used in our homes.
The Energy White Paper released on Monday pledges to aim for 5GW of hydrogen production capacity by 2030, which the Hydrogen Fund will support. The fund will provide £240m of investment up to 2024/25 to help the UK become net-zero by 2050.
It is not clear exactly now many homes or businesses could be hydrogen-fuelled as a result, but the funding will be used towards the development of a hydrogen neighbourhood in 2023 and a hydrogen town by 2030, as announced in the government's 10-point plan in November.
The government said: "The combustion of hydrogen produces no long-lived greenhouse gas emissions at point of use, making it a possible low-carbon replacement for natural gas as a fuel source for heating homes and other buildings."
Other pledges in the white paper include keeping energy bills affordable as the UK transitions to net zero, and the introduction of a major programme for retrofitting homes for improved energy efficiency.
Energy White Paper Focuses on Clean Energy
The fundamental aim of the Energy White Paper is to drive the UK towards utilising clean heat sources, to help with the fight against climate change and ensure homeowners not only pay less for their energy, but use more energy-efficient heat sources.
Business secretary Alok Sharma, said: "Today's plan establishes a decisive and permanent shift away from our dependence on fossil fuels, towards cleaner energy sources that will put our country at the forefront of the global green industrial revolution."
The government also confirmed that it expects all newly-installed heating systems to be low carbon, or to be appliances that can be converted to a clean fuel supply, by the mid-2030s.
This point is of particular note for hydrogen production - both Worcester Bosch and Baxi Heating have produced hydrogen boiler prototypes which can convert from natural gas to 100% hydrogen, making the transition easier for homeowners who opt for hydrogen boilers before 2030 (once available).
(MORE: Sixth Carbon Budget calls for energy efficiency changes)
Energy Bills Focus
Another notable pledge is to keep energy bills affordable for homeowners, especially for the vulnerable and lowest income households.
To achieve this, the government plans to make the energy retail market more competitive, and as such, homeowners will be offered a simple method of switching to cheaper energy tariffs. The so-called 'loyal penalty' will be challenged too, so long standing customers do not pay more than new customers, whereby customers will be automatically switched to fairer deals.
The government will also provide at least £6.7 billion in support to the fuel poor and most vulnerable over the next six years.
What Else Was Announced?
The Energy White Paper also makes the following pledges:
Sales of petrol and diesel cars and vans will end by 2030, and all new cars and vans must be zero emissions at the tailpipe from 2035.
To accelerate the transition to clean vehicles, £1.3 billion will be pledged for charging an electric car at home, on the streets and on motorways, and up to £1bn will be used to support the electrification of cars, including for the mass-production of the batteries needed for electric vehicles.
A major programme for the retrofitting of homes to boost energy efficiency and ensure our heating is clean. The government says it will work with industry to incorporate smart technologies, such as heating controls, into the methodology for assessing the energy performance of homes
Deliver 40GW of offshore wind by 2030, including 1GW of floating wind, enough to power every home in the country
Generate emission-free electricity by 2050.
Reaction to the Energy White Paper
The Federation of Master Builders (FMB) praised the white paper, and says it marks an opportunity to develop a national retrofit strategy to help transform the energy efficiency of our homes.
Brian Berry, chief executive of the FMB, said: "The announcement of the long-anticipated Energy White Paper, with its focus on making our buildings warmer and greener, is an important step forward on the UK's journey toward net-zero.
Berry concluded: "The Government has a unique opportunity to develop a national retrofit strategy as part of its Energy White Paper to ensure we have greener homes. A national retrofit strategy, rather than a series of piecemeal initiatives, would underpin this ambition."
Emma Pinchbeck, CEO of Energy UK, added: "Today's White Paper reveals the scale and opportunity of the energy transition, with aims in it to at least double the amount of clean electricity produced today, start making our homes warmer and greener, and help the switch to electric vehicles."
Jack has worked in journalism for 11 years and is the News Editor for Homebuilding & Renovating, a role he has had since 2019. He strives to break the most relevant and beneficial stories for self builders, extenders and renovators, including the latest news on the construction materials shortage and hydrogen heating. In 2021 he appeared on BBC's The World at One to discuss the government's planning reforms.
He enjoys testing new tools and gadgets, and having bought his first home in 2013, he has renovated every room and recently finished a garden renovation.
Homebuilding & Renovating Newsletter
Get the latest news, reviews and product advice straight to your inbox.
Thank you for signing up to Homebuilding. You will receive a verification email shortly.
There was a problem. Please refresh the page and try again.