Hydrogen Boilers: Here's How They Will Heat Your Home
By Jack Woodfield published
Hydrogen boilers could green up the gas grid and help to lower our energy costs and decrease our emissions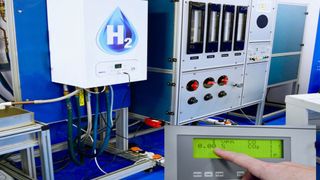 (Image credit: Baxi)
Hydrogen boilers are an exciting new technology which could revolutionise the way we heat our homes, helping to lower energy costs and decrease our carbon emissions.
Currently around 85% of homes are heated with polluting natural gas, of which the main by-product is carbon dioxide. Heating our homes this way accounts for around 14% of the UK's carbon emissions, according to the Committee on Climate Change, and this is a significant obstacle for the government, which is striving to make the UK net zero by 2050.
In contrast, the main by-product of burning hydrogen gas is water. Hydrogen heating represents a way of greening up the gas grid, and hydrogen boilers can be a viable low-carbon heating system in the future.
This is everything you need to know about hydrogen boilers, how they could benefit your home and when they will be made available.
What is a Hydrogen Boiler?
A hydrogen boiler works in a very similar way to natural gas boilers. Whereas natural gas boilers burn gas (or methane), hydrogen boilers burn hydrogen. This creates hot flue gases that can be used to heat water.
And What Are Hydrogen-Ready Boilers?
Some hydrogen boilers will be able to run on 100% hydrogen as well as natural gas, but other hydrogen-ready boilers, such as Viessmann's Vitodens 100-W gas condensing boiler, run with a hydrogen mix of up to 20% and 80% natural gas.
In the first HyDeploy (opens in new tab) pilot trial in 2020, 20% of hydrogen was injected and blended into Keele University's existing private gas network, which supplies 30 faculty buildings and 100 domestic properties.
There is another hydrogen mix trial underway in Winlaton, a village near Newcastle, where 670 homes have become some of the first in the UK to trial natural gas blended with hydrogen. The trial is expected to conclude in 2022.
Benefits of Hydrogen Boilers
A major benefit of owning a hydrogen boiler is that it will reduce your carbon emissions, making your home environmentally friendly.
It could also help to decrease your long-term energy bills. Hydrogen is more energy efficient than natural gas - there is equal energy in 1kg of hydrogen as there is in 2.8kg of gas, according to Power Technology - and this means you'll use less fuel.
Furthermore, when the UK's gas network is able and ready to switch from methane to hydrogen, those with hydrogen-ready boilers won't need to replace their heating systems. No changes will be required to pipework or radiators, and you won't need to install a water tank.
Plus, any hydrogen-ready boiler that is installed initially to run off natural gas should only require one hour's labour to convert it to hydrogen.
Will Hydrogen Boilers be Cheap to Run?
In July 2021, the boiler industry's big four manufacturers confirmed that a hydrogen-ready boiler will cost no more than its natural gas equivalent. Baxi, Worcester Bosch, Vaillant and Ideal confirmed that a new price-promise will be introduced which could save homeowners £2.3 billion.
Boiler Guide (opens in new tab) estimates that pricing would be similar to natural gas boilers - somewhere between £400 to £3,000 before factoring in the installation.
Are Hydrogen Boilers Available?
Hydrogen boilers are not yet available to homeowners. And the government confirmed in its Heat and Buildings Strategy that while 100% hydrogen heating is being trialled nationwide, it will not make a firm decision on what role hydrogen will play in heating the UK's homes until 2026.
Both Baxi Heating (opens in new tab) and Worcester Bosch (opens in new tab) have developed 100% hydrogen boilers which are undergoing testing in the UK, and both manufacturers have called on the government to fast-track their market release for 2025.
Martyn Bridges, director of technical communication and product management at Worcester Bosch, told Homebuilding & Renovating that clarity from the government is important as to the next steps for release.
"The sooner they say yes to placing hydrogen and hydrogen-ready boilers onto the market, the sooner we can get the investment needed to begin developing our portfolio."
When this decision is confirmed, it could mean that millions of British households will either need to replace their boilers with heat pumps or install hydrogen-ready boilers capable of running on hydrogen gas.
The government's Hydrogen Strategy in 2021 laid out the groundwork for ensuring up to 35% of the UK's energy consumption comes from hydrogen by 2035.
Are Hydrogen Boilers Safe?
Last year the government had to reiterate that hydrogen boilers will be safe after a study claimed hydrogen boilers could cause four times more explosions than natural gas boilers.
Significantly, though, the study also revealed no carbon monoxide was created from the boilers - a major safety plus compared with natural gas boilers - and that the faulty boilers could have been fixed by installing two excess flow valves to easily regulate how hydrogen flows through the pipes.
Bridges said of the study: "The headline should have been that hydrogen boilers will save lives because there is no carbon monoxide created from hydrogen, which is by far the biggest hazard with burning gas. We are very confident that hydrogen is safer than natural gas."
And energy expert David Hilton, director of Heat and Energy Ltd and a contributor to Homebuilding & Renovating, remains upbeat over the future use, and safety, of hydrogen boilers.
"Yes, we're dealing with hydrogen, but the information is there to ensure boilers are safe. We need to look at how safe our infrastructure is, which can be done through annual inspections, and this will be especially important when the government changes the mix of hydrogen blend within the gas network.
"Another way to mitigate the risks is to have a transition period. For example, hydrogen is not compatible with steel pipes, so there's a lot of transitions that need to happen: it may be that every house which uses a hydrogen boiler needs to be checked first."
Are They a Viable Alternative to Heat Pumps?
While renewable tech such as air source heat pumps and ground source heat pumps, which run off electricity, will be vital in heating our homes, this technology will not be suitable for all homes.
This is where hydrogen boilers can step in. But experts believe that the future of renewable heating will comprise both solutions.
Rick Bruins, business development manager at Remeha, part of BDR Thermea Group (opens in new tab) in the Netherlands. told Homebuilding & Renovating that a small heat pump would be effective for tackling outside temperatures up to 0ºC, then when it starts to freeze, the hydrogen boiler would begin to heat up the home.
"Installing a heat pump with enough power to heat a home which is -10ºC is very expensive, but hydrogen is expensive too, so the combination of the two would make for a cost-effective solution," said Bruins.
Jack has worked in journalism for 11 years and is the News Editor for Homebuilding & Renovating, a role he has had since 2019. He strives to break the most relevant and beneficial stories for self builders, extenders and renovators, including the latest news on the construction materials shortage and hydrogen heating. In 2021 he appeared on BBC's The World at One to discuss the government's planning reforms.
He enjoys testing new tools and gadgets, and having bought his first home in 2013, he has renovated every room and recently finished a garden renovation.
Homebuilding & Renovating Newsletter
Get the latest news, reviews and product advice straight to your inbox.
Thank you for signing up to Homebuilding. You will receive a verification email shortly.
There was a problem. Please refresh the page and try again.