Gas Boiler Ban: What Homeowners Need to Know
It's not yet known when the gas boiler ban will begin, but it will have a big impact on homes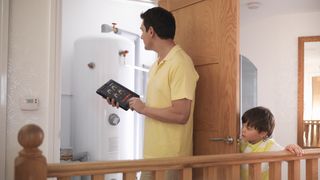 (Image credit: Getty Images)
The natural gas boiler ban could begin in 2026 as the government advances its net zero drive, but concerns remain over costs.
Natural gas boilers are due to be banned from new homes by 2025, and the Heat & Buildings Strategy expected this month is likely to confirm the ban date for existing homes. 
The strategy has been delayed due to disagreements inside government about the cost of plans, and this week the GMB union warned that the gas boiler ban could be expensive and disruptive for homeowners, and called for a programme to be introduced which can convert domestic heating systems to use green gases such as hydrogen. 
This is everything you need to know about the forthcoming gas boiler ban, and how it could affect your home. 
Why Will There Be a Gas Boiler Ban?
Banning the sale of fossil fuels is an inexorable step towards net zero. The gas boiler ban was announced by the government in 2019 to improve the energy efficiency of the 29 million homes in the UK, only one million of which use low-carbon heating systems, according to the Climate Change Committee (CCC).
Natural gas boilers are seen as one of the biggest barriers to the net zero target — they produce 58.5 million tons of carbon dioxide a year, compared to 27 million cars emitting 56 million tons annually, the National Housing Federation says.
This makes homes a bigger threat to the climate than cars, and poor insulation and gas central heating systems are commonly to blame for heat loss in homes. Slashing these greenhouse gas emissions and any remaining emissions offset would dramatically slow the impact of climate change.
As part of the Future Homes Standard, no new homes will be able to connect the gas network from 2025 - they will instead be equipped with energy-efficient insulation and heated by a low-carbon heating source.
As for existing homes, ministers had reportedly been considering a cut-off date of 2035 for when natural gas boilers will no longer be sold, but this is far from straightforward. Ministers reportedly fear the process of removing them from around 25 million existing homes will take another decade. 
What Will Replace Gas Boilers in 2025?
Heat pumps
Heat pumps offer a climate-friendly heating solution as an alternative to natural gas boilers. The CCC urged the government in June to give free heat pumps to poorer households, but Whitehall is reportedly concerned about how to encourage homeowners to remove their existing boilers.
The cost of installing an air source heat pump or ground source heat pump can range between £6,000-£18,000, and a recent report by the Energy and Utilities Alliance revealed 80% of people said that this was either too excessive and they couldn't afford to pay (54%), or that they would pay it only with financial support (26%). 
In July, Mr Johnson told a panel of lawmakers in Parliament that heat pumps are still too expensive for homeowners, and in August he reportedly decided to push the gas boiler ban back until 2040 due to a backlash over the cost of replacing natural gas boilers. 
Hydrogen boilers
Hydrogen heating, meanwhile, is another promising alternative. The government's Hydrogen Strategy published in August revealed the government's intentions to consult later this year on the case for enabling, or requiring, new natural gas boilers to be easily convertible to use hydrogen ('hydrogen-ready') by 2026.
A hydrogen-ready boiler is intended to be a like-for-like swap for an existing gas boiler, and while long-term running costs are unknown, experts estimate that installation costs will range between £1,500 and £5,000.
However hydrogen boilers are not yet available, despite the remarkable developments of 100% hydrogen boilers in the UK from Baxi Heating and Worcester Bosch. 
Other replacements for your gas boiler include:
Will my Energy Bills go up?
The Heat and Buildings Strategy is likely to propose a levy for homeowners with natural gas boilers, which would be used to fund lower-carbon alternatives such as heat pumps and hydrogen boilers.
Meanwhile, the government could offer £7,000 grants on the Clean Heat Grant to help homeowners replace their natural gas boilers. The Clean Heat Grant will replace the Renewable Heat Incentive (which is still open for applications) next year. 
Heat pumps are are three to four times more efficient than traditional boilers, according to the Energy Saving Trust, and a standard air source heat pump installed in an average-sized, four-bedroom detached house would be between £395 and £425 cheaper to run a year than an old "G-rated" gas boiler.
Earlier this year, the Green Homes Grant - which had offered homeowners up to £5,000 to have heat pumps installed - was scrapped, but The Sun reports one government proposal being considered is to financially assist homeowners would be through a 'carbon dividend' - an annual rebate covering the cost of higher gas bills that would result from new carbon pricing. 
A secondary version of the Green Homes Grant is expected in the autumn Spending Review. 
So When Will The Ban Happen?
Ministers had been discussing a cut-off date of 2035, but Mr Johnson's reported delay of the ban could be designed to help households make the transition to low-carbon heating systems.
The announcement in the Hydrogen Strategy means the 2026 date is now firmly in the mix. But by reportedly delaying the cut-off until 2040, it is possible Mr Johnson is banking on the cost of heat pumps falling and buying more time for hydrogen boilers to be brought to market. 
We will know more once the Heat and Buildings Strategy is published in September.
What Was the Gas Boiler Scrappage Scheme?
The Gas Boiler Scrappage Scheme was announced by the government in 2009 to help 125,000 homes with a G-rated boiler update to a modern condensing boiler. This was designed to help them reduce their energy bills and carbon emissions. 
The voucher scheme was discontinued in 2010 due to funding problems, but you can still find assistance to help lower the cost of replacing an old boiler: 
Energy Company Obligation (ECO): this is offered to low-income and vulnerable households to improve their heating through insulation, heating controls and replacing inefficient and broken boilers
Boiler finance: some private lenders will pay for your new boiler in monthly instalments over 3, 5, 7 or 10 years
Jack is News Editor for Homebuilding & Renovating, and strives to break the most relevant and beneficial stories for self builders, extenders and renovators, including the latest news on the construction materials shortage and planning reforms. Having bought his first home in 2013, he and his wife have renovated almost every room and recently finished a garden renovation.
Homebuilding & Renovating Newsletter
Get the latest news, reviews and product advice straight to your inbox.
Thank you for signing up to Homebuilding. You will receive a verification email shortly.
There was a problem. Please refresh the page and try again.