Gas Boiler Ban: Will You Have to Swap Your Existing Boiler?
By Jack Woodfield published
A gas boiler ban could impact new and existing homes - here's what you need to know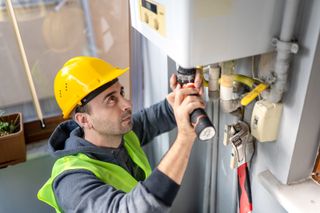 (Image credit: Getty Images)
A gas boiler ban has long been reported to be coming into effect, which could have had a stark impact on UK homes. Following the Heat & Buildings Strategy, we know there won't be a blanket ban, however homeowners are being advised that natural gas boilers will be phased out in the push towards net zero.
A gas boiler ban from 2035 had been anticipated as part of the Strategy published in October, meaning millions of homeowners might have had to remove their boilers and replace them with low-carbon alternatives.
Natural gas boilers are seen as one of the biggest barriers to the net zero target, and the government's target is for all new installations to use low-carbon technology, such as air source heat pump or ground source heat pumps or hydrogen boilers, by 2035.
This is everything you need to know about the gas boiler ban, and what it could mean for your home.
Will There be a Gas Boiler Ban?
For existing homes, there won't be an explicit, outright ban on gas boilers, and the Heat & Buildings Strategy confirmed that no one will be forced to remove them from their homes.
Instead, the government outlined a slightly softer approach to UK homes transitioning from natural gas to more sustainable heating sources.
To incentivise the transition to new, low-carbon systems, it announced that the Boiler Upgrade Scheme will launch in April 2022, to bring down the cost of installing heat pump technology to ensure that they cost the same to install as a gas boiler.
This is part of the government's plan to gradually phase out gas boilers over time as the market skews towards these alternative systems.
For new homes, it has been expected as part of the Future Homes Standard that no new homes will be able to connect the gas network from 2025. Instead, they will be equipped with energy-efficient insulation and heated by a low-carbon heating source.
But the government said in the Heat & Buildings Strategy that it now plans to consult on whether it is "appropriate" to prevent new build homes from being connected to the gas grid in England from 2025.
The prospective gas boiler ban is yet to be officially confirmed within the Future Homes Standard guidance.
Why do we Need a Gas Boiler Ban?
Banning the sale of fossil fuels is an inexorable step towards net zero. A gas boiler ban was announced by the government in 2019 to improve the energy efficiency of the 29 million homes in the UK, only one million of which use low-carbon heating systems, according to the Climate Change Committee (CCC).
Natural gas boilers are seen as one of the biggest barriers to the net zero target — they produce 58.5 million tons of carbon dioxide a year, compared to 27 million cars emitting 56 million tons annually, the National Housing Federation says.
This makes homes a bigger threat to the climate than cars, and poor insulation and gas central heating systems are commonly to blame for heat loss in homes. Slashing these greenhouse gas emissions and any remaining emissions offset would dramatically slow the impact of climate change.
What Gas Boiler Alternatives are There?
The government is focusing on the development of two key heating systems for the future of home heating in the UK: heat pumps and hydrogen boilers.
Heat pumps
Heat pumps offer a climate-friendly heating solution as an alternative to natural gas boilers, however, they are, at present, an expensive technology to install comparatively, with the cost of installing an air source heat pump or ground source heat pump can range between £6,000-£18,000.
The Boiler Upgrade Scheme, starting in April next year, which will see new grants of £5,000 and £6,000 available to homeowners installing heat pumps. In some cases, such as with the installation of an air source heat pump, this could bring the cost of installation to a similar level as that of a new gas boiler.
While the Boiler Upgrade Scheme is only set to run for three years, the Heat & Buildings Strategy also outlines that the government will work with industry to bring down the cost of heat pumps, ensuring they cost the same to buy and run as gas boilers by 2030. This includes a £60 million Heat Pump Ready innovation fund to make heat pumps smaller and more cost effective, as well as plans to reduce the cost of electricity over the next decade, shifting the burden of levies from electricity to gas.
"With the right policy framework in place, we're confident the cost of a heat pump can be reduced by up to half over the coming years," said Michael Lewis, Chief Executive of E.ON UK.
Hydrogen boilers
Hydrogen heating is another route that the government is exploring for de-carbonising home heating, however, the strategy outlines that a decision on the future of hydrogen in the energy mix won't be decided until 2026, informed by the results of the Hydrogen Village pilot scheme.
The government's Hydrogen Strategy published in August revealed the government's intentions to consult later this year on the case for enabling, or requiring, new natural gas boilers to be easily convertible to use hydrogen ('hydrogen-ready') by 2026.
A hydrogen-ready boiler is intended to be a like-for-like swap for an existing gas boiler, and while long-term running costs are unknown, experts estimate that installation costs will range between £1,500 and £5,000.
Hydrogen boilers are not yet available, despite the remarkable developments of 100% hydrogen boilers in the UK from Baxi Heating and Worcester Bosch.
Other replacements for your gas boiler include:
Will my Energy Bills go up?
The Heat and Buildings Strategy has proposed shifting levies from electricity to gas in order to reduce the running costs of heat pumps. How this will operate is unclear, however, it does mean that gas prices could increase.
Heat pumps are are three to four times more efficient than traditional boilers, according to the Energy Saving Trust, and a standard air source heat pump installed in an average-sized, four-bedroom detached house would be between £395 and £425 cheaper to run a year than an old "G-rated" gas boiler.
What Was the Gas Boiler Scrappage Scheme?
The Gas Boiler Scrappage Scheme was announced by the government in 2009 to help 125,000 homes with a G-rated boiler update to a modern condensing boiler. This was designed to help them reduce their energy bills and carbon emissions.
The voucher scheme was discontinued in 2010 due to funding problems, but you can still find assistance to help lower the cost of replacing an old boiler:
Energy Company Obligation

(opens in new tab)

(ECO): this is offered to low-income and vulnerable households to improve their heating through insulation, heating controls and replacing inefficient and broken boilers
Boiler finance: some private lenders will pay for your new boiler in monthly instalments over 3, 5, 7 or 10 years
Jack has worked in journalism for 11 years and is the News Editor for Homebuilding & Renovating, a role he has had since 2019. He strives to break the most relevant and beneficial stories for self builders, extenders and renovators, including the latest news on the construction materials shortage and hydrogen heating. In 2021 he appeared on BBC's The World at One to discuss the government's planning reforms.
He enjoys testing new tools and gadgets, and having bought his first home in 2013, he has renovated every room and recently finished a garden renovation.
Homebuilding & Renovating Newsletter
Get the latest news, reviews and product advice straight to your inbox.
Thank you for signing up to Homebuilding. You will receive a verification email shortly.
There was a problem. Please refresh the page and try again.