Sixth Carbon Budget Recommends One Million Heat Pumps to be Installed Per Year by 2030
The Sixth Carbon Budget comprises a series of recommendations to improve the energy efficiency of our homes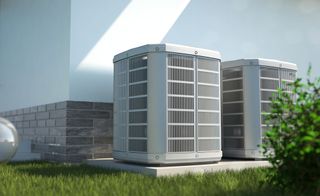 (Image credit: Getty Images)
The Sixth Carbon Budget recommends that over one million heat pumps should be installed per year by 2030 to increase the energy efficiency of our homes. 
The landmark report from the Climate Change Committee (CCC) also recommends that hydrogen heating trials should be rapidly scaled up, to help enable rapid grid conversion from 2030.  
The report has received industry praise for its recommendations, which are designed to help the UK reach net zero emissions by 2050. It follows the government's 10-point plan in November which confirmed new funding for hydrogen heating and a pledge to install 600,000 heat pumps per year by 2028.
Sixth Carbon Budget Sets Heat Pumps Target
The CCC recommends that no new gas boilers should be installed in existing homes beyond 2033 (or 2025 for new homes), and as such, the supply chain for heat pumps in the UK will need to scale up. 
Heat pump sales must reach over one million per year in new and existing homes by 2030, the CCC says – up from around 20,000 per year today – in order to meet this target. 
"The key date of 2033 balances the need to scale up heat pump supply chains sustainably, while allowing for a small amount of headroom over a typical 15-year boiler stock turnover before 2050," the report states. 
The CCC recommends that high-carbon fossil fuel boilers not connected to the gas grid should be phased out of homes by 2028. 
Hydrogen Trials to Ramp Up
Another recommendation is that existing district heating networks will switch to low-carbon sources, such as hydrogen, in the 2030s. 
Hydrogen trials should therefore be scaled up rapidly in the next 10 years to enable rapid grid conversion from 2030 onwards.
The Government's Hydrogen Strategy is due to be published in spring 2021, and the CCC says this will need to set out a vision for hydrogen's role in meeting net zero in the longer term, alongside developing hydrogen's role in homes over the next decade.
Worcester Bosch's hydrogen boiler prototype was entered into its first field trial in October, and earlier this month a world first trial began in Scotland where hundreds of homes will use 100% green hydrogen to heat their properties and cook their meals. 
Positive Reaction
Phil Hurley, Managing Director at NIBE Energy Systems, said: "The Sixth Carbon Budget provides the government with the route map it needs to develop its policy pathway to net zero. Installers and the wider supply chain are key to delivering on these recommendations; this must be recognised and acknowledged with urgency.
"We have already seen some positive announcements from the government in recent months, including the target to deploy 600,000 heat pumps per year by 2028, and an emissions reduction of 68%. Today's Budget sends a signal, however, that more must be done."
Derek Horrocks, Chairman of the National Insulation Association, added: "It is brilliant to see the Committee on Climate Change's Sixth Carbon Budget. As we leave this difficult year behind us, 2021 represents the start of increased ambition and action. A long-term strategy accompanied with direct support for high quality household energy efficiency upgrades is essential to build on the momentum now being created."
Homebuilding & Renovating Newsletter
Get the latest news, reviews and product advice straight to your inbox.
Thank you for signing up to Homebuilding. You will receive a verification email shortly.
There was a problem. Please refresh the page and try again.