Sixth Carbon Budget: Plan to Cut Emissions by 78% by 2035 Backed by Boris Johnson
By Jack Woodfield published
The Sixth Carbon Budget will set the 'world's most ambitious' targets to combat climate change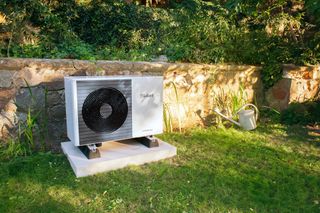 (Image credit: Vaillant)
The Sixth Carbon Budget will set the 'world's most ambitious' climate change targets, the government has pledged, as the UK bids to reduce emissions by 78% by 2035.
The Sixth Carbon Budget, a landmark report released in December by the Climate Change Committee (CCC), made a series of recommendations to help the UK reach net zero emissions by 2050.
One of these recommendations was to deliver a 78% reduction in emissions from 1990 to 2035, and Prime Minister Boris Johnson has confirmed this will be actioned. The new target will become enshrined in law by the end of June 2021, with legislation set to be introduced today in Parliament.
However, despite recommendations for over one million heat pumps to be installed per year by 2030, and for hydrogen heating to be rapidly scaled up, these were not addressed in the government's pledges.
Prime minister Boris Johnson, said: "We want to continue to raise the bar on tackling climate change, and that's why we're setting the most ambitious target to cut emissions in the world."
What is the Sixth Carbon Budget?
The Sixth Carbon Budget covers the period between 2033 and 2037 and has been described by the CCC as the "toughest yet" in order for the UK to become net zero by 2050.
The report received industry praise for its recommendations, and was hailed by Phil Hurley, managing director at NIBE Energy Systems, for "providing the government with the route map it needs to develop its policy pathway to net zero".
The December report followed the government's 10-point plan in November. which confirmed new funding for hydrogen heating and a pledge to install 600,000 heat pumps per year by 2028.
What Happens Now?
The government has been working towards reducing emissions in 2030 by at least 68% through the UK's latest Nationally Determined Contribution, but this will now be ramped up.
To help achieve the 78% reduction, the Sixth Carbon Budget will incorporate the UK's share of international aviation and shipping emissions. There will also be a focus on domestic low-carbon industries like nature restoration, green hydrogen production and Carbon Capture, Utilisation and Storage (CCUS). Plus, UK electricity production will have to reach net zero by 2035.
The CCC says delivering the remainder of the progress will require behaviour change, such as the adoption of electric vehicles (all new cars and vans will need to be zero-carbon in operation by the early 2030s), and reducing demand for flights and red meat.
Moreover, the government will need to allocate £50bn more to decarbonisation each year by 2030 than it did in 2019. However, the CCC says that by 2040, savings from fossil fuel allocations will overtake low-carbon costs.
(MORE: How to charge electric cars at home)
Homes Will Need to be Retrofitted
Around 14% of the UK's carbon emissions comes from heating our homes, and it is expected that the majority of existing UK homes will need to be retrofitted in some way to help reach net zero by 2050.
The CCC recommended in the Sixth Carbon Budget that no new gas boilers should be installed in existing homes beyond 2033 (or 2025 for new homes), and as such, the supply chain for heat pumps in the UK will need to scale up.
This message was echoed by Brian Berry, chief executive of the Federation of Master Builders, who said: "The Prime Minister's target to cut carbon emissions by 78% by 2035 will help accelerate the UK's transition to a low carbon economy, but the building industry needs a National Retrofit Strategy to have the confidence it needs to invest in greening our homes.
"Our homes use 35% of the UK's total energy usage and emit 20% of carbon dioxide emissions. Net zero will only be possible with a long-term plan to green our homes."
The government recently scrapped its flagship Green Homes Grant scheme, but will have been buoyed by Energy Performance Certificate figures this month revealing 84% of new homes in England are built to EPC grade A and B.
What's the Reaction Been?
In response to the government's pledge on Tuesday, Jeff House, head of external affairs at Baxi Heating, which has produced a 100% hydrogen boiler that is currently undergoing trials, said: "This world-first commitment to adopt the emissions cut as advised by the CCC is a monumental pledge.
"But while low-carbon technologies [such as heat pumps and hydrogen boilers] will help in this transition, there are still challenges. One of the biggest barriers to achieving the scale of ambition will be consumer acceptance. Consumer engagement should start now, to help increase understanding of the need for low-carbon technology and the role it will inevitably play in meeting these goals.
Harriet Lamb, chief executive of Ashden, called for greater clarity from the government. "We welcome the government goal of reducing UK emissions by at least 68% by 2030. And we're saying to government – please show us the plan," she said.
"To cut emissions, we need stable, long term, funded policies and plans including to tackle priorities such as buildings and heating. For example, they could start with a plan to support schools to decarbonise, and fulfil their ambitions to be green community champions.
"Then they could provide the resources to colleges and apprenticeship programmes for training in green skills – we can only get to zero carbon if people are trained in how to install heat pumps and retrofit buildings."
Jack has worked in journalism for 11 years and is the News Editor for Homebuilding & Renovating, a role he has had since 2019. He strives to break the most relevant and beneficial stories for self builders, extenders and renovators, including the latest news on the construction materials shortage and hydrogen heating. In 2021 he appeared on BBC's The World at One to discuss the government's planning reforms.
He enjoys testing new tools and gadgets, and having bought his first home in 2013, he has renovated every room and recently finished a garden renovation.
Homebuilding & Renovating Newsletter
Get the latest news, reviews and product advice straight to your inbox.
Thank you for signing up to Homebuilding. You will receive a verification email shortly.
There was a problem. Please refresh the page and try again.