Eco Heroes: 9 Green Products to Consider in Your Self Build
By Claire Lloyd Contributions from Amy Reeves published
In search of eco heroes for your project? We've asked self build and renovation experts to pick their favourite green innovations to celebrate Earth Day 2022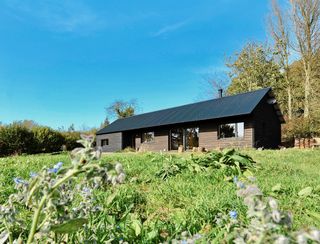 (Image credit: EcoCocon)
Eco heroes in the world of self build and renovation are coming to the fore as we look to find more sustainable ways to build and run our homes.
Creating an eco house can mean different things to different people. Perhaps you're set on including natural materials or keen to reduce the carbon footprint of your home? Or, maybe your aim is to create a low-energy home, which is not just kind to your purse in the long-run, but to the planet, too. In many respects, creating a greener home is about all of the above and more.
Here, homebuilding experts pick some of their favourite suppliers, green building materials and products for self build and renovation projects. Some are new and innovative materials; others are products which have been around for a number of years and have been tried and tests by our experts.
Our Eco Heroes
1. Wireless Heating Zone Control
My first eco hero is a small product which can make a big difference to your heating bills. Many homes the central heating system is controlled via a single thermostat or if you are lucky, one on each floor. The thermostat is usually in the hallway and therefore only really reacts to the temperature in that space.
The rooms on the south side of the home may be too warm and the rooms on the north side may be too cold. As such, I'm a big fan of wireless heating zone control.
Motorised radiator valves are available from a number of suppliers that simply replace the thermostatic radiator valves (TRVs) on the radiator. A central controller or mobile device can be used to set the temperature in each room; the temperatures in the room can also be controlled on the valves themselves as well as via other smart devices.
You do not need to drain the system as the old TRV simply twists off and the new wireless motorised valve is twisted on in its place. These systems provide complete wireless room-by-room control of the heating in your home and some of them can also control other operations such as turning on lights.
Eco expert David Hilton
2. Green Building Store
A decade ago, Green Building Store's generous sharing of learning, experience and expertise set me on the path to working with Passivhaus. Their website continues to be an amazing resource that should be in every energy-conscious self builder's bookmarks for great advice and products.
Many of our projects have some GBS input; whether it's one their products, or advice. Their windows, in particular, are the best combination of quality, performance and value that we've found on the market.
They also supply a great range of airtightness tapes and niche insulations. Recently GBS joined forces with Enhabit to offer more consultancy and design services, making them one of the best one-stop-shops in the UK.
They are one of the shining lights of the sustainable building industry and easily qualify as one of my go-to eco heroes.
Architect Paul Testa, of Paul Testa Architecture
3. Recycled Brick
My eco hero material of choice is a new and innovative brick made from 90% waste material. With the construction industry contributing over 40% of carbon emissions to our atmosphere, this brick, that uses only a tenth of embodied carbon compared to standard bricks, is a brilliant solution to solving this problem.
The use of locally manufactured bricks also responds to the construction material shortage in the UK (we import almost 25% of bricks used in the UK), and addresses our commitment as we strive to become a zero-waste economy.
There are a few companies currently rethinking how we use brick: one is StoneCyclng, based in the Netherlands; another is Kenoteq's K-briq, based in Scotland.
K-briq is made from 90% construction and demolition waste, which is blended with their 'secret sauce', and then compressed, rather than the energy-intensive firing used in creating our traditional brick and its associated fossil fuels.
Architect Tara Gbolade of Gbolade Studios
4. Innovative Straw Bale Construction
Self builders have thousands of decisions to make, but some decisions carry much more weight than others. Your choice of construction system will dictate the health of your new home and a large part of its embodied energy.
That's why I'm impressed with EcoCocon. It's a timber panel system that uses compressed straw as an infill and it's a Passivhaus-certified component. So if you've been tempted to build with straw bale but worried about the consistency and detailing, this takes away a lot of the risk.
It also gives you the opportunity to have a beautiful clay plaster finish internally. If you use the system in this way, one challenge is making sure you specify a suitable breather membrane to wrap the house, in order to eliminate moisture build-up. However high performance, using natural building materials are a highly desirable option.
Podcaster and eco-enthusiast Ben Adam-Smith
5. Viroc Composite Cladding

We are proposing to use Viroc panels as an external house cladding material for a project based on the Suffolk coast. Viroc is a composite material made from a compressed, dry mixture of pine wood particles and cement. It combines the flexibility of wood with the strength and durability of cement and can be used internally and externally, which can enhance an inside/outside connection.
It is a non-toxic and eco-friendly material that comes in a variety of hues and finishes, including one that exposes the wood particles on the surface.
Viroc has acoustic and insulative properties and can be cut off site to reduce wastage and construction time.
It is also a very durable material which we hope will stand up against the extreme weather conditions of the coast. BBS Facades is the main UK distributer of the product, which is made in Portugal.
Architect Nimi Attanayake of nimtim architects
6. High-Performance Airtightness Tape
Airtightness is a key element of achieving great energy efficiency, thermal comfort and air quality.
We need to think carefully about designing airtightness strategies that minimise joints and awkward junctions. However, there will always be the need for some airtightness tapes to complete joints robustly.
Tescon Vana is probably the most common tape on high-performance airtight builds in this country. It's tough, flexible, stretchy and with fantastic adhesion; perfect for long-lasting airtight seals.
Since completing our build, I still make sure we have a roll in the house as it's also the best multi-purpose repair tape you can find. I've used it to patch a pin hole in a waste pipe; to seal tears in a paddling pool; and to fix the hose on a vacuum cleaner! This is testament to its robust effectiveness.
Green architect Paul Testa
7. Wood Fibre Insulation
In our efforts to move away from using standard petrochemical-based insulation products, wood fibre insulation can have a huge part to play in achieving low carbon, healthier and energy-efficient buildings towards our 2050 carbon targets.
Pavaflex is a flexible insulation panel of natural wood fibres. The product is harmless to cut on site, and easily fits between components, such as a timber frame.
Combined with other bio-based materials such as hemp, lime and clay plaster, and natural finishing paints, the resulting indoor air quality can contain low to zero volatile organic compounds to enhance wellbeing.
It is a great and versatile product, and key to reducing the operational and embodied carbon emissions of buildings.
Architect and director of Outpost Studio, Robin Sjoholm
8. A Cleaner Ventilation Solution
Mechanical ventilation involves getting fresh air into your home and taking stale air and pollutants out. But what happens when the air you bring in is not exactly fresh? You may live near a busy road, there may be lots of pollen in the air, or possibly dust or pollution from local industry.
Step in the Blauberg CleanBox: the filter box cleans the air entering your mechanical ventilation system, whether it's MVHR (mechanical ventilation with heat recovery) or simply a forced air ventilation fan.
It has three sets of filters: a coarse dust filter; a PM2.5 particulate filter, which protects against particles and aerosols 2.5 micrometres wide; and a NOx filter, which filters fumes from petrol and diesel engines.
The Blauberg CleanBox ranges in price from around £250 to £400 depending on duct diameter. In my view, it's a very good addition to a home ventilation system in homes where clean air is a priority.
David Hilton
9. Hemp Blocks
Hemp blocks are made of hemp shiv (the chopped up woody core) and hydrated lime. Hemp is fast growing and better than commercial forestry at sequestering carbon — and its long tap roots help to regenerate the soil.
Beyond the relatively light processing and transportation emissions, the materials can be understood to be carbon neutral (or carbon negative if you count the sequestration). The material is non-toxic, can be fully recycled at the end of the building's lifespan and also has insulative, thermal mass and acoustic benefits.
Although hemp construction is limited by the seasons, because you can't cast hempcrete out of doors in the winter, the panels are factory-made and dried off-site so construction can take place at speed and year-round.
Architect Nimi Attanayake
Claire is Editor of Homebuilding & Renovating and has been a member of the team for over 13 years. An experienced homes journalist, her work has also appeared in Real Homes and Period Living magazines. She has a particular interest in green homes, and interior design is also a passion; she has undertaken qualifications in this area. Claire has recently finished her renovation project — and is now onto the next.
With contributions from
Homebuilding & Renovating Newsletter
Get the latest news, reviews and product advice straight to your inbox.
Thank you for signing up to Homebuilding. You will receive a verification email shortly.
There was a problem. Please refresh the page and try again.