How to Build with Straw Bale
By Barbara Jones published
Barbara Jones, an expert on building with straw bale, explains why this natural, strong and thermally efficient material could be a cost-effective choice for your self build or extension project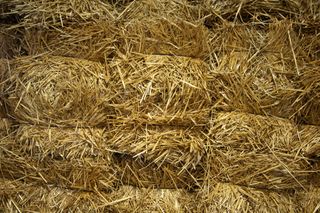 (Image credit: getty images)
Building with straw bale makes good sense: no other building material is as easy to build with, provides so much insulation for so little cost or stores as much carbon within itself. Another advantage of straw bale buildings is their longevity. If they are designed and built well with appropriate materials, and maintained throughout their lifetime, they should last more than 200 years.
It is also usually a joyful and collaborative experience to build your own house from straw. Straw bale building sites are often full of enthusiastic people who are willing to work hard to achieve quality work.
So why do most people still build with masonry?
The answer is simple: lack of knowledge and awareness. Most builders prefer to stick with what they already know.
Yet there are hundreds of homes throughout the UK made entirely of straw and other natural materials. There are an equal number of extensions and garden offices made from the same materials.
Different Ways to Build With Straw Bale
There are different ways of building with straw. The four main ones are:
The load bearing or Nebraska method, where the straw acts as structure, insulation and surface for plaster — for this type of build, there is no need for a frame.
The infill or timber frame method, where the straw is only used as insulation and a surface for plaster.
Hybrid methods, which combine the best of both techniques and are used especially where lots of glazing is required on one wall.
Using prefabricated timber/straw panels.
These eco homes (above) form a 20-household co-housing development in Leeds. They were constructed using the ModCell straw bale system.
The prefabricated building method involves setting up a small factory nearby to build the walls. The walls are covered in a mix of lime render and cedar panelling.
Whichever straw bale building method you choose, the largest part of the build is actually carpentry (opens in new tab). The most successful people building with straw for the first time are those with strong skills in this area.
Straw walls are only a relatively small part of the build (about 18 per cent when plastered).
Apart from a few basic design principles that must be followed, the rest of the build is really similar to a build in any other material.
Designing a Straw Bale Home
Unless you are already an experienced builder, you should keep designs as simple as possible. This will make the build manageable both in time and in cost. Having said that, very large open spaces can be designed with straw — it is the design of the roof trusses that make this work, not whether the walls are straw.
Large expanses of glazing can be designed in, using hybrid techniques, as well as two- and three-storey houses without frames. There's no limit to house height or number of storeys if you do use a frame.
Any openings that are too large for true load bearing can be hybridised with a frame. This only requires knowledge and experience of how the rigid (frame) parts interact with the flexible (straw) elements.
Whatever size and complexity you are aiming for, the mantra for straw bale design is the same as for all natural buildings: 'a good hat, a good pair of boots, and an overcoat.'
In other words, an overhang of 450mm, a plinth wall of 300-450mm, and a weatherproof but vapour-permeable external plaster.
Straw Bale Extensions
When it comes to extensions to existing masonry or timber houses, it's very easy.
At Straw Works, we prefer to do extensions in the load bearing style, because we think they're very beautiful, and it keeps the cost down. They attach to the existing house wall with a simple slip joint — a vertical timber attached to the wall around which the straw is notched, and then plastered.
DIY or Specialist Subcontractor for your Straw Bale Project?
All straw buildings and extensions can be self built, with most self builders buying in expertise for some aspects of the work such as roofing, plumbing and electrics. They may commission a specialist company to run training courses for the straw, lime and clay, and then do the rest themselves with mentoring.
If you want a cost-effective, thermally efficient home, we recommend having experienced people on site during the straw part of the build. There are quite a few techniques that will make your house more airtight (opens in new tab) and more thermally efficient, and if you don't know them, you can't apply them.
Quality building takes a little longer, but pays off in the end in reduced heating and fuel bills.
Straw bale houses can achieve Passivhaus standard (airtightness of 0.6 air changes per hour).
Standard design with quality work can achieve an airtightness result of 2.6 air changes per hour, which is more than enough for most builds.
Dry Conditions are Key
One potential difficulty when building with straw is the need to keep the straw dry during construction. If the moisture content of the bales gets above 20 per cent, they rot, so the time that the straw is vulnerable to the weather should be kept to a minimum.
It's good practice to design the building so that the roof can be in place before the straw is installed, even for load bearing designs, where the roof can be temporarily propped. That said, this does not necessarily protect the straw as wind can bring rain in under any roof.
What is also required is prefabrication of all timber elements and installation of the straw elements only when all the carpentry is ready. Ideally, scaffolding should be sheeted in or, for smaller buildings, several tarpaulins can be hung from the eaves.
Plastering and Decorating with Straw Bale
To keep a straw bale house healthy, it must be plastered and decorated with vapour permeable – 'breathable' – materials. These are external lime plasters and internal clay plasters, with limewash or clay-based paints.
In more severe weather conditions, timber cladding (opens in new tab) may be required over the lime plaster to provide additional protection.
Modern cement and gypsum plasters are not suitable for a natural house, as they will create damp in the long term – typically 30 or 40 years after building – and cause condensation (opens in new tab) in wet areas very quickly.
Natural plasters do not do this as they deal with moisture in a different way, by absorbing it when humidity is high and releasing it when it lowers. This attribute is another of the benefits of living in a straw bale house — the healthy internal atmosphere, free from toxic off-gassing and free from mould caused by condensation.
Lime plaster should not be applied externally when there is any risk of frost within the three months following application, or it may fail. This means your house should be plastered by mid-September, or left protected over the winter till the following May.
Building Regulations and Statutory Inspections
Most building inspectors know that straw bale buildings are not a fire risk and are extremely strong.
It's also possible to work with private Building Control companies for your building inspections, instead of local authorities. Many of these private companies have plenty of experience of natural materials (opens in new tab).
How Much Does it Cost to Build with Straw Bale?
It is possible to self build in straw bale for around £650/m2 for a finished home.
You can get this price even lower if you spend more time making your own lime plaster. You may lower the cost if you put in more of your own time instead of paying for someone else's.
Given that most people are not able to work full-time on their project, most self build houses take two years to complete. The structure and weatherproofing goes up in the first year, and the internal work in the second.
This cost compares with a contract build price of around £1,200-£1,500/m2 not including internal fittings.
Homebuilding & Renovating Newsletter
Get the latest news, reviews and product advice straight to your inbox.
Thank you for signing up to Homebuilding. You will receive a verification email shortly.
There was a problem. Please refresh the page and try again.