Clay Plaster: Pros, Cons and Where to Use it
By Hugh Metcalf published
Clay plaster not only looks beautiful, but it has some brilliant eco-credentials for a more sustainable, healthier home too. Here's what you need to know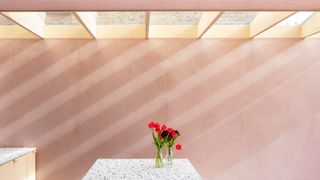 (Image credit: Fernando Manoso for McMahon Architecture)
Clay plaster might be a big trend in interior design right now, but it's nothing new —in fact, clay plasters have been used in the building of shelters for over 9,000 years.
This huge resurgence in interest for using this material for plastering walls in recent years is thanks not only to its characterful finish, but also its eco-friendly qualities that make it both more environmentally friendly and healthier to use in the home.
If you've been inspired to use clay plaster in your home but want to find out more, we spoke to Clare Whitney from clay plaster specialists Clayworks (opens in new tab) for the low-down on what you need to know.
What is Clay Plaster?
Clay plaster is a type of plaster that uses natural clay as the binding element —this is mixed with aggregates and natural fibre to create the plaster mixture.
"Clay is formed by natural mineral deposits that accumulate in the ground over thousands of years," explains Clare. "Over time, rainwater flushes out all of the soluble material from the deposits leaving natural pure clay. The clays are then mixed with other minerals, but they are not processed and not fired, leaving a raw natural product."
The resulting plaster is used for walls and ceilings, creating a signature matt, textured finish that's become a desirable look in interior design. Generally, these clay plasters include a colour pigment in their make-up, and are left exposed and unpainted.
Where Should You use Clay Plaster in the Home?
Clay plasters are suitable for internal use only, but can be used on walls and ceilings in most, but not all, rooms of the home. "Clay plasters are not suitable for areas where there is running or standing water, such as showers, wet rooms, exteriors or behind sinks," expands Clare.
You also need to consider what material you're applying clay plaster to, as it's not suitable for all applications. Clay plasters can be applied onto most substrates including gypsum board, but they're not suitable for applying directly onto wood or metal.
What are the Benefits of Clay Plaster?
Clay plasters have a number of benefits, from their aesthetic appeal to a minimal effect on your home's air quality. These advantages over other forms of plaster include:
Natural and completely free of toxins, polymers, VOCs, formaldehydes and plastics
Creates breathable walls
Minimal carbon footprint
A non-sheen finish that's more matt than alternatives such as Venetian plaster
"Clay plasters are breathable," explains Clare from Clayworks. "This means that they absorb excess moisture from the air, releasing it back as the air dries. This process, known as moisture buffering, will keep the indoor air humidity at between 40-60%."
This humidity level is the ideal range for keeping the likes of viruses, bacteria and dust mites at bay, while also helping to reduce the effects of respiratory illnesses such as asthma.
"Clay plasters, unlike other natural plasters that contain lime, do not require super heating or processing: hence, they have a measurably less carbon footprint," Clare continues. "The greenhouse gasses that are emitted during their lifecycle are almost exclusively down to transport only." Clay plasters are also compostable at the end of life as they're unprocessed and have no artificial additives, making them a cradle to cradle material.
One of the most appealing reasons to choose clay plaster outside of its healthy home benefits is that it has a unique finish, unlike all other plasters. "Clay plasters do not 'set', they do not 'cure', so they retain the raw, soft, cloudy aesthetic rather than developing a sheen."
"This is a look that is becoming so coveted by designers and architects around the world," says Clare, "and with mineral pigments sourced around the world, clay plasters are now available in an extremely wide range of colours including blues and greens."
Are There any Drawbacks?
The only real drawback of using clay plaster is that it's a specialist product, so may benefit from application by someone with experience using it. And with finding a plasterer difficult right now at the best of times, you may have to wait a little longer and pay a little more for a plasterer who specialises or is experienced in clay plaster finishes.
"Across the world good plasterers and passionate DIYers are doing incredible work with our materials," says Clare. "However, there are nuances with the application process regarding timings and details. We recommend using an experienced clay plasterer if you can: there is a wide network across the UK."
Is Clay Plaster More Expensive?
Clay plasters will also cost more than traditional wall plasters, but bear in mind you won't necessarily need to spend out on expensive paint finishes for a clay plaster wall, which may help to balance the budget.
With a good quality plaster costing around £7 to £10 per 25kg bag, you can expect clay plasters to start from around £15 per 25kg bag.
Can you Paint Clay Plaster?
Largely, homeowners choose to use clay plaster because of, not in spite of, its unique finish, and with pigments used in the clay plaster mixture, it can be specified in a range of colours, meaning that painting a wall of clay plaster is a little counterintuitive.
However, if you want to paint clay plaster in the future while retaining its healthy home credentials, it can be painted using a suitable clay or limewash paint. Try Earthborn Paints Clay paint for a solid paint finish.
Is Clay Plaster Worthwhile?
As previously mentioned, there's been a huge increase in the use of clay plasters in contemporary homes in recent years. "This has been partly driven by a renewed appreciation for natural, healthy living and a return to high quality, beautiful materials rather than lots of design features and ornamentation," suggests Clare.
"Clay Plasters can be striking, or humble, extensively used or for bijou feature walls or rooms, but they always aim to improve their inhabitant's living space for health, wellbeing, aesthetic and acoustic comfort."
"The exhilarating way that clay plays with natural light means they are being used in heavily glazed areas, yet the way they create a quiet, sensorial experience means they are equally ideal for less well ventilated or naturally lit spaces."
"The thermal mass, as well as the hygroscopic features of clay help to mitigate against temperature fluctuation, a big attraction for architects, designers and home owners who want more efficient homes."
Hugh is Digital Editor of homebuilding.co.uk and has worked on a range of home, design and property magazines, including Grand Designs, Essential Kitchens, Bathrooms, Bedrooms and Good Homes. Hugh has developed a passion for modern architecture and green homes, and moonlights as an interior designer, having designed and managed projects ranging from single rooms to whole house renovations and large extensions. He's currently renovating a Victorian terrace in Essex, DIYing as much of the work as possible. His current project is a kitchen renovation which involves knocking through walls and landscaping a courtyard garden.
Homebuilding & Renovating Newsletter
Get the latest news, reviews and product advice straight to your inbox.
Thank you for signing up to Homebuilding. You will receive a verification email shortly.
There was a problem. Please refresh the page and try again.