Will the Construction Materials Shortage Continue in 2022?
By Jack Woodfield published
The construction materials shortage is easing, but long lead times and further price increases for some products are expected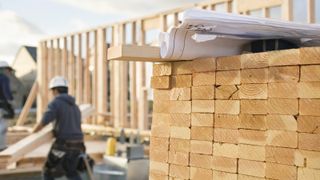 (Image credit: Getty Images)
The construction materials shortage looks likely to continue into 2022 amid construction sector growth weakening in December.
The IHS Markit/CIPS UK Construction purchasing managers' index (PMI) was down in December - which measures construction activity - with the rise of the Omicron variant impacting building firms and causing supply chain disruption.
Latest Subscription Offer
However, in a boost for those working on building projects, the Index also revealed that the number of construction firms reporting supplier delays dropped to 34% in December from 47% in November.
Challenges remain for suppliers relating to capacity of materials, though, the Construction Leadership Council (CLC) has said, and longer lead times and further price increases are anticipated.
If you're in the midst of a self build or renovation, read on to help plan ahead for your project, and learn which materials are facing price rises or shortages.
What's the Latest With the Construction Materials Shortage?
Dwindling supplies of key building materials such as roof tiles, cement and steel impacted the construction industry throughout 2021, and prices rocketed up across several materials.
Material costs rose every month between September 2020-September 2021, according to the BEIS Monthly Statistics of Building Materials and Components report. And prices for all building work soared by 24.5% in October 2021 compared to one year prior.
In a joint statement last month, John Newcomb and Peter Caplehorn, co-chairs of the CLC's Product Availability working group, warned that rising inflation and energy costs, and the uncertainty surrounding the Omicron variant (which could affect production and operations) are all factors affecting the materials shortage.
The impact of full border controls which come into force at the end of last year (affecting imports from the EU into the UK) is a further unknown.
The CLC added, however, that the market is no longer experiencing extremely high levels of demand for materials such as timber and plasterboard seen earlier in 2021. "We are currently seeing an improvement in the supply situation across all regions in the UK, which has taken some pressure off prices."
There has also been progress with getting more HGV drivers on the road to deliver building materials, and the CLC is "hopeful that driver shortages will have less impact on our sector in 2022".
Which Materials are Affected?
Roof tiles
There continues to be long lead times on both concrete and clay roof tiles, averaging around 20-24 weeks, but can be up to 36 weeks for some products, according to the National Federation of Roofing Contractors (NFRC).
"With high demand from the housebuilding industry expected to continue well into 2022, this is not likely to come down any time soon," said Philip Campbell, Head of Policy at the NFRC.
Bricks and blocks
There are "ongoing challenges" with bricks and blocks supply, the CLC says, and demand is expected to be strong well into 2022. This could be a longer-term issue, with the Brick Development Association suggesting that is demand expected to remain high, and lead times will be a problem for the coming year.
Cement
Cement production dropped by 11.4% in 2021, BEIS says, and supplies of bagged cement have been strained since late last year. The CLC has also warned that supplies could fall and prices could rise in the coming weeks.
Timber
The timber shortage in 2021 has eased, and in October the Timber Trade Federation (TTF) reported "record-breaking" imports of timber since the beginning of 2021. But the CLC has warned that border congestion both in the UK and at Scandinavian ports may lead to reduced supplies and higher prices this spring.
There have also reportedly been recent shortages of:
Steel
Concrete
Insulation
Electrical components
PIR insulation
Kitchen carcassing
Aggregates
PE and PP plastics
Screws
Fixing
Plumbing items
Sanitaryware
Shower enclosures
When Will Building Materials Prices Stop Rising?
Prices have increased due to lengthening lead times and increasing demand, which has made it difficult for manufacturers and suppliers to build up stock levels.
78% of housebuilders see the supply and cost of materials as major barrier to delivery, according to a recent survey of SME housebuilders conducted by the Home Builders Federation (HBF).
And in a December Homebuilding & Renovating poll, 96% of respondents said "yes" when asked if they'd struggled to afford the cost of materials in 2021.
These are some of the materials which continue to be affected:
Materials Price Tracker

| | Material | Information |
| --- | --- | --- |
| | Timber | Timber prices remain volatile, and the price of imported sawn or planed wood has increased 69.6% over the last 12 months (BEIS) |
| | Steel | Fabricated structural steel prices jumped 70.6% between October 2020 and October 2021 (BEIS) |
| | Cement | Prices are likely to increase over the next few months due to increased energy costs (CLC) |
| | Paint | The costs of paints and varnishes are up by nearly a third (Construction Products Association) |
| | Chipboard | Chipboard costs went up by 10% in May (Travis Perkins) |
Why is There a Building Materials Shortage?
The construction materials shortage can in part be traced back to increased building and home improvement activity in 2020, particularly during the first lockdown. This led to a slowdown in the production of materials from some factories in the EU, and supply chains have remained stretched ever since.
But while construction output reached a 24-year high in June, demand has not been met by supply, and suppliers' delivery times have lengthened.
Lack of lorry drivers
There is a shortage of more than 100,000 drivers in the UK, out of a pre-pandemic total of about 600,000, according to a survey of Road Haulage Association member estimates.
Labour challenges
Labour rates have skyrocketed in some areas, due to a combination of demand outstripping labour supply, and some trades putting up their rates due to being overwhelmed with work.
The FMB says that 82% of builders have delayed jobs due to a lack of materials, while 60% have pressed pause on a job due to a lack of tradespeople. The survey revealed that the quantities of general labourers, carpenters/joiners and plasterers were all down by 6% since the last survey.
There were 43,000 construction job vacancies between July and September, the first-time this figure has ever risen over 40,000, according to the ONS.
And Noble Francis from the CPA expects 500,000 UK-born workers to leave the industry in the next 10 years as a demographic "bulge" of 50 to 65-year-olds retires.
Brexit uncertainty
Knock-on effects from Brexit remain, with roughly 60% of imported materials used in UK construction projects comes from the EU, according to the CLC.
The TTF said in May that Brexit-related complications have squeezed UK timber stocks, as 80% of the softwood used in building comes from Europe, and 90% of the softwood used for new build homes comes from the continent.
Francis adds that January's new immigration system has made it harder to tempt EU workers back who left during the pandemic. "The small builders and specialist contractors are likely to be the worst affected by this as they are the least likely to have the resources available."
Covid-19
The impact of Covid-19 has decreased UK imports of building materials by more than £2m, according to a study from ElectricalDirect.
Raw materials
There has been a global shortage of raw material shortages, stemming from global demand and other external factors (including the slowdown and in some instances, factory closures, outside the UK), which continues to constrain production of certain products, such as insulation, paints and adhesives, as well as packaging for products.
How to Navigate Shortages
If you're planning or in the middle of building work, then planning as far as you can in advance is pivotal to ensure you aren't caught out by shortages or price rises.
The CLC advises self builders to work closely with their supply chain and communicate your requirements early with suppliers, distributors and builders merchants.
And Brian Berry says: "Product availability is proving to be a significant and prolonged issue for Britain's builders, and consumers need to be aware that the cost of their building projects may change in the months ahead because of this pressure.
"However, I would caution against homeowners compromising quality and customer service, and defaulting to hire the builder with the cheapest quote."
You can also use services such as Environmate to discover free and cheap building materials for your project.
Jack is News Editor for Homebuilding & Renovating, and strives to break the most relevant and beneficial stories for self builders, extenders and renovators, including the latest news on the construction materials shortage and planning reforms. Having bought his first home in 2013, he and his wife have renovated almost every room and recently finished a garden renovation.
Homebuilding & Renovating Newsletter
Get the latest news, reviews and product advice straight to your inbox.
Thank you for signing up to Homebuilding. You will receive a verification email shortly.
There was a problem. Please refresh the page and try again.