Construction Materials Shortage Not as Worrying as Scarcity of Labour
By Jack Woodfield published
The construction materials shortage, price inflation and labour woes have created a perfect storm for the sector, industry chiefs say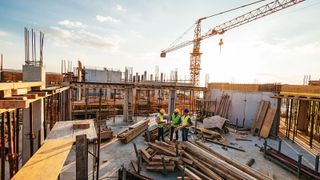 (Image credit: Getty Images)
The construction materials shortage is being exacerbated though a lack of builders in the UK, industry chiefs have warned.
Long-term issues surrounding the labour shortage is arguably a "bigger problem" than actual materials, according to Andrew Carpenter, chief executive at the Structural Timber Association.
Latest Subscription Offer
Carpenter was speaking at the Construction News 'Decarbonising Construction' event this month, following increased problems with labour costs which have driven up wages driven by almost 10% in the past year.
There are now 244,000 fewer workers in the construction sector compared to three years ago, according to the Office for National Statistics (ONS), attributable to workers returning to the EU and early retirees.
The Construction Leadership Council (CLC) has also recently warned that alongside price volatility, "diminishing labour supply is now of greater concern than product availability in most construction sectors".
This shortage is particularly hitting and SME builders since it takes a minimum of three years to train up a skilled tradesperson.
Brian Berry, chief executive at the Federation of Master Builders (FMB), said of the crisis facing the 7,000 small local builders the group represented, "They are in a very tough position as rising material costs are forcing them to put up prices to keep solvent, [but] customers are also tightening their belts because of the cost of living crisis."
What's the Latest With the Construction Materials Shortage?
The construction materials shortage has blighted the construction industry since the beginning of 2021, with timber and plaster shortages particularly causing significant supply chain issues for those working on self build and home improvement projects.
Prices have continued to soar too. The average price of building materials increased by more than 10% between March and June, according to pricing data monitored by Buildiro.com.
And amid a labour shortage and price inflation, monthly construction output in May was the weakest performance in the residential sector for two years.
On the plus side, the extremely high levels of demand seen at the beginning of 2022 looks to have eased, as has the shortage of HGV drivers in late-2021, meaning goods are reportedly now moving more freely between ports, the CLC says.
Which Factors Are Affecting the Shortage?
A combination of price inflation, energy price rises and the Ukraine conflict have all impacted the construction sector this year.
Price inflation
Inflation is rising at its fastest rate for 30 years as fuel, energy and food costs surge.
The Builders Merchants Federation (BMF) said in its recent Builder Merchants Building Index (BMBI) that demand for building materials remans high but stable, but warned that price inflation is a critical issue.
The value of sales increased by 17.7% in the first quarter of 2022, compared to the same period in 2021. But as general inflation leapt up to 9% in May (now 9.1% in June), almost all of this was driven by price increases - in comparison, volume rose by just 1.5%.
Furthermore, the BEIS Monthly Statistics of Building Materials and Components (opens in new tab) report for April warned that annual material price inflation increased to over 24% in March for several materials.
And the CLC reported earlier this year that inflation concerns led some suppliers to only hold quotes for tender prices for 24 hours.
Energy prices
Average energy bills rose by 54% in April, which is putting pressure on construction firms due to energy intensive industries including concrete, steel and cement passing on the impact of higher prices.
Ukraine conflict
Industry groups and contractors have warned that Russia's invasion of Ukraine will lead to significant disruption to supply chains and price hikes.
Noble Francis, economics director of the Construction Products Association (CPA) fears that building companies will face another surge in costs for materials due to long-term contracts for electricity bought in advance coming to an end.
"There's a lag effect from the spikes in energy and commodity prices after Russia's invasion of Ukraine because firms use forward contracts for energy and pre-purchase materials and products where possible," he said.
Which Materials are Affected?
The CLC said in May that "the market is becoming more adept at managing supply of these critical products, and the long-term nature of some of the underlying issues".
However, supply challenges have affected a number of materials so far this year, including:
Bricks and blocks - the CLC says they will be subject to longer lead times this year
Steel - price volatility is affecting the production of steel, but the biggest problem facing steel is cost, rather than availability
Paints and coatings - continue to be affected by a lack of raw materials, which was recently exacerbated by further lockdowns in China
Electrical products - those using semi-conductors and microchips could be subject to longer lead times
Timber - the war in Ukraine and the resulting sanctions on Russia and Belarus are likely to constrain the supply of pallets, birch plywood and OSB (oriented strand board).
Energy-intensive products which also could be impacted due to market volatility include:
Glass
Plasterboard
Cement
Ceramics
Porcelain
Roof tiles, chipboard flooring, gas boilers and other products requiring semi-conductors within sub-components, could also be subject to longer lead times throughout the year.
Which Building Materials Are Rising in Price?
Prices have increased over the past year and a half for several materials, due to lengthening lead times and growing demand.
Year-on-year prices for all building work rose by 25.2% from April 2021 to April 2022, according to BEIS, with month-on-month prices rising by 2.3%. And aggregates, ready-mix concretes and piping increased every month in the first quarter of 2022.
In a December 2021 Homebuilding & Renovating poll, 96% of respondents said "yes" when asked if they'd struggled to afford the cost of materials in 2021.
These are some of the materials which continue to be affected:
Materials Price Tracker

| | Material | Information |
| --- | --- | --- |
| | Timber | Timber was up 30% in the year to April 2022, compared with a year earlier (BEIS) |
| | Roof tiles | Prices have risen 24% in a year, according to price comparison service Quotation Check |
| | Steel | Fabricated steel rose by 45% in the year to April 2022 (BEIS) |
| | Wooden cladding | Woden cladding registered a 15% spike from the previous quarter (Buildiro) |
| | Bricks | Brickmaker Forterra increased its brick prices by 12% from 1 April |
| | Cement | The EY Item Club has warned that cement prices will keep rising in the coming months |
| | Concrete | Concrete reinforcing bars are 60% more expensive than a year ago (BEIS) |
Green Home Improvement Struggles
High prices and long delays are reportedly also affecting homeowners looking to go green and install energy-saving materials (ESMs) such as heat pumps and solar panels.
Demand is expected to rise for ESMs following the cut on VAT on retrofit measures announced in the Spring Statement, and following the launch of the Boiler Upgrade Scheme in April.
Moreover, the boiler market has been impacted by unprecedented demand coupled with supply chain challenges for steel, cardboard, plastics and electronic components, the CLC says.
How to Navigate Shortages
If you're planning or in the middle of building work, then planning as far as you can in advance is pivotal to ensure you aren't caught out by shortages or price rises.
The CLC advises self builders to work closely with their supply chain and communicate your requirements early with suppliers, distributors and builders merchants.
And Brian Berry says: "Product availability is proving to be a significant and prolonged issue for Britain's builders, and consumers need to be aware that the cost of their building projects may change in the months ahead because of this pressure.
"However, I would caution against homeowners compromising quality and customer service, and defaulting to hire the builder with the cheapest quote."
You can also use services such as Environmate (opens in new tab) to discover free and cheap building materials for your project.
Jack has worked in journalism for 11 years and is the News Editor for Homebuilding & Renovating, a role he has had since 2019. He strives to break the most relevant and beneficial stories for self builders, extenders and renovators, including the latest news on the construction materials shortage and hydrogen heating. In 2021 he appeared on BBC's The World at One to discuss the government's planning reforms.
He enjoys testing new tools and gadgets, and having bought his first home in 2013, he has renovated every room and recently finished a garden renovation.
Homebuilding & Renovating Newsletter
Get the latest news, reviews and product advice straight to your inbox.
Thank you for signing up to Homebuilding. You will receive a verification email shortly.
There was a problem. Please refresh the page and try again.