Construction Materials Shortage: Which Materials are Rising in Price?
The construction materials shortage could impact self builders, renovators and DIYers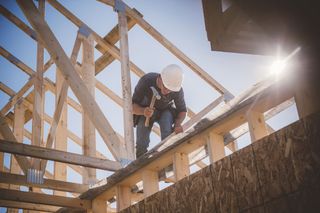 (Image credit: Getty Images)
The construction materials shortage is leading to price rises, and this could impact self builders, renovators and DIYers.
Three national lockdowns within a year has led to supply chains being stretched, and the challenges facing materials producers are growing. The Builders Merchants Federation (BMF) expects average price increases of 5-10% this year. 
There's an ongoing plaster shortage, and dwindling supplies of key materials such as timber and roof tiles mean potentially longer lead times, while deliveries could also take longer than expected.
If you're beginning a self build project, renovating a house, or performing DIY during lockdown, read on to help plan ahead for your project, and learn which materials could be subject to price rises in 2021.
(MORE: Easy lockdown DIY projects)
Price Rises Triggered by Construction Materials Shortage
The construction materials shortage can in part be traced back to increased building and home improvement activity in 2020, particularly during the first lockdown.
What's more, there has reportedly been a slowdown in the production of materials from some factories in the EU because of Covid-19.
Builders expect prices to rise in 2021, and the recent Federation of Master Builders (FMB) State of Trade Survey showed 87% of builders had reported rising costs.
One reason for this is that producers of materials now face increased shipping costs because of a global shortage of empty containers. Additionally, the cost of transporting materials from China to Europe has risen in recent weeks.
"We are seeing price increases across the board, specifically in products categories in high demand like timber and roofing materials and imported products. We anticipate the level of prices increases this year to average out at between 5-10%," said John Newcomb, CEO of the BMF.
These are some of the materials recently affected by price rises:
Materials Price Updates

| | Material | Information |
| --- | --- | --- |
| | Timber | Timber prices are up by a fifth, as reported by the Builders Merchants Federation (BMF). |
| | Paint | The British Coating Federation warned in January that sharp price increases for epoxy resins and supply bottlenecks are adding to the difficulties of paint and coatings manufacturers in the UK and across Europe. Prices are expected to rise for consumers. |
| | Insulation | One builders' merchant told us that it expects prices to increases in March |
| | Power tools, screws and fixings | Companies now face increased shipping costs because of a global shortage of empty containers. |
| | Bathroom equipment | The rising costs for producers to purchase container loads means importing bathroom equipment from China is more expensive, which could be passed onto consumers. |
To help self builders, renovators and DIYers see where increases are most likely to affect their projects, Homebuilding & Renovating will be tracking the price of certain materials over the coming weeks:
Materials Price Tracker

| Retailer | Material | Product | Date | Price |
| --- | --- | --- | --- | --- |
| Jewsons | Timber | PEFC Whitewood Tongue and Groove, 22 x 125mm | 2 Feb 2020 | £3.30 p/m |
| Travis Perkins | Timber | Travis Perkins Redwood Pine Tongue and Grooved Flooring, 25mm x 150mm | 2 Feb 2020 | £5.58 p/m |
| B&Q | Fence panels | GoodHome Lemhi Contemporary Closeboard Venetian Fence Panel, 1.8m x 1.8m | 2 Feb 2020 | £68 |
| Wickes | Fence panels | Forest Garden Pressure Treated Overlap Fence Panel - 6ft x 3ft | 2 Feb 2020 | £29 |
| Selco | Plasterboard | GTEC Standard Square Edge Plasterboard 2400 x 1200 x 12.5mm | 2 Feb 2020 | £5.99 |
| Wickes | Plasterboard | Knauf Plasterboard Tapered Edge - 12.5mm X 1.2m X 2.4m | 2 Feb 2020 | £7.90 (£2.74 per SQM) |
| Homebase | Paint | Dulux Pure Brilliant White - Soft Sheen Emulsion Paint - 5L | 2 Feb 2020 | £19 |
| B&Q | Paint | GoodHome Durable Brilliant white Matt Emulsion paint 10L | 2 Feb 2020 | £28 |
| Toolstation | Insulation | YBS General Purpose ThermaWrap Insulation 600mm x 7.5m | 2 Feb 2020 | £12.98 |
| Jewson | Insulation | Recticel Eurothane GP Insulation Board, 2400 x 1200 x 25mm | 2 Feb 2020 | £26.29 per sheet |
New Plan Designed to Halt Rises
But plans are in place to lessen the impact. To counter price increases, the BMF is leading the rollout of a digital classification of construction materials across the UK.
A group of 20 retailers and merchants including Travis Perkins have committed to fast-tracking the adoption of ETIM (European Technical Information Model), a standardised means of describing product specifications, designed to clarify requirements along the supply chain.
Rob Barbour, data and insights director at Travis Perkins, explained that ensuring consistent product data would "minimise errors and drive down costs and so significantly improve our supply chain efficiency".
Barbour also said this would "empower customers to make better buying decisions, drive better safety and technical performance, and lower emissions of construction output".
Which Materials are Short in Supply?
Product Availability Index

| | Building Material | Product Availability |
| --- | --- | --- |
| | Timber | There has been a nationwide shortage of timber since the first lockdown. Volumes are likely to be available but on much longer lead times than in early 2020 |
| | Plaster and Plasterboard | Plaster and plasterboard have been subject to shortages since last year, and builders' merchants are still reporting supply issues |
| | Roof Tiles | There has been a shortage in roofing materials for several months* |
| | Insulation | There were signs of restricted supply of insulation before the new year, particularly PIR insulation and wool fibre insulation** |
| | Landscaping | Landscaping materials such as fence panels, fence posts and paving is reportedly thin on the ground |
| | Paint | Supplies to the UK are restricted due to a global shortage of containers |
* Build4Less reports that roof tiles from suppliers including Marley and Sandtoft are showing lead times of up to 6-8 weeks.
** Nick Lloyd, managing director of Urbane Eco, says that EU market supplies of insulation have picked up and this will help to tackle the backlog in demand from 2020. Currently, lead times can be expected to be between 2-4 weeks.
There are reportedly also shortages of: 
Power tools
Plumbing items
Bricks
Concrete products
Plastics
Screws, fixtures and fittings
Corrugated plastic roofing
The Impact of Lockdown
With many of us locked up indoors for the past year, Google searches for 'DIY and 'How-to' increased by more than 40% following the first lockdown in March 2020, according to My Tool Shed.
And amid a third lockdown, many of us will again try our hand at DIY now we're back indoors. The good news is that builders' merchants remain open, and tradespeople are allowed to work in people's homes. The bad news is that this has contributed to a shortage in supplies. 
(MORE: Your lockdown construction questions answered)
Shortages Also Impacted by Brexit Uncertainty
There's also the issue of Brexit. Roughly 60% of imported materials used in UK construction projects comes from the EU, according to the Construction Leadership Council, and increased congestion reported at UK ports since the start of the year has caused delays.
The UK-EU trade deal eased Brexit construction fears once it was confirmed that no additional tariffs on imports or quotas would be added, but the impact of Brexit could lead to short or medium-term disruption.
Homebuilding & Renovating Newsletter
Get the latest news, expert advice and product inspiration straight to your inbox.
Thank you for signing up to Homebuilding. You will receive a verification email shortly.
There was a problem. Please refresh the page and try again.