Wood Fibre Insulation: What are the Pros and Cons?
Wood fibre insulation is a great choice for insulating your home and has impressive green credentials. Here's what you need to know about it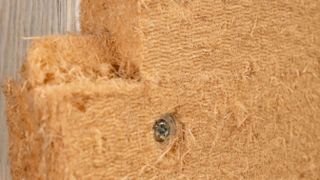 (Image credit: getty images)
There are plenty of reasons to choose wood fibre insulation for your self build or renovation. In a world full of manmade insulation, wood fibre is a great choice for those being more mindful about their building materials.
It has applications all across the home, from internal wall insulation to roofing and beyond, and exists in several different forms that give it great versatility.
But is it right for every home? This guide takes a look at what wood fibre insulation is, its potential applications and how it stacks up against the alternatives.
What is Wood Fibre Insulation?
Wood fibre insulation is a form of insulating material made from waste wood – sawdust, chips, off-cuts – from the sawmill industry. The raw material is untreated softwood that is broken down to its fibrous state before being formed into boards or quilts of natural insulation.
In some cases glue will be added to the fibres before being pressed into boards, in others the natural glues in the wood are released by heating and pressure. At this stage it is treated both to prevent insect and rodent attack and of to make it fire resistant in that it will char rather than burn.
What Types of Wood Fibre Insulation are There?
It is available as rigid, semi-rigid boards and as flexible quilts. Unlike other insulating materials, it is also available as a weatherproof board, suitable for roof sarking or for accepting the external house cladding.
There are also boards that are ready to accept render (lime or sand and cement) and can be used as external wall insulation. In short, there are wood fibre options available equivalent to any man-made material.
Where is Wood Fibre Insulation Used?
There are insulation products available to suit every need and wood fibre can be used for every element, insulating floors or walls, and even insulating a roof. It is fair to say that it can do anything that manmade insulation can do.
The issue is that it is a poorer insulator than rigid foam insulation, such that wood fibre would need to be considerably thicker to achieve the same U-value.
What Thickness of Wood Fibre Insulation are Available?
In its different forms wood fibre is available from 30mm to 300mm thick, with 10mm increments. A cavity wall with 70mm of Kingspan or Celotex insulation would have a U-value of 0.30W/m2K. Achieving that same U-value would need 100mm of wood fibre insulation. It must also be considered that 70mm rigid foam insulation will cost around £12/m2, where 100mm wood fibre boards could cost twice that.
What are the Advantages of Wood Fibre Insulation?
Its advantages are mostly bound-up in its green credentials. It is sustainable, recyclable, compostable, uses no nasty chemicals and sequesters the CO2 the tree absorbed as it grew. And as well as being strong, versatile and durable, it is also breathable and dimensionally stable. Some of the manmade insulation materials may shrink over time, in some cases as much as 10% of their original dimension, potentially leaving cold spots. But wood fibre is not affected in this way and will retain its original size.
But perhaps one of its biggest advantages is that there is no need for protective equipment or clothing. When looking at how to insulate a wall, for example, it is installed in the same way as any other insulation, but it can be handled, cut and treated all without the need for goggles, face mask or gloves.
Are There any Drawbacks?
The biggest and most obvious disadvantage is the high cost, compared to the alternatives. Beyond that there is also the embodied energy and CO2 from manufacture and transport, greater than might be anticipated as a high proportion of products are manufactured in eastern European countries.
Where can I buy Wood Fibre Insulation?
Principal suppliers would be Mike Wye Associates, Ecomerchants and The Insulation Superstore. Although a quick trip around the internet will find many more.
The principal manufacturers are Pavatex and Steico. There are very minor differences in their product offerings — the like of the T&G system or degree of weather-proofing and it is worth speaking to the supplier as to which would be best for any application.
Get the Homebuilding & Renovating Newsletter
Bring your dream home to life with expert advice, how-to guides and design inspiration, direct to your inbox.
Tim is an expert in sustainable building methods and energy efficiency in residential homes and writes on the subject for magazines and national newspapers. He is the author of The Sustainable Building Bible, Simply Sustainable Homes and Anaerobic Digestion - Making Biogas - Making Energy: The Earthscan Expert Guide.
His interest in renewable energy and sustainability was first inspired by visits to the Royal Festival Hall heat pump and the Edmonton heat-from-waste projects. In 1979
this initial burst of enthusiasm lead to him trying (and failing) to build a biogas digester to convert pig manure into fuel, at a Kent oast-house, his first conversion project.
Moving in 2002 to a small-holding in South Wales, providing as it did access to a wider range of natural resources, fanned his enthusiasm for sustainability. He went on to install renewable technology at the property, including biomass boiler and wind turbine.
He formally ran energy efficiency consultancy WeatherWorks and was a speaker and expert at the Homebuilding & Renovating Shows across the country.