Electric Underfloor Heating: The Ultimate Guide
By David Hilton
Electric underfloor heating is the latest heating technique that's as efficient as it is space saving. Here's the lowdown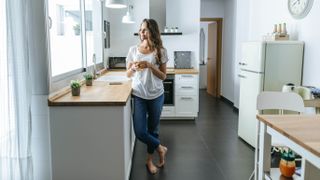 (Image credit: Getty Images)
Electric underfloor heating is a popular choice when it comes to heating your home and this is mainly because it's easy to install, space saving and energy efficient.
Electric underfloor heating is electrical wiring that is connected back to your electrical circuit (rather than wet underfloor heating, which is a system of pipes that are installed in the floor and circulate warm water. The water can then be heated by your main heat source such as a boiler or heat pump).
While wet systems are better suited to new build projects and larger areas, electric underfloor heating is better suited to refurbishments and when renovating a house as well as smaller areas. 
Here's what to consider before installing electric underfloor heating.
What Kind of Electric Underfloor Heating Do I Need?
Electric underfloor heating comes in many different styles, here's what to choose:
Best for: tiled surfaces
Try a thin electric underfloor heating system which has wires that are attached to a thin mesh, the whole product is less than 2mm thick. The floor levels are not raised as the tile adhesive is then applied directly onto the mesh and the heater then effectively sits in the adhesive layer. 
Best for: fast installation 
A system with a matting can be used that decouples the tiles from the subfloor. The matting is laid on the floor and the wires are pushed into preformed cut-outs. The adhesive is then applied to the matting and as it is not applied directly to the subfloor potential future seasonal cracking risk is also mitigated. 
Best for: those on a budget 
The cheapest electric underfloor heating system is a cable that is bedded in a screed. This system has thicker wires and allows for floor finish changes without damaging the wires. The system is slow to react and should be designed for long-term space heating and not for quick task heating. 
Best for: finished rooms 
Soft finishes such as carpets, vinyl and laminate as well as other floating floors can sometimes be a challenge and foil type systems are designed for this scenario. There is no requirement for a screed with this type of solution.
Best for: irregular rooms 
If the room has irregular shapes or permanent fixtures then a loose wire system is ideal. The heater is a durable flexible cable that is stuck to the backing boards and is embedded in the levelling compound or adhesive. Installation is a bit more detailed but the product allows for a lot more design layout variation.
How Much Does Electric Underfloor Heating Cost?
 For thin mesh systems - £45/m2 to £50/m2 
 For a quick matting system - £55/m2 to £60/m2 
 For budget systems - £15/m2 
 For foil systems suited under carpet - £40/m2 to £50/m2 
 For a loose wire system - £50/m2 to £55/m2 
What Does Electric Underfloor Heating Cost to Run?
Electricity Costs
Electricity is around 15p per kiloWatt hour (kWh) and gas is around 5p per kWh 
Electricity costs about 15p per unit and a unit is 1 kilowatt (kW) for one hour so it is referred to as a kilowatt per hour (kWh). 
Therefore if your electric underfloor heating is 125W per square meter then for every eight square meters of floor you will use 15p per hour that the system is on. 
But it is worth bearing in mind that the system is not on all day as the thermostat will only call for heat when it is required so it's easy to keep control of your costs.
Which Rooms Will Electric Underfloor Heating Work Best In?
Electric underfloor heating is often installed in kitchens and bathrooms as these rooms usually have fairly hard floors (which often feel cold, especially when barefoot) and there is a lot of furniture and fittings that leaves very little room for effective radiators. 
The electric underfloor heating is also quicker to heat up that wet underfloor heating systems and can be controlled to operate mainly at times of use in those rooms. 
Devices such as timers, motion sensors, light relays and hot water sensors can be used to trigger the electric underfloor heating system to optimise its efficiency.
(MORE: Underfloor Heating Thermostats)
Pros and Cons of Electric Underfloor Heating
The Positives:
Electric underfloor heating usually takes up less space than a wet underfloor heating system. There will still be some build up as you will most likely need a backing board but the wires are a lot thinner and the system can be a lot closer to the surface   
The fact that it is often close to the surface also means that it can be a lot quicker to react 
If you need a small amount of heat for a short period of time, such as in an ensuite bathroom, then this could be ideal 
Electric underfloor heating does not need to go back to a manifold so installing it in one room without any disruption to adjoining rooms and passageways is also more easily done 
The Negatives:
Electric underfloor heating can potentially create hot spots in a room where there is a second heat generator such as a range cooker or log burner, or perhaps if you have a south facing room that can benefit from solar gain 
Electric underfloor heating can also be expensive to run if it is not managed properly. Whatever amount of heat you are trying to put into your floor, if it is on for long periods of time the electric system will cost more to run
If you only need short bursts of heat and you are not trying to heat up the fabric of the building then the electric solution could be the right option. 
In the event of a system failure such as a wire breaking it is very difficult to determine where the break is in order to do a repair. On a wet underfloor heating system you would see the leak and albeit that it may be a bit disruptive, it is possible to repair. 
Should I Leave Electric Underfloor Heating On? 
Electric underfloor heating is mostly left on all the time but will not be actually active all the time as the thermostatic controller will manage the times that heat is required as well as the amount of heat that is required.
You can also put timers on the system so that the controller does not call for heat when the room is not going to be occupied.
What's in an Electric Underfloor Heating Kit? 
The electric underfloor heating kit will usually have the wires, which may be attached to a mat depending on the system you have selected. 
There could also be a primer to prepare the substrate so that the mat sticks to it. As well as some tape for sticking the mat or wires down.
You will also have a thermostat for controlling the system. Some systems will also have backing boards to lay the wires onto.
How Hot Does Electric Underfloor Heating Get?
The heat in the floor of an underfloor heating system will be measured as the surface temperature of the floor.
If using a hard surface such as ceramic tiles then the surface temperature will be around 29°C. 
Any softer floor cover such as engineered wood or specialist flooring coverings will only reach around 27°C so as to not cause cracks and discolouration. 
This element needs to be designed in so it is important to know what the surface materials will be fairly early on.
What Flooring Works Best with Electric Underfloor Heating?
What flooring is unsuitable?
Any flooring that insulates the heat from getting to the room space is not suitable and also any floor surface that has heat sensitive adhesives or pigments should be avoided, or at the very least managed. 
The general rule of thumb with any underfloor heating is the harder the surface of the floor finish the better. 
Therefore polished concrete and ceramic tiles are great flooring ideas to go with electric underfloor heating. Plus engineered floorboards are also ok (do not use solid wood as it will shrink as it dries in the heat). 
Carpets can be a bit tricky. The tog value must be less than 2.5 for carpets to work at all but they can also be a great breeding ground for house mites and dust mites with the long periods of background heat. 
Can electric underfloor heating be installed on timber floors? 
Electric underfloor heating can be installed on suspended floors and timber floors but a special backing board must be used so that the wires do not burn any of the timbers in the floor and any movement does not damage the wires.
David is an expert in sustainable building and energy efficiency and is also director of Heat and Energy Ltd.
Homebuilding & Renovating Newsletter
Get the latest news, reviews and product advice straight to your inbox.
Thank you for signing up to Homebuilding. You will receive a verification email shortly.
There was a problem. Please refresh the page and try again.